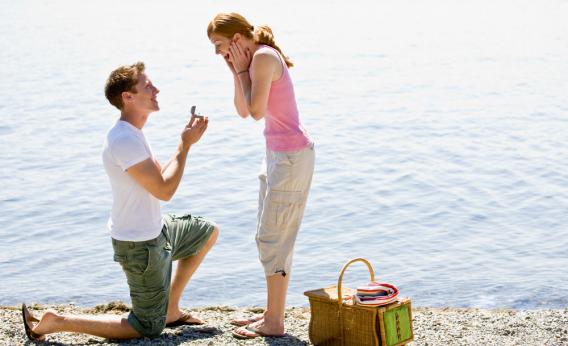 If you've taken a very open road to getting engaged, odds are you've talked about everything together. What type of ring she likes, wedding details, etc. You may have even told her when/if you were going to talk to her parents. So how do you make the proposal a surprise when she knows it's coming?
1. Create anticipation and tension. Have multiple opportunities before the actual proposal to propose. Go out to a romantic dinner dressed to the nines and go home at the end of the date without popping the question. Take her out to do something she loves to do (and you don't enjoy that much) to make her happy, but still don't drop to a knee.
While this may drive your girl absolutely crazy,  she will possibly stop expecting the proposal, be more annoyed with you than anything, and then when it does happen be so overjoyed and surprised that you will have won the game! Truly, that's what it is. It's a game. If you guys have been talking about it openly and she knows you have the ring and the blessing, then you want to do everything possible to keep her on her toes.
2. Take your time and make it special. This may be difficult, but the timing of the proposal is everything. Just because you present decoy moments or picture-perfect-opportunities without the actual plunge doesn't mean your proposal should be rushed and thrown into the middle of an awkward or casual moment.
If she knows you're going to propose, you still have to make it special and worth her anticipation/tension/wait. By the way, don't take all the time in the world. Talking about a proposal and then not doing it for another year (even if that's what you two talked about) filled with moments that could have been a proposal… I'm not sure that's too clever.
With all that being said, you can still be an "in-the-moment" person with this. If you plan on taking her for a hot-air balloon ride at sunset but think that will be too obvious, pop the question in another timely moment before or after to keep it less cliche.
In the end, make it all about your love, your story, and your plans… and make the proposal all about her dreams. A girl doesn't just dream about her wedding, she dreams about being asked.
Emily
Photo Credit: Slate.com