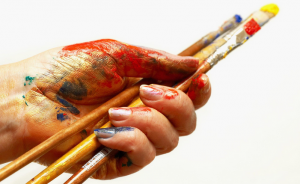 This artist decided to propose to his muse by painting her a picture that would convey his message. After all, why write it in the sky when you can paint her one? What's even better is that he filmed the whole process so she could watch a time lapse of his handiwork. He presented the entire masterpiece by surprising her when she walked in the door. She was greeted by the painting, candles that spell out LOVE and of course him down on one knee.
The look on her face was priceless.
But what piques our interest even more is the beautiful display of the ring he does at the very end. I'm pretty sure that beauty of a diamond was a work of art itself. Check it out below!