It's not clear whether men want to get in on the act or if the new trend of men wearing engagement rings is something that is being thrust upon them by fiancés. However, it does seem that the "Mangagement Ring" may definitely be catching on. Michael O'Connor, the ultimate expert weighs in on this trend and why it's here to stay.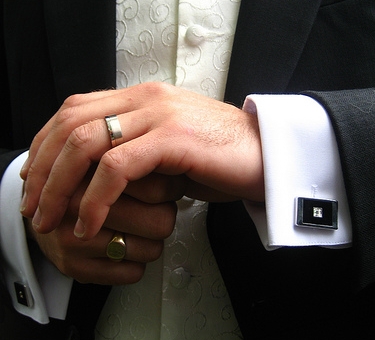 Is it just a fad?
If you're scratching your head thinking that the idea of a man wearing an engagement ring is just too far fetched think about this. Today, approximately 90% of men wear wedding bands. But wedding bands for men only really became customary during the 20th century. According to The Office of Historical Statistics, prior to 1940 only about 15% of men wore wedding bands. The idea of a "man's wedding band" seemed rather effeminate for most.
However, during the war the number of men wearing wedding bands grew substantially, as couples separated by distance and faced with the danger of war, felt that a wedding band was an emotionally appropriate reminder of their love and commitment for each other.
The trend continued to grow over time and now is so entrenched in our thinking that when Buckingham Palace announced that Prince William (a man who couldn't hide his marital status if he tried) would not be wearing a wedding band after his marriage to Kate Middleton, it sparked numerous debates about how men who don't wear wedding bands are concealing their "unavailable" status, and therefore "players".
Is it a totally new idea?
The notion of a man wearing a ring to show his engagement status may be new to the US and Europe but in South American countries such as Brazil and Argentina it seems to be much more customary. Engaged men and women wear rings on the right hand to show their status and when married switch the rings to the left hand.
Is it socially acceptable?
Perhaps the introduction of the men's engagement ring is a symbol of our new "Rules of Engagement". After all, relationships today have a modern sense of equality in every aspect. Most couples live together prior to marriage, most have dual incomes and most are better educated than a century ago.
Today, couples talk openly about getting married and plan pre-steps and benchmarks, prior to the actual question being popped. According to a recent survey about online dating 10% of women say they were the ones to propose. So why shouldn't equality minded men who wish to openly show their commitment to be married wear a mangagement ring? It does seem that there is a move toward this. A recent survey on the subject showed that 17% of men would happily wear a man's engagement ring. And it seems that the trend is seeping into pop culture too.  Prior to his marriage to Argentine actress Luisana Lopilato, Grammy award winning singer Michael Buble happily sported and talked about his pre-wedding mangagement ring.
What does a men's engagement ring look like?
Another sign that the men's engagement ring trend is growing is that an online search of the term results in numerous designers and retailers showcasing styles. So what does a men's engagement ring look like? Well, check out the couple of examples of rings displayed here. They appeal to a variety of male style preferences from plain to dressy to edgy, all perfectly suited for the purpose of male engagement.

Does the men's engagement ring replace the wedding band?
You may notice that the rings bear a striking resemblance to wedding bands, which then of course begs the question: Does this replace a wedding band or is it something that is worn together with a wedding band. Well, the trend toward mangagement rings may just be too new to deliver a final verdict on that. The answer will vary greatly between couples. Let's face it, we're a long way from the day when guys will hang around the gym or water cooler showing off their mangagement rings, but for women looking to make it known that their man is off the market now may be a perfect time to put a ring on it.
By Jewelry and Style Expert, Michael O'Connor