Baby, it's cold outside! It's that time of year where proposing can feel absolutely magical, since just about everything does during the winter season. There's something about your surroundings being covered in snow and just about everything covered in lights that really sets the mood. So while you may not have too much of a problem picking a spot or time for your proposal, here are a few suggestions… ya know… just in case.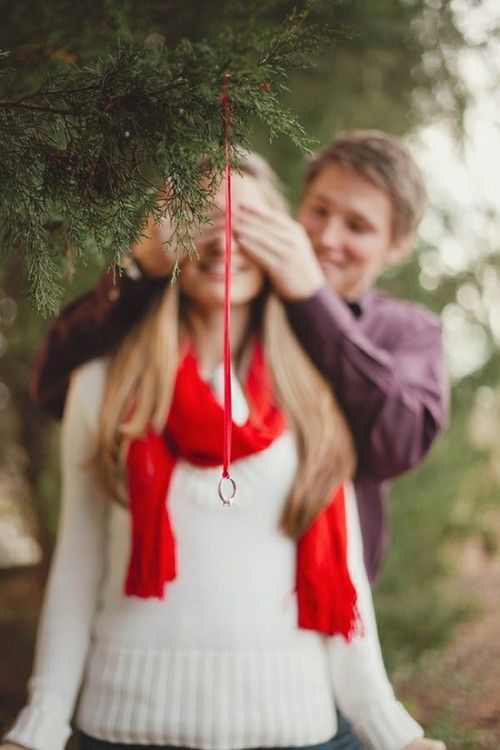 1. Oh, Christmas Tree! If you go hunting for a real, perfect Christmas tree, there's no better time to do it! Whether you go early (right after Thanksgiving) and you don't have snow on your side, or you go late when you're all bundled and there's tons of snow, don't worry! Both present possibilities. If you run ahead of her somewhere and tie the ring to a tree, then tell her you found it but she has to close her eyes, you can lead her to the ring. Make sure to have someone with you to 1. Capture the moment and 2. Keep an eye on the ring for you as you grab your sweetie for the big moment!
2. Deck the Halls! If you're too nervous to propose outside while finding the perfect tree, why not do it while you're decorating? You can hang her ring on the tree, or even place it inside a new ornament to give her! Not feeling it? Tell her you found something in the tree, and when she comes to see what it is, let her find the box and drop to one knee.
3. Walking in a Winter Wonderland. Use your surroundings. Whether your walk is moon or sunlit, take her for a walk in the snow to a designated spot where you've written the words in the snow. Not feeling it? In the meadow you can build a snowman… (I'm sorry, there's no stopping me now). Build a snowman together and when she's not looking, place the ring ever so carefully on the snowman's branch of a hand or in the box underneath his hat– somewhere you can point out to her to look that gives you enough time to kneel in the snow (yes, you must do it) and pop the question!
4. Dashing Through the Snow! Take her on a horse-led sleigh ride, bundled under the blankets with some hot chocolate (or drink of choice) at hand and ask her to marry you! While it's more than likely you won't be able to go down on one knee in this situation, I'd say she'd forgive you. If you do it this way, just make sure to have a little speech prepared rather than just asking the question. Work your way up to it!
5. But the Fire Is So Delightful. Not feeling a proposal outside? Cozy up to the fire with some warm drinks and whatever else you may want to go with it: board games, seasonal movie, wrapping presents. The options are endless because the fire just sets the mood. Go for it!
6. JOY to the World! What better time to lengthen the joy than to propose on Christmas Day? Save the ring for last and tell her there's one more present to unwrap. Whether it is actually wrapped or you're just going to propose, that's up to you! If you celebrate Chanukah, wait for the eighth day and do the same thing!
Emily