October is the month of all things "spooky". Whether you're a fan of corn mazes and haunted houses or not, you cannot deny that it all comes to play in October.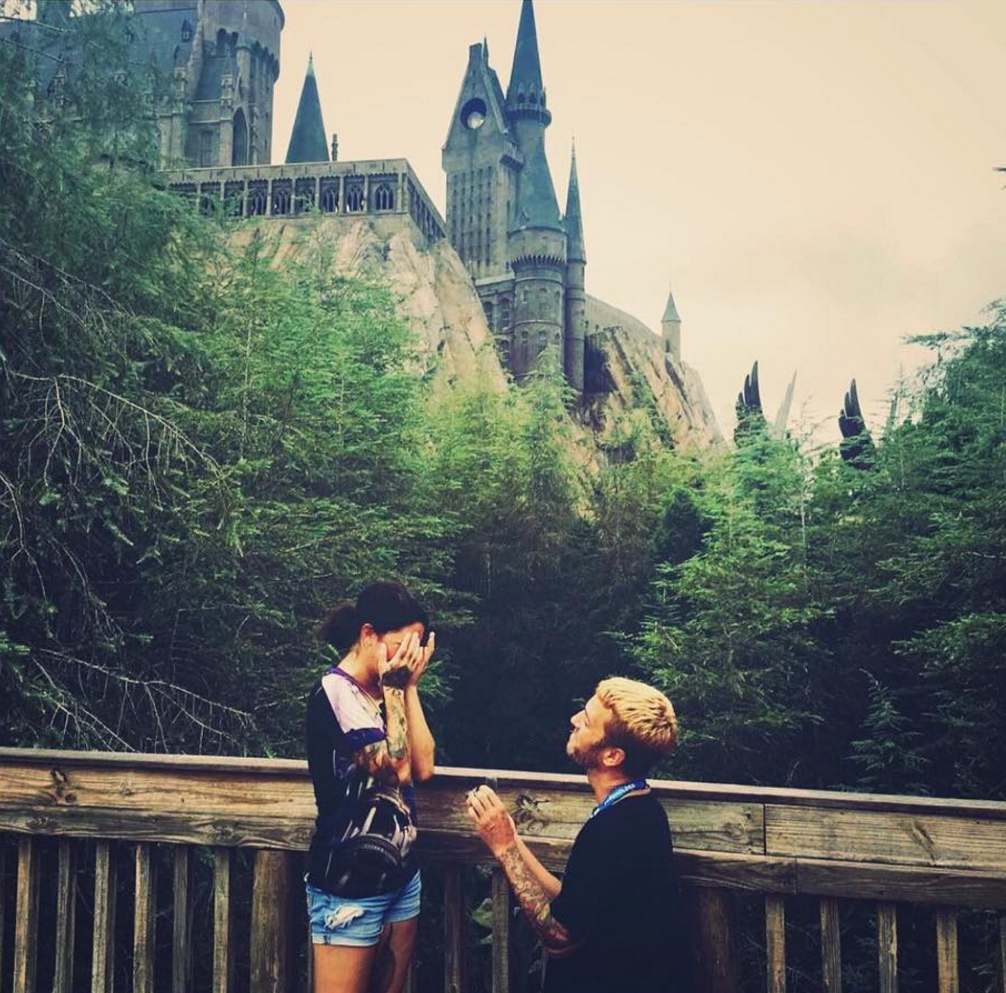 Harry Potter fans Dave and Diana got engaged in front of Hogwart!
Personally, I am not a fan of anything spooky. My husband continues to try to get me to watch horror flicks, and I try to tell him it's for his own good that I don't watch them. If I did, we would have many sleepless nights and jumpy days. Hopefully one of these days he will get the point!
October, to me, is all about Harry Potter.
Yes, I am one of those people.
I read the series when I was younger and it became a part of me. Now that I'm older, I tend to plan "Harry Potter month" where we watch the movies throughout the month of October with snacks inspired from the series. This year I'm even rereading all the books! But I digress….
If you're like me, you love these books/movies for many, many reasons. And if they are a part of your relationship or a part of the person's life that you wish to share, what better way than to propose and incorporate the magical wizarding world?
Here are some ideas!
1. Scavenger hunt with obstacles. In more than one of the books, the characters (mainly Harry, of course) are forced to face some serious obstacles to get their desired goal. In The Sorcerer's Stone and The Goblet of Fire, specifically, they face multiple tasks (giant chess boards, a sphynx, merpeople… you know.. normal stuff) to get to the prize. Set up a Harry Potter inspired scavenger hunt that incorporates wit and challenges to help your sweetie reach the ultimate goal– you with the ring!
2. The unbreakable vow. At the beginning of Harry Potter and the Half Blood Prince, there's this chapter. What better way than to cut out in the book (or make a replica of the chapter heading) and present your ring? Check out the picture!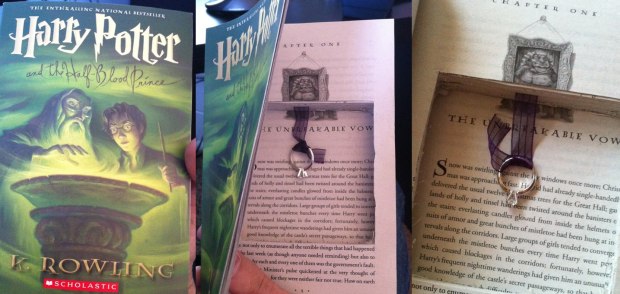 Photo Credit: Tumbl.com
3. Game of Quidditch. Plan a game of Quidditch with brooms and all and have the snitch hold the ultimate prize– just make sure it's not lost in the process! Not the Quidditch-playing-type? You can still have Tony Albano custom-create a chest with the correct balls, a bat, and a golden snitch (or just look at the pictures for some inspiration of your own!).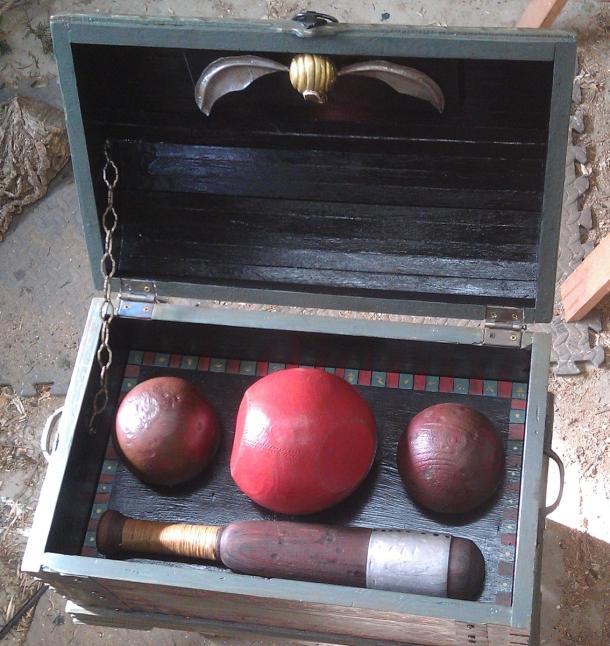 Photo Credit: cnet.com
4. Plan a marathon. The simplest way to do it– plan a movie marathon. Have a day (er… maybe a weekend) planned where you enjoy all eight movies (or as many as you can make it through) with special treats made that are Harry Potter inspired. Whenever the moment is right (her favorite movie, scene, or at the end of it all), pop your question!
5. Trip to Hogwarts, anyone? Plan a trip the The Wizarding World of Harry Potter at Universal Orlando and truly experience the magic. If you were to propose there, I don't imagine she could possibly refuse you! Check out the video below where one man took dueling to a whole new level.
Emily