Kara & Christopher
How They Met:
"Kara and I met in 2003 at a mutual friends party. We hit it off but I was going away to school and we didn't share enough time to try a long distance relationship. For the next 4 years I always thought about Kara and asked myself what it could have been. On a trip to Rome with friends in August 2007, I made a wish at the Trevi Fountain that the next time I came back it would be with Kara. Two months after I made that wish destiny intervened and put us in each others lives again. She was living in a house with an extra room and her and her friends needed a roommate. I voluteered and Kara and I both agreed to be just friends. We quickly fell in love and started dating."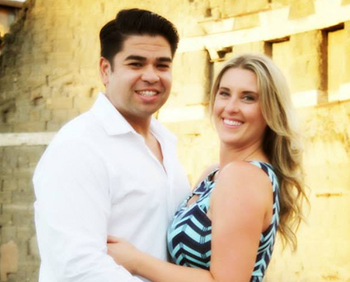 The Proposal
"We had been planning a trip to Europe for over a year and Rome was a city we were going to visit. I knew Rome would be the perfect city to make this proposal special not only for her but for me.
"I am a huge movie fan and watching movies was one of the things that really brought us together when we started dating again. I knew there were certain movies that she loved and meant a lot to her.
"Now all that was left was to find someone to film the entire process in Rome. Kara thought we were going to meet some people for a formal sunset viewing with wine. But that wasn't true at all. We sat Kara down and asked her to watch a video!"
Watch the Video
The Engagement Ring
The engagement ring is by Scott Kay,  14k white gold double halo split shank with 2 two rows of diamonds. The center stone is a elongated Brilliant/Cushion 1.02K diamond.