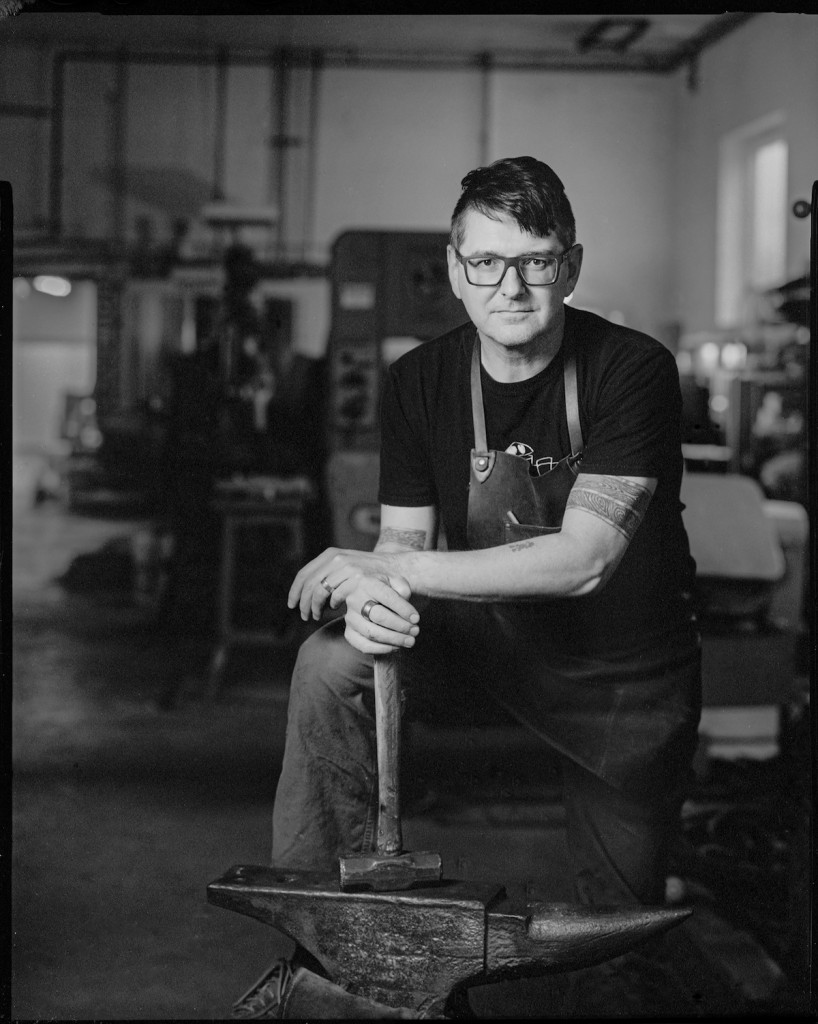 Article written by Chris Ploof
Don't miss this great opinion piece by the one and only Chris Ploof. Chris is so passionate about alternative metals and materials that we decided not to edit any of his words. We know our readers are in good hands with him. All rings featured in the article are from Chris Ploof Designs.   
My fascination with and passion for so-called "modern metals" like Damascus steel, meteorite, and mokume gane, is well above average. My first-hand knowledge and insights, gained from working with these metals for 20+ years will hopefully clarify some dos and don'ts about these metal choices…
Modern metals are materials that may or may not traditionally have been used to make jewelry in the past but are currently being used to make jewelry that differs from the "normal" precious metals. These metals are not fads or trends. They are modern metals being chosen today by both women and men. Here are my recommendations when shopping for these types of rings for bridal, either commitment rings or wedding bands.
DO Educate Yourself About Modern Metal Options
Modern metals are a broad and diverse group, including steel, tungsten, titanium, cobalt chrome, Damascus steel, meteorite, tantalum, niobium, and Mokume Gane. All of these are all considered "modern metals." But not all are equal – in fact far from it. More about each below.
A little education can go a long way when buying one of these metals.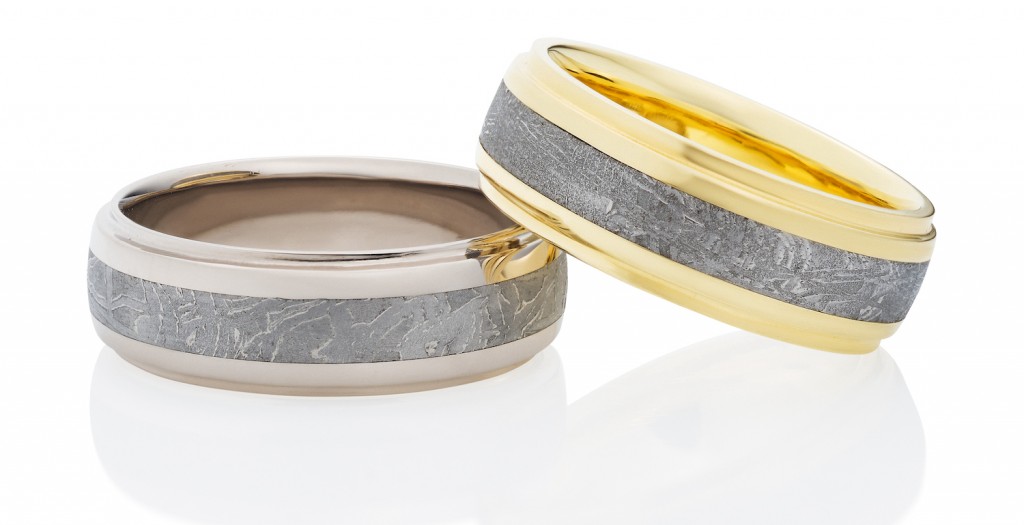 For example, Meteorite is an iron alloy, and not all meteorites work well for jewelry. Knowledge is critical when choosing a jewelry supplier who uses meteorite. Meteorite should always be lined with a precious metal (here are two of our meteorite rings lines with gold and palladium) . At my studio, we dismiss over half of the meteorite we buy as being unsuitable for use in jewelry, and the remaining half may require special care to prevent corrosion. Additionally, rings made with meteorite can be more difficult to size than traditional rings. Personally, I feel it's a small price to pay to have a piece of 4.5 billion year old space metal on your finger!
DO Choose a Metal that Lasts Forever
Many of the modern metals have great strength and durability, such as stainless steel, titanium, and tungsten.
There are also many makers pairing these enduring modern metals with precious materials, which creates a completely different multi color look and greatly increases their value, elevating them above a plain precious metal band.
DON'T Settle for Alternative Materials that Do Not Last
Alternative materials like wood, plastic, resin, silicone, and antler may seem "cool" at first glance. But these materials do not have the durability for lifetime wear, which I believe to be one of the most important aspects of jewelry, especially wedding bands.
DO Choose a Metal or a Ring that Can Be Easily Sized
Some of these modern metals are hypoallergenic but can be difficult to size. I recommend avoiding these for jewelry. Instead, opt for stainless steel (the rings pictured below are all made with Damascus steel) or titanium. Other metals can be sized but the companies do it by trading in your ring for a new one. Seems strange to me because you lose the ring you were married in, wore on your honeymoon, or held your children in.
Not only is ring sizing important upon purchase, but most human beings do not remain the same size throughout their lifetime. With an enduring metal that can be sized, you can easily go up or down a size as needed over the lifetime of wear. Tungsten and cobalt chrome always seem like cool choice because it is extremely difficult to scratch these materials, and they have a beautiful weight to them, similar to gold. The issues with tungsten and cobalt chrome is that they can be difficult to remove in an emergency and are nearly impossible to size.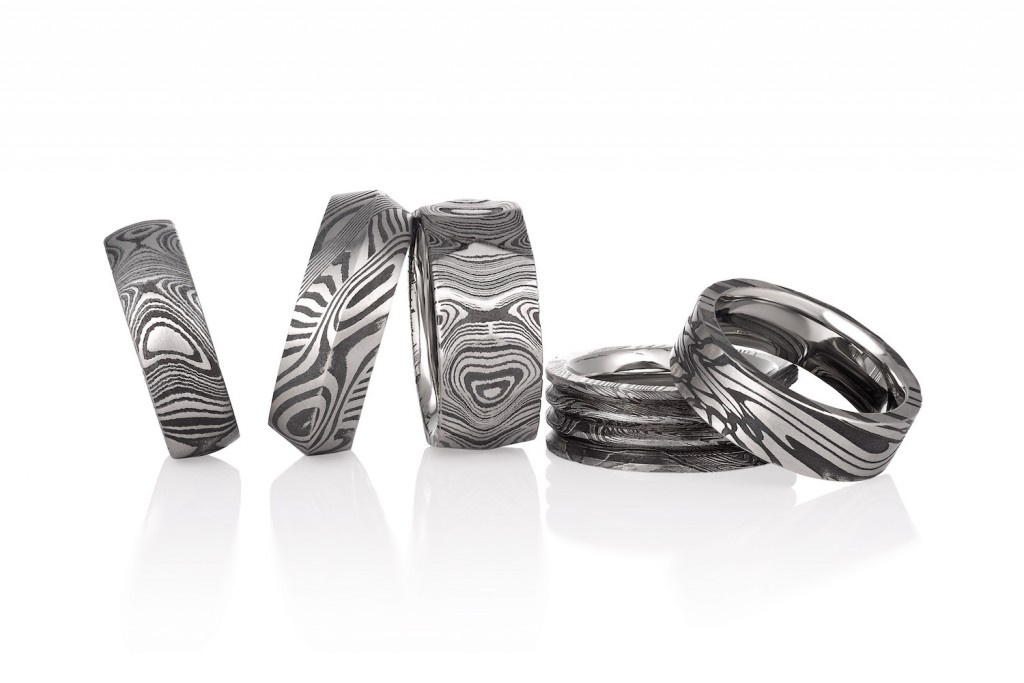 DO Ask About Ethical and Environmental Issues When Buying Modern Metals
Stainless steel is both an economical and an environmental choice. Infinitely recyclable, stainless steel is a very ethical and responsible choice for jewelers. In fact, 60% of the stainless steel on the market is actually recycled. Typical grades used in jewelry are 304 and 316 austenitic steels which, when properly worked, will not and cannot rust. It can also be used to make patterned Damascus steel, a metal with a rich story and one I have been working with for decades now. Some of the benefits of patterned Damascus steel for jewelry is that rings can typically be sized, are easily removed in an emergency, are hypoallergenic, and the patterning creates unique, one-of-a-kind styles.
A word of caution regarding some Damascus steel suppliers. There are some people repurposing knife steel for jewelry, which may or may not be stainless steel. These martensitic steels can be heat treated and are great for knives but will eventually rust no matter how well prepared they are.
DON'T Choose Metals with Environmental or Conflict Issues
Some metals are officially classified as "conflict metals." For example, tantalum can be sized and has a nice look, so it has gained in popularity in jewelry in the last couple of years. However, tantalum is designated as a "conflict mineral" according to the Responsible Mining Initiative and other reliable sources.
This is an example of a material not intended for but being adapted to jewelry use that is not an ethical choice. Titanium, while lightweight, durable, and recyclable, is pulled from the earth using strip mining techniques and then refined with chlorine. Both of these processes impose environmental issues.
Do Opt for Metals with Rich History, Passion, and Artisanal Craftsmanship
Metals like Damascus Steel and Mokume Gane (Mokume Gane rings with gold rails are pictured below) require true craftsmanship, adding to their unique value. The art that each artisan puts into this material, as well as the rich stories behind its creation and its history also add to the value and the passion you may have for your ring when you wear it. Modern metals come with a deep story – whether talking about titanium, a material prevalent in the aerospace and high tech world, or Damascus stainless steel, the modern equivalent of the swords of legend from the Vikings and the Crusades – these materials have rich histories that excite consumers.
Mokume Gane is another popular modern metal that is directly linked to feudal Japan where it was pioneered, as well as to the manufacture of Samurai swords. It is actually a technique that involves laminating three or more layers of precious metal together without the use of solder and then manipulating the resulting billet using twisting, cutting, and carving techniques before creating jewelry. As a metal option for jewelry, it is a bit of an outlier, but it is a very important member of the modern metals group.
Mokume Gane used for jewelry should be made out of precious metals, so it can be an easy introduction to a customer looking for traditional materials but something different and unique. The technique is demanding and produces a beautiful wood grain pattern made out of precious metals. The rings can easily be sized. It is expensive, though, due to the waste created in manufacturing. Some companies substitute copper alloys for a lower price point, but these rings will suffer from galvanic corrosion and do not stand the test of time. I recommend not using the copper at all.
Follow Chris Ploof on Instagram
Learn more metal facts and browse his beautiful pieces here