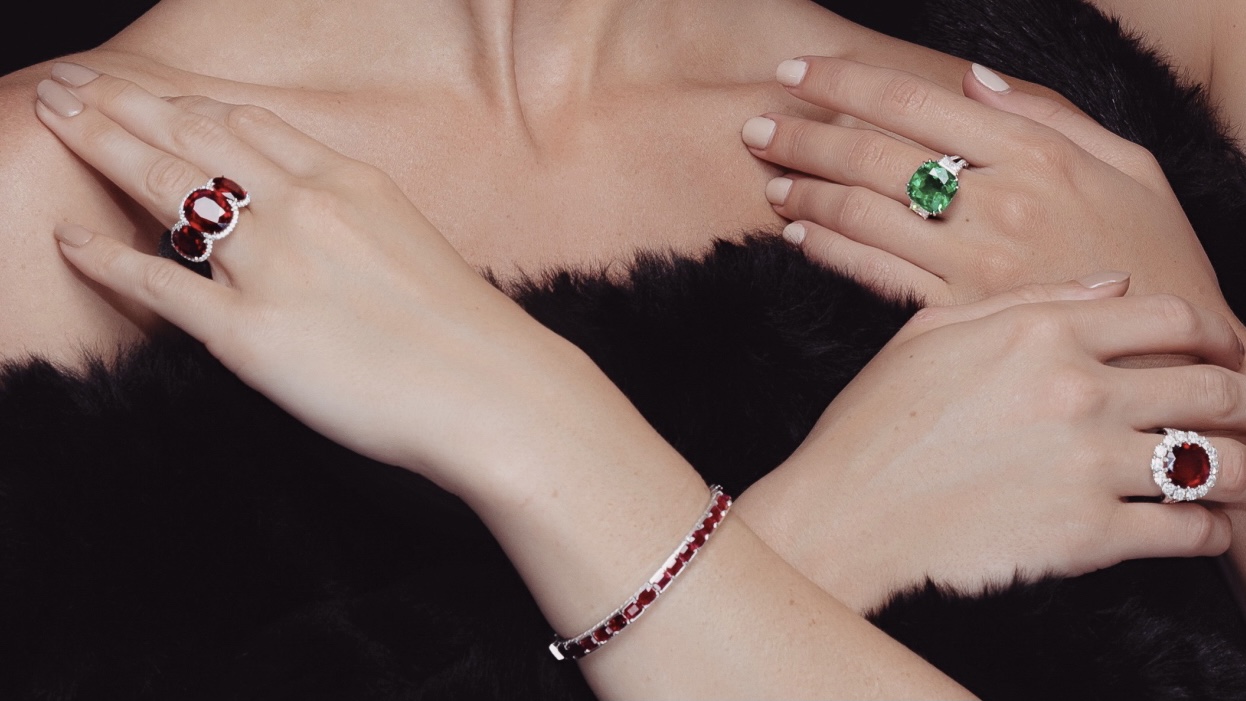 Enough of the gloom and doom of the past couple of years, we all want to look at the world through colored lenses. It has taken a little bit of time for the trend of engagement rings with colored gemstones to take flight in the US. It's been a very popular trend in Europe and other parts of the world for centuries. I am so happy it is finally in demand here too.  Picking a colored gemstones as your center stone is the easiest way to  get a truly one-of-a-kind engagement ring. We talked about yellow diamond engagement rings earlier this year, bright colors are still very popular. We are also seeing deeper reds, greens and blues on brides-to-be fingers.
The opening picture for this article features jewelry by Stephen Silver Fine Jewelry. Check out the sultry blood-red hues of the Mozambique rubies and the deep green of the Colombian emerald set in platinum. For women looking for a more petite look, Jennie Kwon just released these beautifully dainty Deco rings in an array of gemstones and colors (pictured below).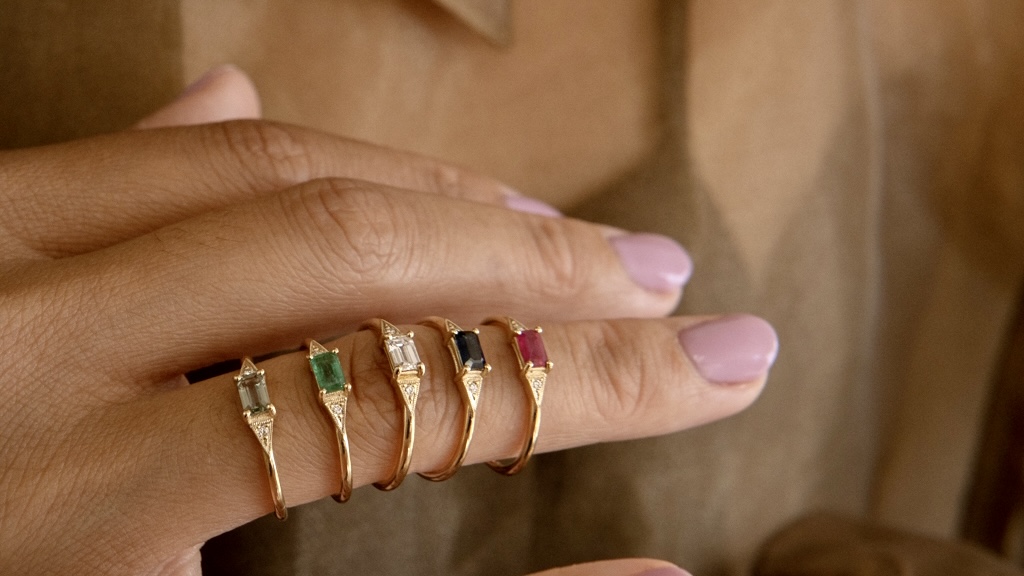 Center stones for engagement rings are traditionally faceted. If you are looking for something unconventional yet timeless, look into cabochons. They are making a come back in fashion jewelry. I LOVE their polished look. They look like expensive candy and remind me of Renaissance paintings.The Oscar Heyman sapphire and diamond ring set in platinum pictured here would make a great statement engagement ring.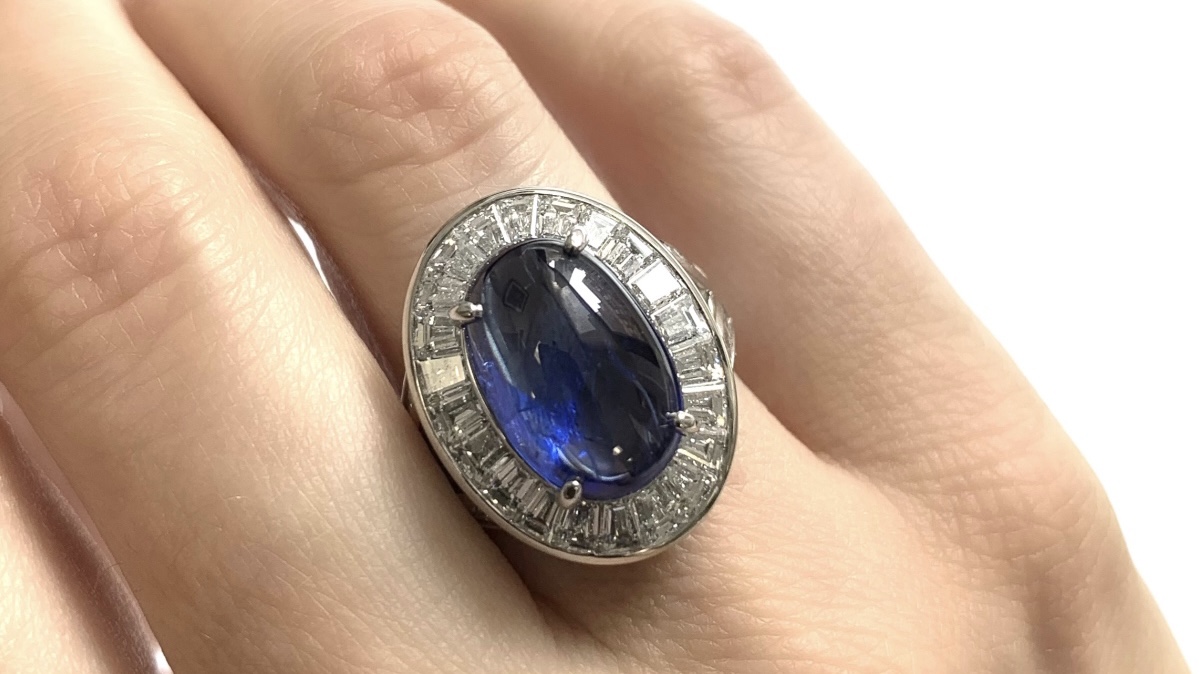 ---

Find out how much you would pay for engagement ring insurance with this calculator.
Alison Lou is known for her playful take on fine jewelry and her delightful use of pops of enamel. She also includes enamel in the design of her Victoria engagement ring. The center stone is a glorious emerald cut diamond surrounded by an enamel frame that can be customized in the color of your choice.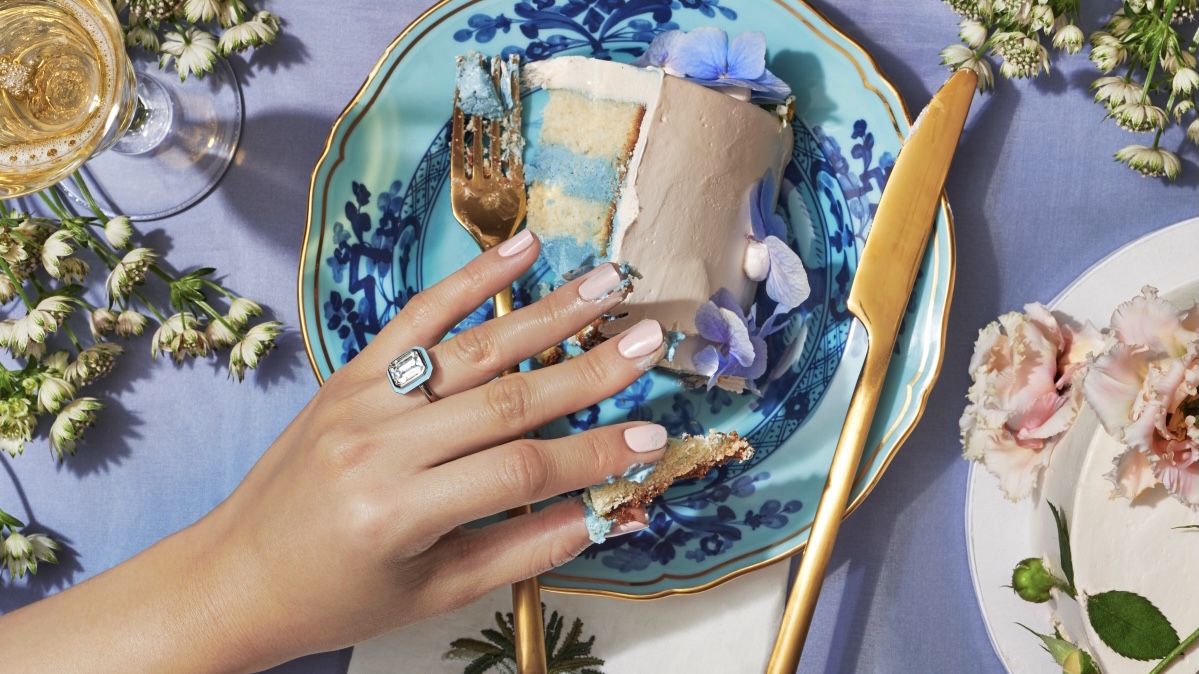 Kwiat emeralds are sustainably and ethically sourced from the Muzo and Chivor mines in Colombia, provenance of the purest, most deeply colored emeralds on earth. For this ring, a magnificent emerald cut stone is the star, flanked by a duo of stepped baguette diamonds on each side. The platinum mounting exemplifies Kwiat craftsmanship and engineering, with minimal metal for an airy, elegant design that allows maximum light flow into the gemstones, enhancing their color and brilliance.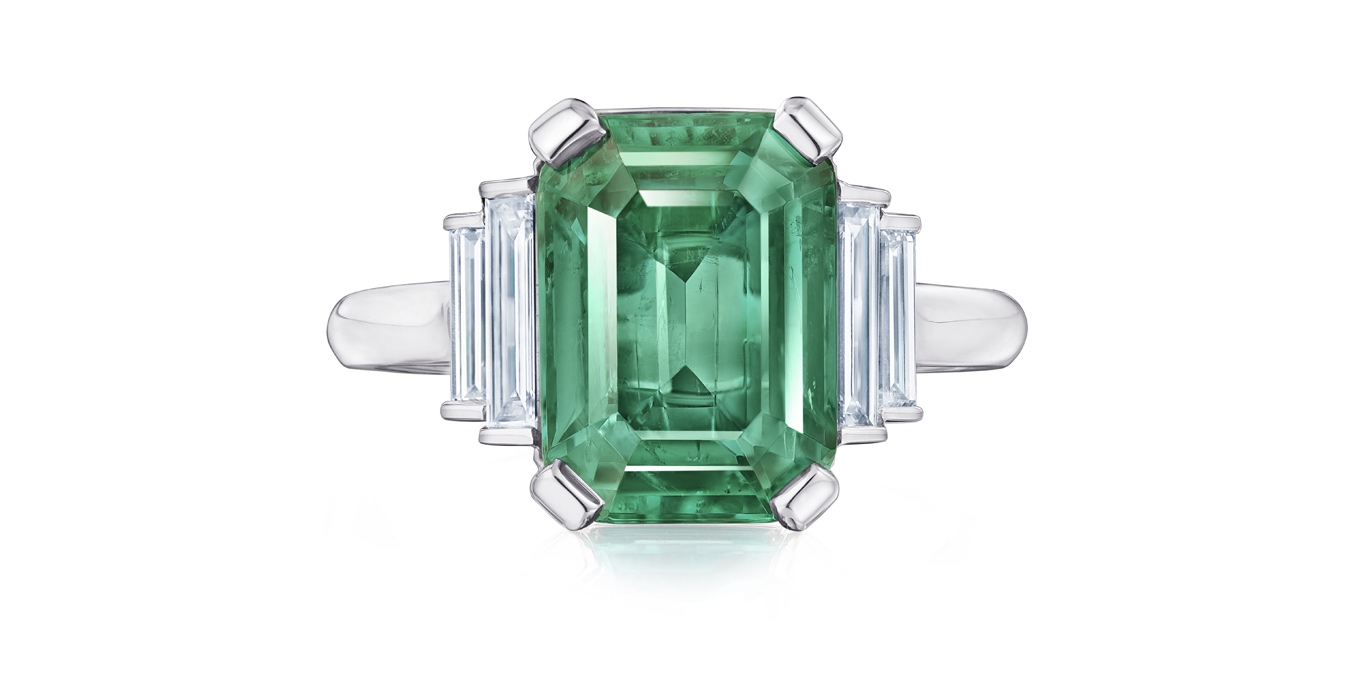 The 4 following rings feature stones with fascinating and rare hues. First up is a ring by Parle Gems  with a mesmerizing peacock tanzanite. While traditional tanzanite displays a violet to violet-blue color, peacock tanzanite displays violet, blue and green. Hence the name Peacock. I love the design of this ring, especially the pear-cut diamond accents, it will give an elongated look to your finger.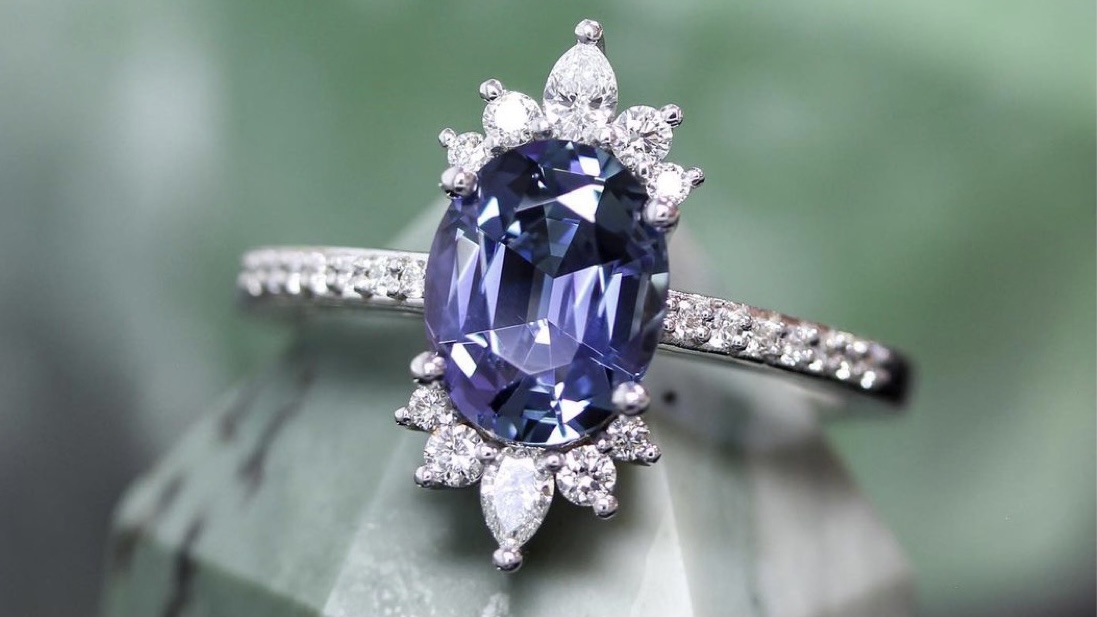 Sustainability has been a much discussed topic in the jewelry industry for the past couple of years. Dana Bronfman is a sustainability warrior and a very talented designer. She launched her new Love and Commitment collection earlier this year. She only uses recycled and fairmined certified metals. All the gemstones are ethically sourced. The "plat de resistance" of the ring below is a beautiful hexagonal shaped sapphire, the shank's tapering tiers represent each step on the journey of love as it grows.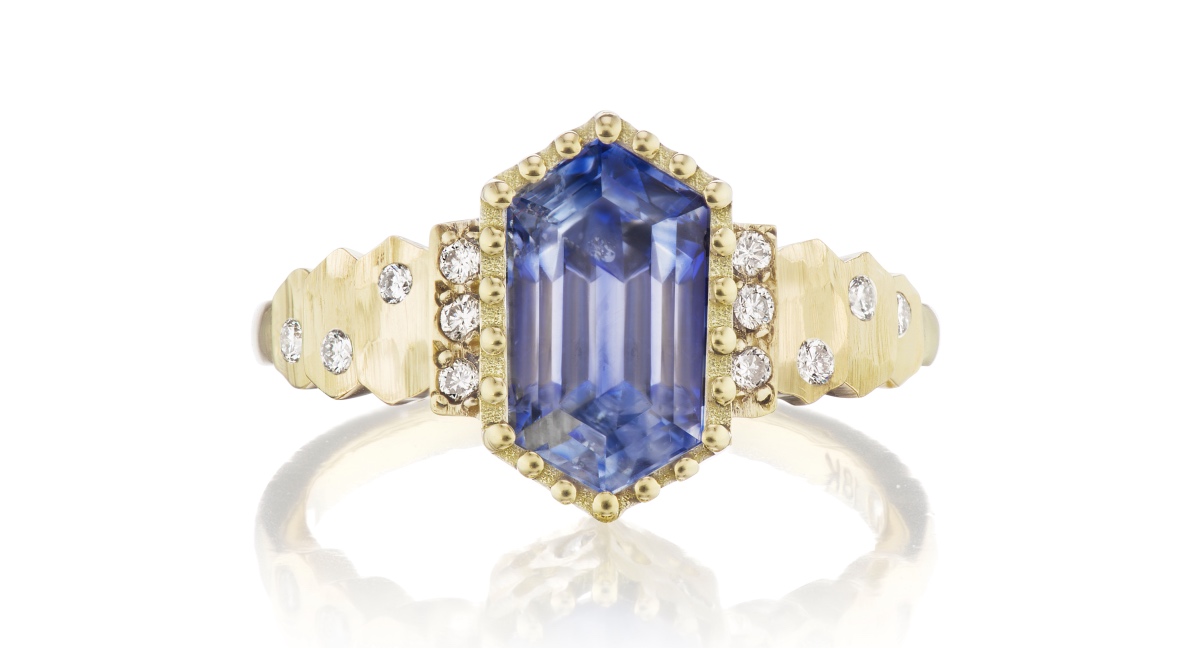 Eve Streicker, the designer and owner of Original Eve, moved back from New York to her hometown of Providence Rhode Island during the pandemic. This move inspired her to create a capsule collection called "A place called home". The ring featured below is part of it. Beautiful claw prongs surround an hypnotizing Starbrite Montana sapphire set in Eve's signature satin finish.

This 3-stone ring by Kendra Pariseault is so beautiful. A one-of-kind olive green sapphire is flanked by two glowing rose cut diamonds.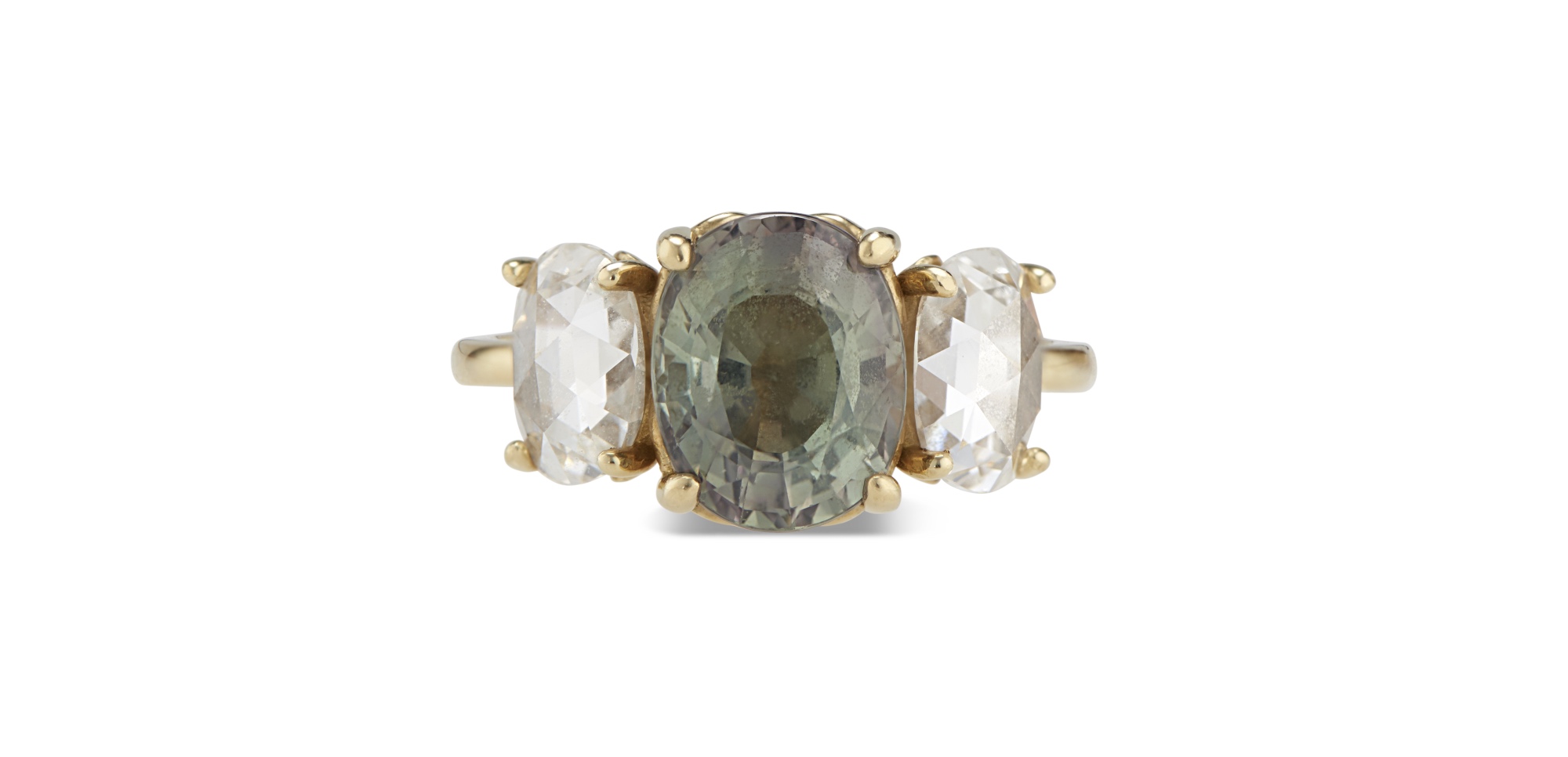 Let's finish with the color of passion and love PINK! First up is an East-West Greenland ruby ring by Copenhagen based  Hartmann's jewelry.  They have a great selection of Greenland ruby engagement rings. Greenland rubies come in many shapes and shades of pinks and reds.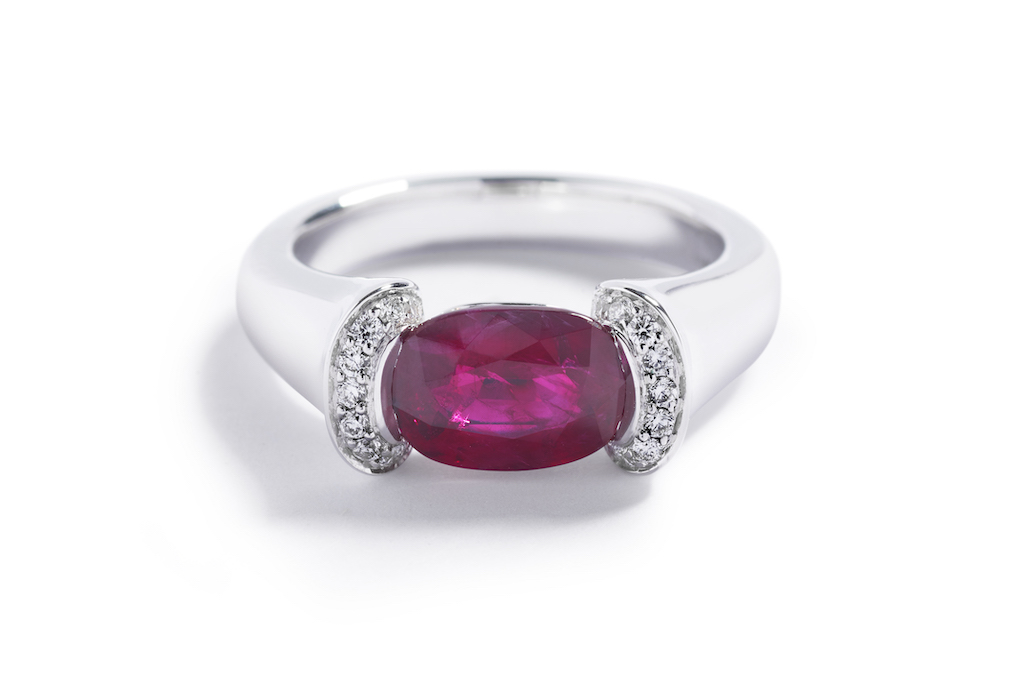 Last but not the least, a WOW ring by our friends at Rahaminov. a 2.93 rare fancy brownish pink moval diamond is surrounded by an halo of fancy pink diamonds set in platinum and 18K rose gold with white diamond accents.