Let the sunshine in with yellow diamond engagement rings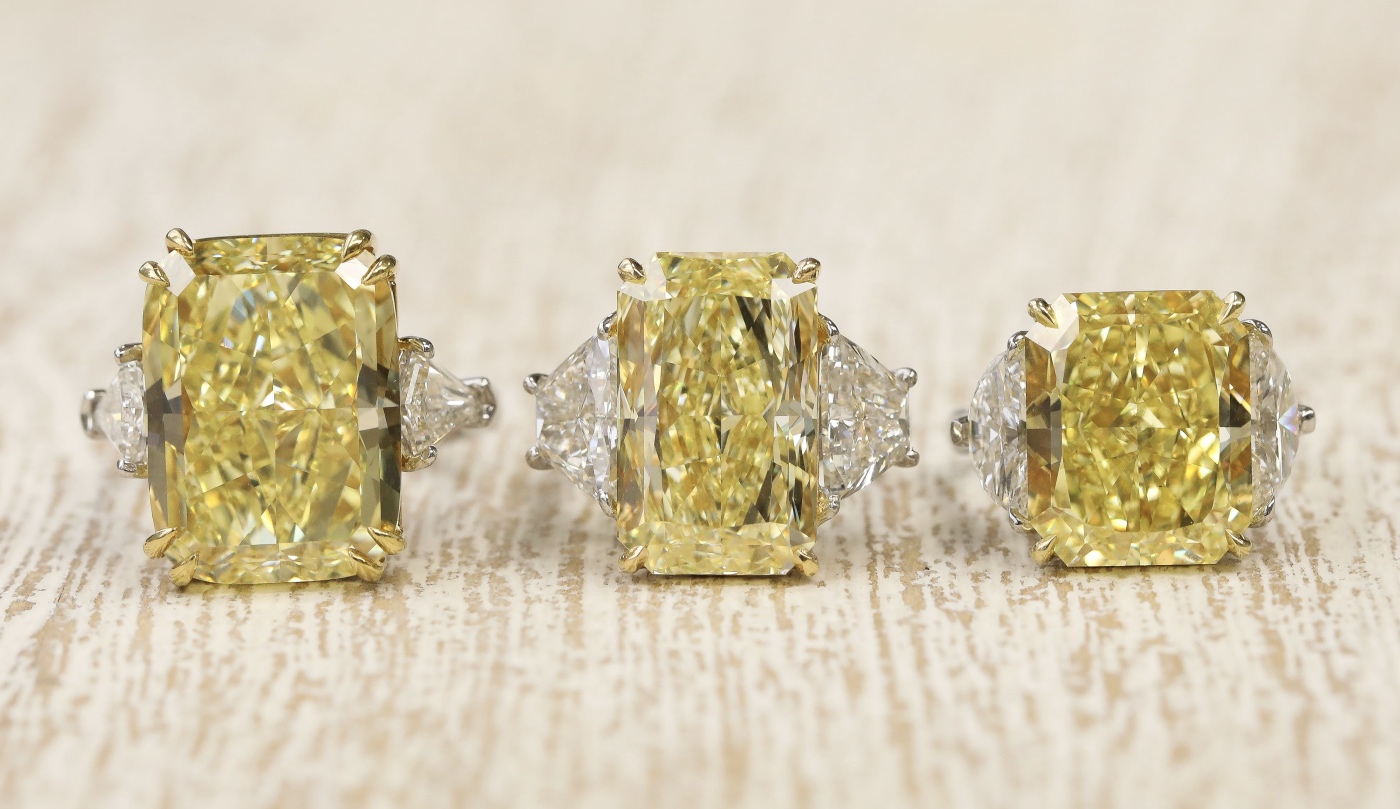 Rings by Icerock Diamonds
Truth be told yellow is far from being my favorite color, which is probably why I have shied away from covering yellow diamond topics. However, I have now officially embraced the 2021 Pantone color of the year. After such dark days, looking at anything yellow makes me happy and hopeful. With this new sunny outlook on a life, I started noticing that yellow diamond rings were popping everywhere. I received  a press release from LeVian and Jared launching a new Sunny Yellow Diamonds® capsule collection. Then, some of my favorite engagement ring brands started featuring gorgeous bespoke yellow diamond rings on Instagram. But what is the ultimate sign that we have a new hot trend? Seeing these beauties featured on real brides engagement ring selfies.
Are you considering jumping on the yellow diamond engagement ring train? You will find some beautiful ring designs in this article. A major thank you to the designers who shared with us their yellow diamond knowledge and gave us useful buying tips.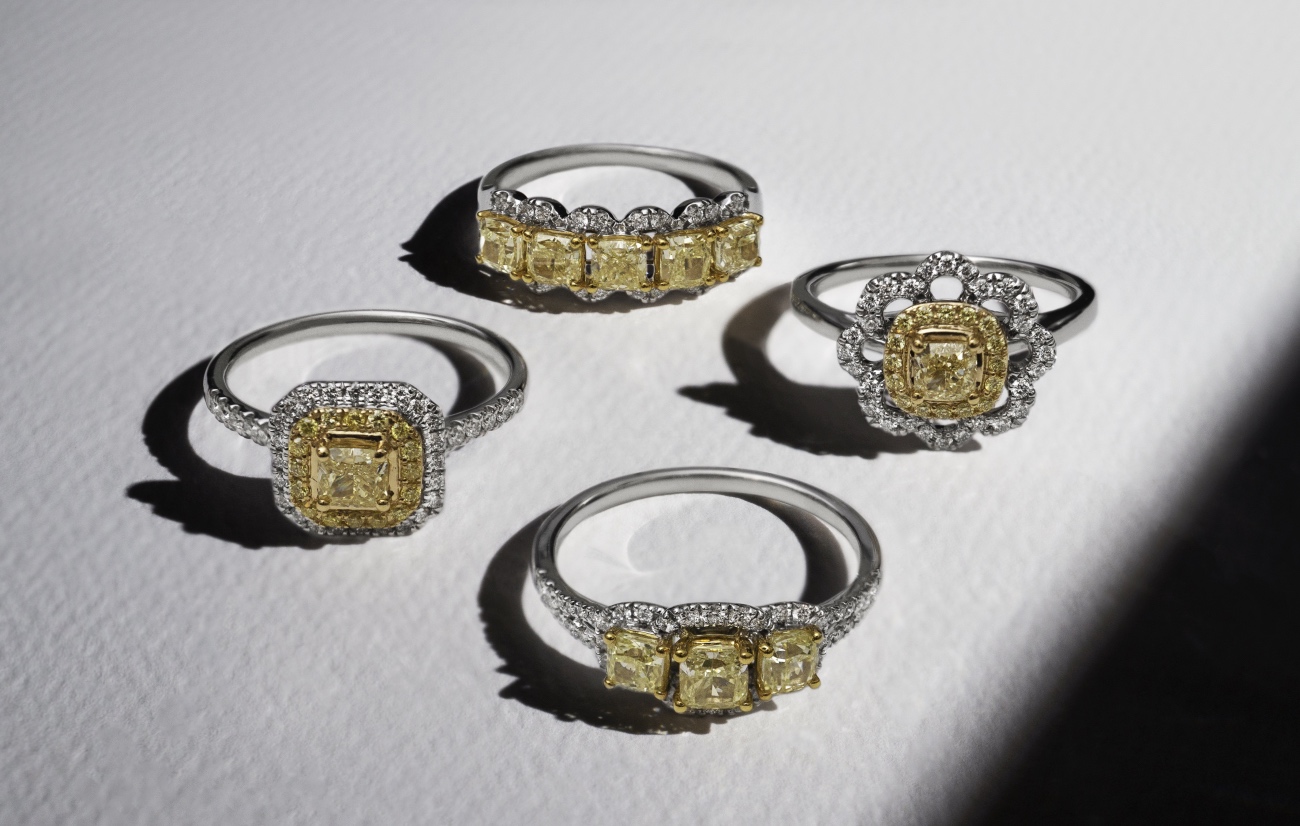 Rings by LeVian sold by Jared featuring their signature Sunny Yellow Diamonds® . Their vibrant shade is a perfect ray of sunshine we all need right now as we continue the year with a healthy ray of optimism. 
After seeing Greenwich St. Jewelers yellow diamond ring options, I zeroed in on this stunning eternity band. It is simply mesmerizing and a great alternative engagement ring option. Women getting engaged later in life (sometimes for the second time around) love picking eternity bands instead of a traditional engagement ring. Christina Gambale, co-owner of Greenwich St. and gemologist gives us 4 amazing shopping tips.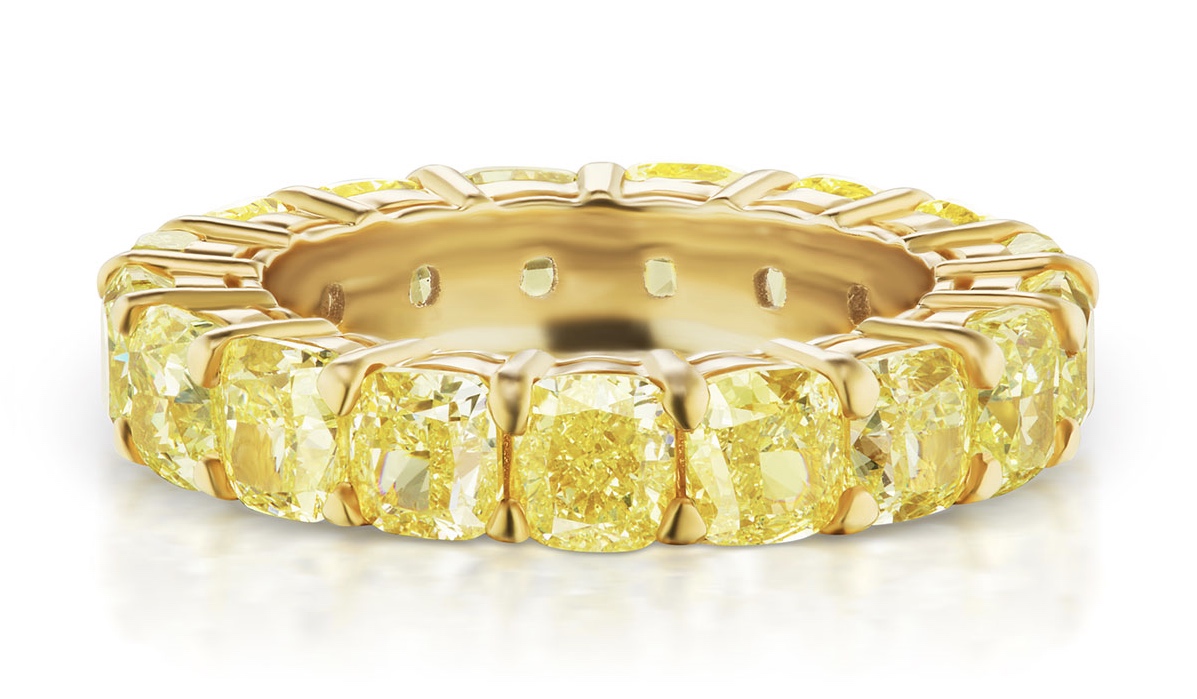 18K Yellow Gold Diamond Eternity Wedding Band Featuring 17 Fancy Yellow Cushion Cut Diamonds Totaling 6.89Ctw in Shared Prong Basket Setting by G St. Ceremony
TIP 1 Yellow diamonds are coveted for their sunny and optimistic hue. From a pastel tint through intensely saturated tones, the deeper the color, the rarer the diamond! I recommend a GIA certified Fancy Yellow or Fancy Intense Yellow color grade when choosing a yellow diamond. A third-party color grade is important when purchasing a Fancy color diamond because of the effect on the diamond's appearance and value with even a subtle shift in color saturation.
TIP 2 When choosing how to showcase your Fancy Light Yellow diamond, I recommend setting it in yellow gold prongs or an all-yellow gold design to enhance the appearance of color.A Fancy Yellow or Intense Yellow color grade can stand on its own in a white gold setting or framed with white diamonds… However, I would still recommend yellow gold prongs which will visually disappear and create a seamless look between the center and side diamonds.
TIP 3 The most common shapes for fancy color diamonds are cushion and radiant cut. These cutting styles have been designed with a compression of many facets in the center that create a brilliant sunburst effect in Fancy Yellow diamonds. Expect to see one of these cuts while you're shopping.
TIP 4 Similar to white diamonds, cut is everything when it comes to the quality of the diamond. The better the cut, the brighter the sparkle…which means the more intense the color will appear.In terms of clarity, the same rules apply as to white brilliant cut diamonds. Any clarity SI2 or above, as long as it is 100% eye clean, can be considered for an engagement quality diamond.
---
In a land with so many women-owned jewelry concierge businesses, Sam Karmiel of  Icerock Diamonds stands out. He always finds the most beautiful and coolest diamonds. His expertise and insights  are useful and down to earth. He totally gets how to help couples shop for engagement rings. He currently has an amazing inventory of pre-set yellow diamond engagement rings, from timeless classics and stunning 3-stone rings to contemporary options. If I was in the market for a new ring, my choice would be to ask Sam to work on a bespoke engagement ring using one of the many stunning fancy-shaped yellow diamonds he also has available. Thank you so much Mr Icerock Diamonds for giving us these 3 tips to share.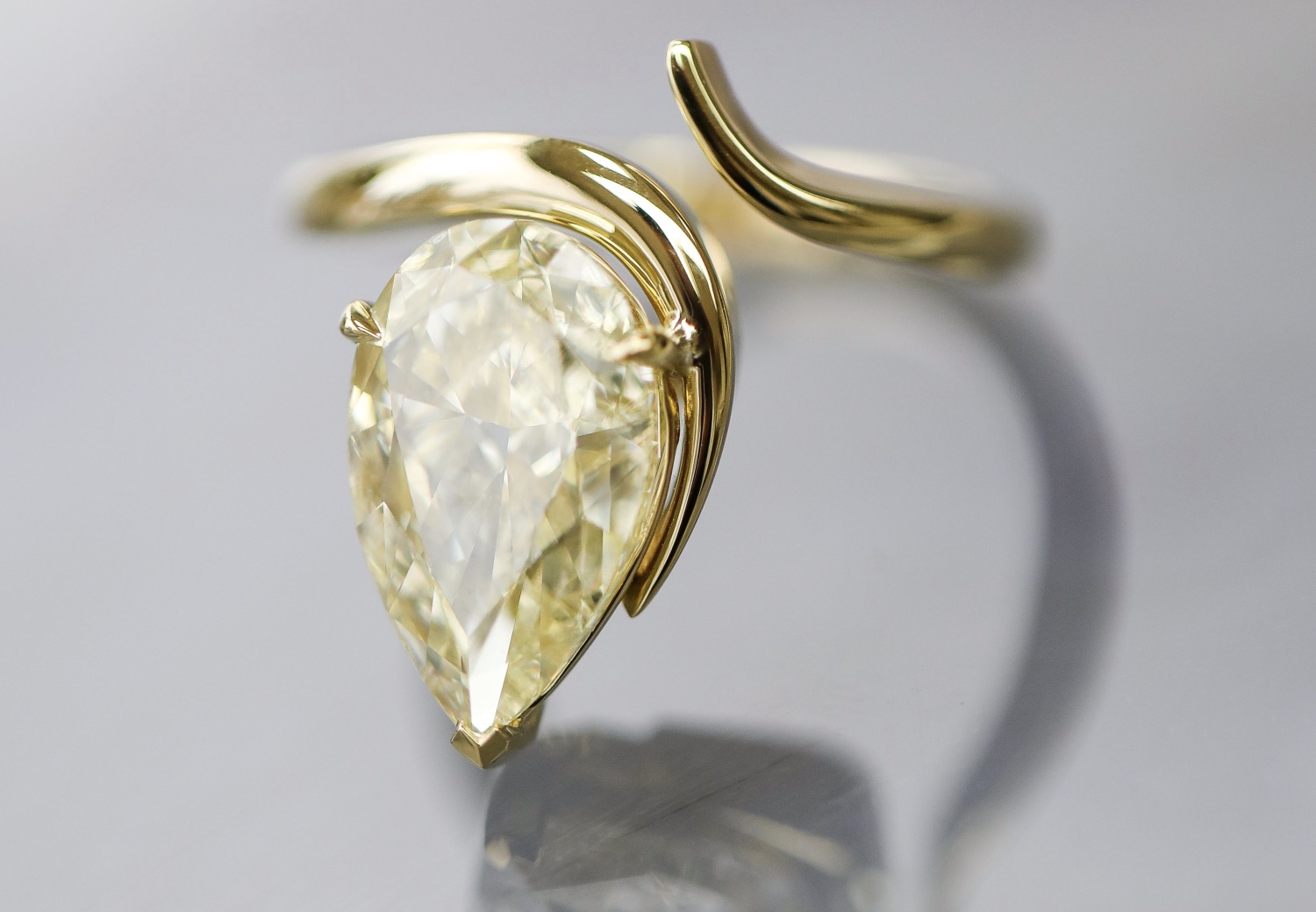 One of a kind Icerock Diamonds ring featuring a beautiful pale yellow pear-shaped diamond
TIP 1 Make sure the color is distributed all over the stone and not just in the middle or on the sides. It should be an even tone.
TIP 2 Yellow diamonds can be sometimes tricky. They can show an average color once they're loose but look super yellow once they're set. You should decide what you care about: the look or what the stone really is. Any yellow stone can be easily made into a Fancy intense or Vivid yellow if it is set the correct way.
TIP 3 Make sure there isn't any secondary color such as brown for example. I personally like the purest yellow diamonds.
---
After noticing a gorgeous Valerie Madison yellow diamond engagement ring on a real fiancée, I asked the bride-to-be Amara to tell us why she picked such a unique stone. I love her answer and this is definitely a young woman passionate about jewelry.
"My fiance was on board with whatever I liked. I knew I wanted a J or K colored authentic antique diamond when I began my diamond search with the help of Valerie Madison's staff gemologist, Lauren. This came about from years of obsessing over antique rings. I was always drawn to the warmth and candlelight glow of a warmer diamond. I also loved the idea of wearing something that had "lived some life". Back in the day diamonds were even more scarce and diamonds were desired no matter their color. My oval had once been a marquise, that after wear, had become chipped at its points, so it was re-cut into an oval. It still contains inclusions that are visible to my eye and I personally love that." – Amara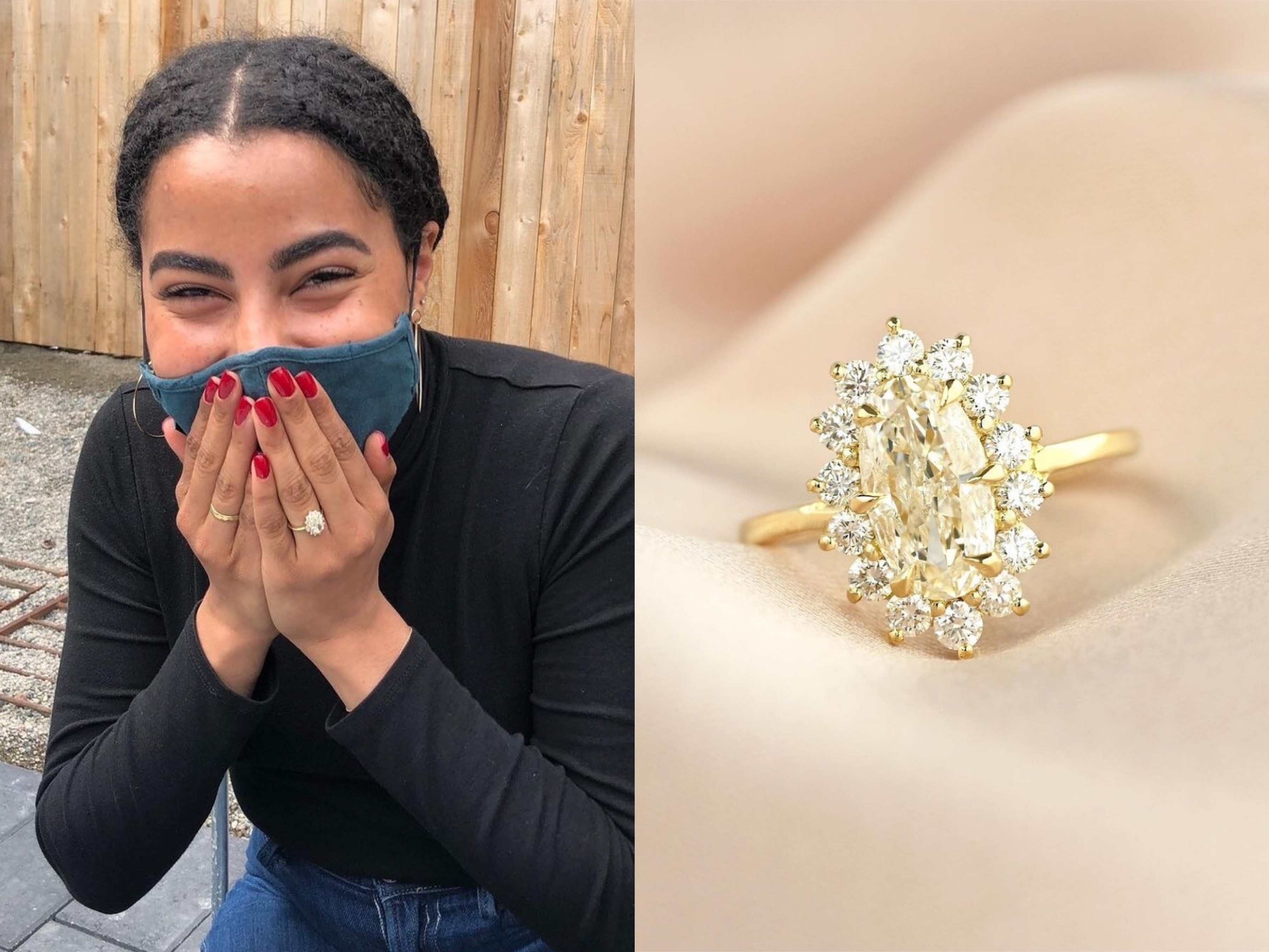 It has been a while since we interviewed designer Valerie Madison. It was right before the opening of her new Seattle store. It was time to catch up so I asked her and her gemologist Lauren three last lingering questions about yellow diamond shopping.
Any tips on choosing the right yellow diamond color for oneself ?
Choose a color that speaks to you and compliments your skin tone. – Lauren
I like yellow diamonds on the pale side. Should I just look for a white diamond on the warm side?
It depends on the color you are looking for. Diamonds that fall in the normal color range (D-Z) get increasingly more yellow as you get closer to the end of the scale. I will say that diamonds in the normal color range are not considered Fancy yellow diamonds. Fancy colored diamonds have a different color grading system and have a deeper saturation of yellow coloring. You need to be very specific when you describe the color you are most interested in so our sales associates and staff gemologist can curate the selection of diamonds that best fit the aesthetic you are looking for. – Lauren
Are yellow diamonds as expensive as white diamonds? 
Yellow diamonds will be a little less expensive than white diamonds. Of course, there may always be exceptions since yellow diamonds aren't as common and some of them will be really special or rare and may command a higher price for their uniqueness. – Valerie 
It is hard to say how the price compares because they are on different grading scales and all diamonds vary in pricing depending on their cut, color, clarity, and carat weight. Much more goes into pricing a diamond than just one factor, such as color. At the moment it seems that fancy yellow diamonds are not as popular as white diamonds, therefore less demand typically means a lower price point. However, many fancy vivid yellow diamonds are very rare and will still command a high price tag regardless of demand. – Lauren
Thanks again to everyone who contributed to this article. Funny coincidence or kismet? As I was wrapping up this story, news broke that a young man mined the rough yellow diamond he wants to set as an engagement ring for his girlfriend. Here is the story!
As we would say in French " Le Jaune est la couleur du moment."
Sev