Leave it to sustainable wedding jewelry trailblazer Brilliant Earth to become the first bridal manufacturer to launch a gender fluid collection. The news really made me very happy. Engagement 101 has always made a point of sharing diverse and inclusive proposal stories, it is who we are. Once we looked at the collection in more details, we were hooked! The designs are stunning and cater to the many facets of the LGBTQ community as well as to all nonbinary people. Brilliant Earth gets it!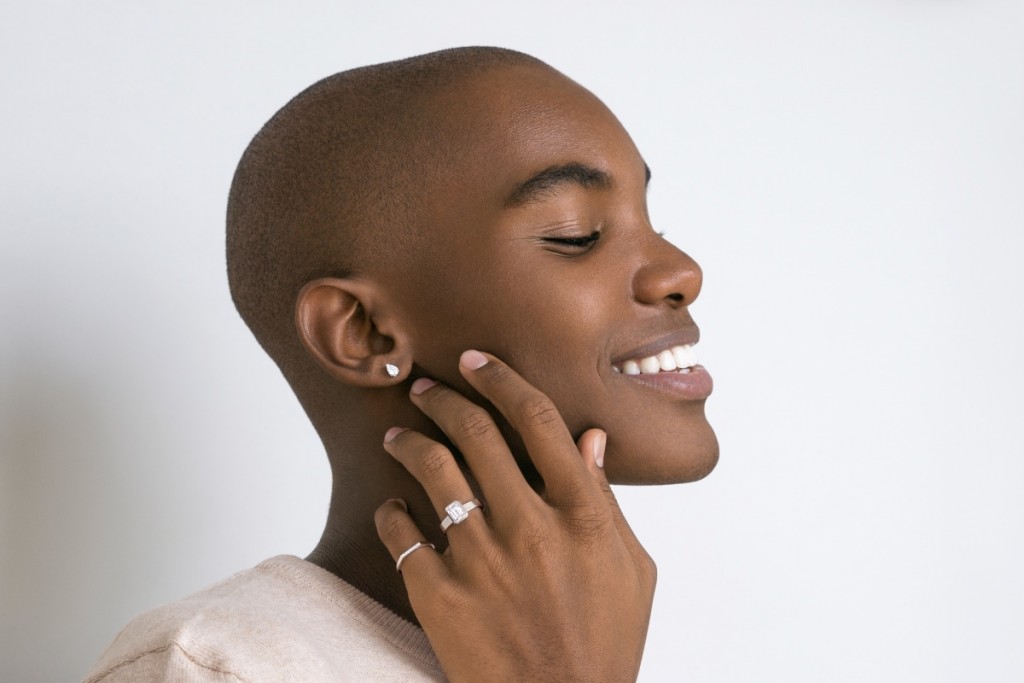 Vesper Solitaire and Luz Diamond Ring
Indeed, the Mx Collection is SO good! And the cherry on the cake? Brilliant Earth provided the engagement ring for the Holiday movie I am most excited to see: Happiest Season. It is the first time that a mainstream holiday movie is focusing on a Lesbian love story. The movie is directed by indie darling Clea DuVall and starring Kristen Stewart, Mackenzie Davis and Daniel Levy. It is about to be released on Hulu on November 25.
Kathryn Money, SVP at Brilliant Earth, was kind enough to answer a few questions about the line and their partnership with the movie.
Sev: What made you decide that it was important in 2020 to create a nonbinary capsule collection of commitment rings?
Kathryn: Cultivating a more compassionate and inclusive jewelry industry has always been a key focus of Brilliant Earth's mission. As we continue to grow, we want to ensure our products and offerings reflect evolving social and cultural conversations, including those around gender and relationships. The Mx collection is our way of recognizing those that identify as non-binary and gender non-conforming in the jewelry space by celebrating and promoting love in all its forms. In addition to the Mx Collection, we also launched a gender neutral "Rings for Everyone" page on the website that offers expanded standard sizing ranges. We were also inspired by rising generations and their eagerness to embrace and express their authentic selves. Younger generations overall have a much less binary view of sexuality and gender – this can be seen in places as relevant as Vogue's recent Harry Styles cover. As younger Millennials and Gen Z's are entering the wedding space, we want to celebrate with them and promote inclusivity and equity in our bridal offering.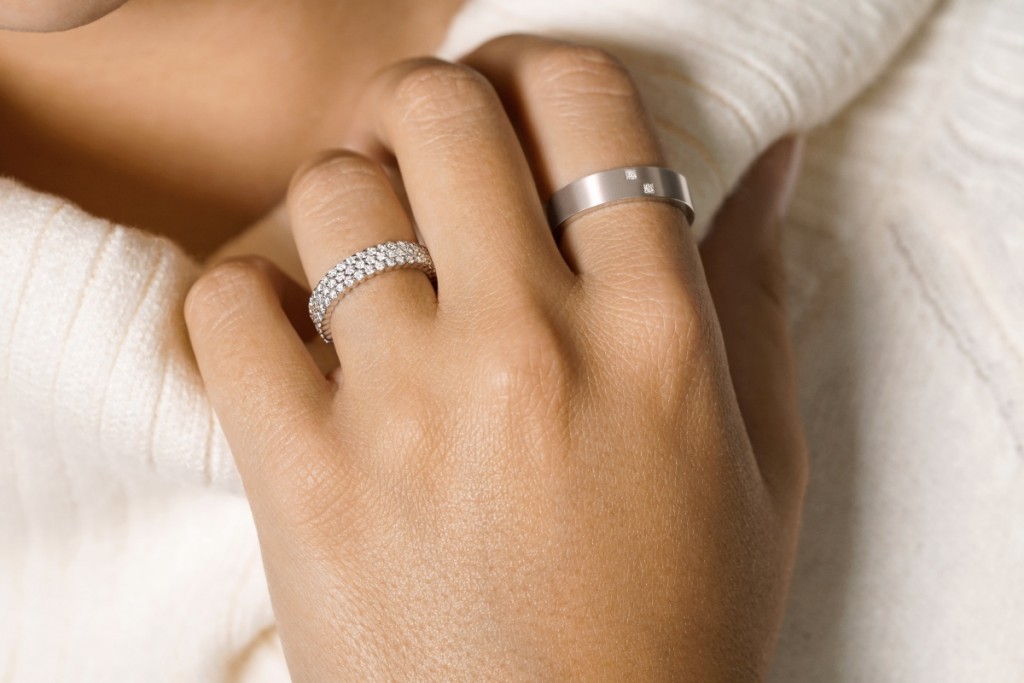 Arista and Amador Diamond Rings
Sev: There's one rainbow band but, I love that the collection goes way beyond pride focused designs. What have you learned from your non-binary customers in terms of what they expect to wear versus what straight people think they should?
Kathryn: Gender expression, just like stylistic expression, is different for everyone: the Mx Collection is designed to complement our traditional bridal assortments, offering a wide range of rings for a wide range of gender expressions. Our goal with the Mx collection was to take design elements that were traditionally masculine or feminine-coded, or gender neutral, and re-mix them. We have rings like the Vesper Ring – a thick, squared off band with a bezel set center stone – and the Insignia Ring – a signet-style ring offered as a CYO-engagement ring – that have the thickness of a masculine-coded engagement ring while still offering a center diamond or gemstone. Rings like the Luz Diamond Ring or the Helix Diamond Ring feature delicate strands of diamonds and experiment with form to give a less traditional wedding band style. Some of the styles bridge the space between engagement rings and wedding bands by using large geometric accent diamonds like the Apex Diamond Ring or the Amador Diamond Ring. The Mx collection is designed to fit outside the traditional bridal structure and to complement a wider gradient of gender and stylistic expressions. These rings can be paired with the rings in our "Rings for Everyone" listing page to create bridal sets that fit any relationship.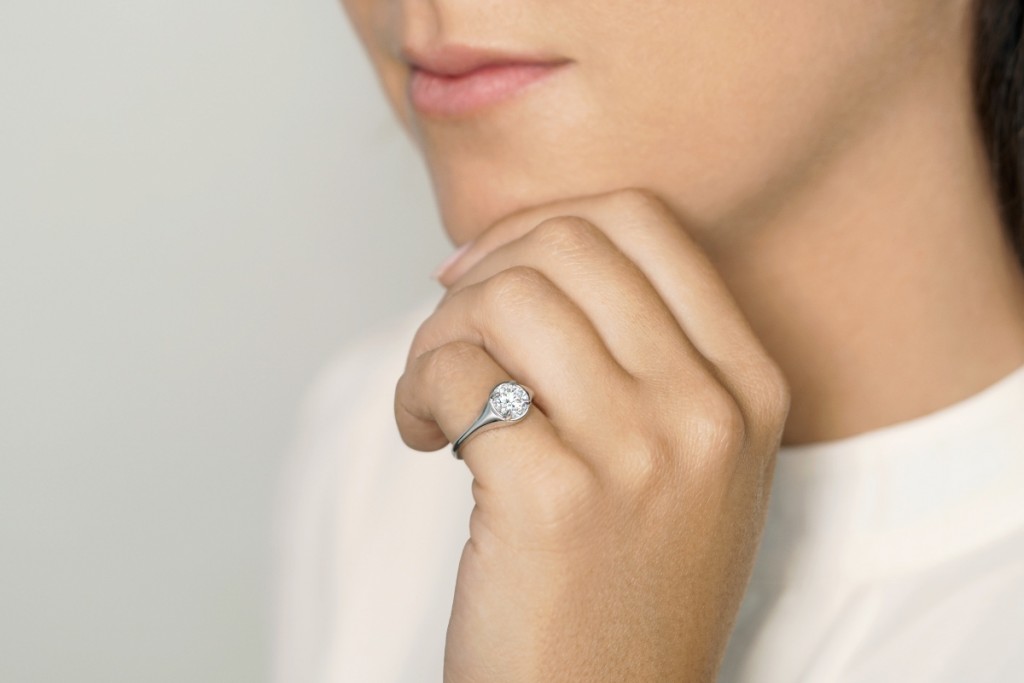 Insigna Signet Ring
Sev: How did you pick your main model. They are gorgeous!
Kathryn: We agree! We wanted to find someone who authentically represented the Brilliant Earth Mx customer when seeking out models for this shoot.  We came across them in a beauty ad we saw online and immediately were drawn to their look!  Other models we featured were actually Brilliant Earth employees, including Lee McGirr – one of our designers who spearheaded the concept and created designs for this collection.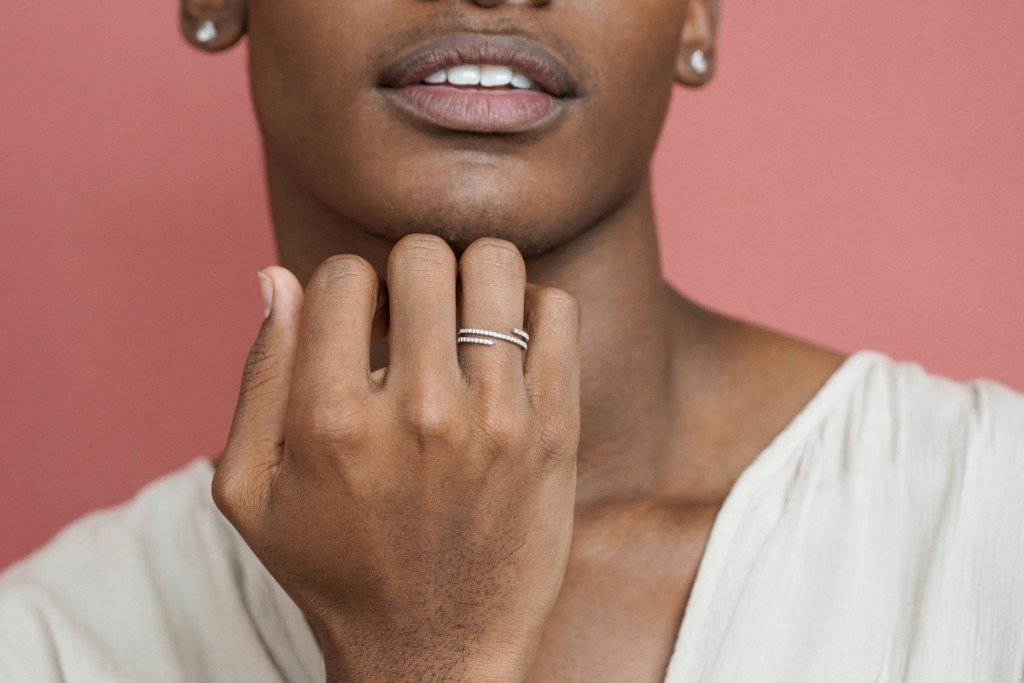 Helix Diamond Ring

Sev: I was thrilled to hear that you were involved in the movie I am most excited to see this holiday season. Tell me more!
Kathryn: The ring featured in The Happiest Season is our Horizontal Petite Comfort Fit Engagement Ring, part of the Mx collection. The ring used for the movie features a horizontally set emerald diamond, but using the Create Your Own ring process on our website, this ring style can be set with a variety of fancy shaped diamonds including an oval, cushion, pear, marquise, or radiant diamond.  We were thrilled to be a part of this breakthrough Christmas movie, which is the first major LGBTQ+ holiday rom-com. This inclusion felt like a natural fit for our brand as we are proud to celebrate love of all forms, and have a strong LGBTQA+ customer base. The film's message aligns with our values of creating a more compassionate and inclusive jewelry industry.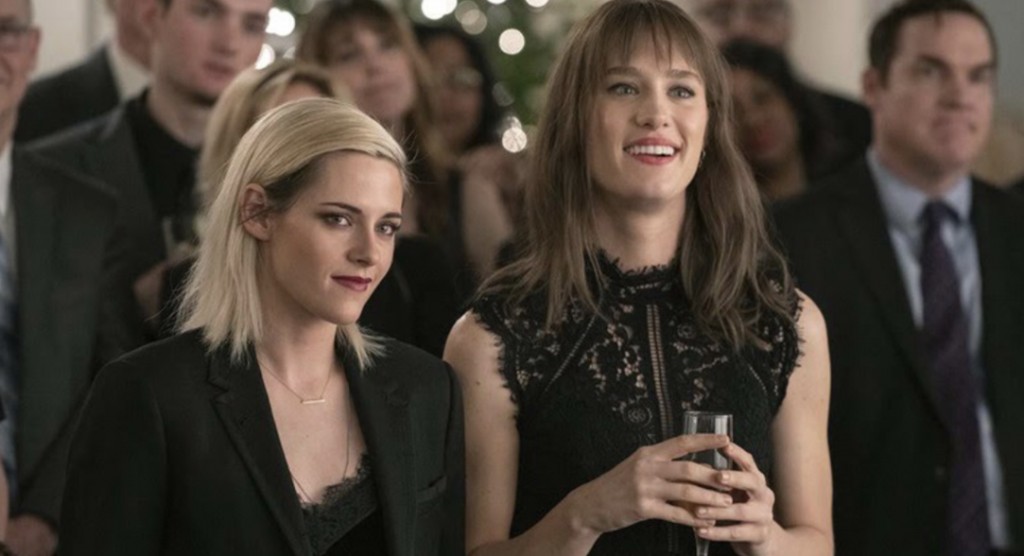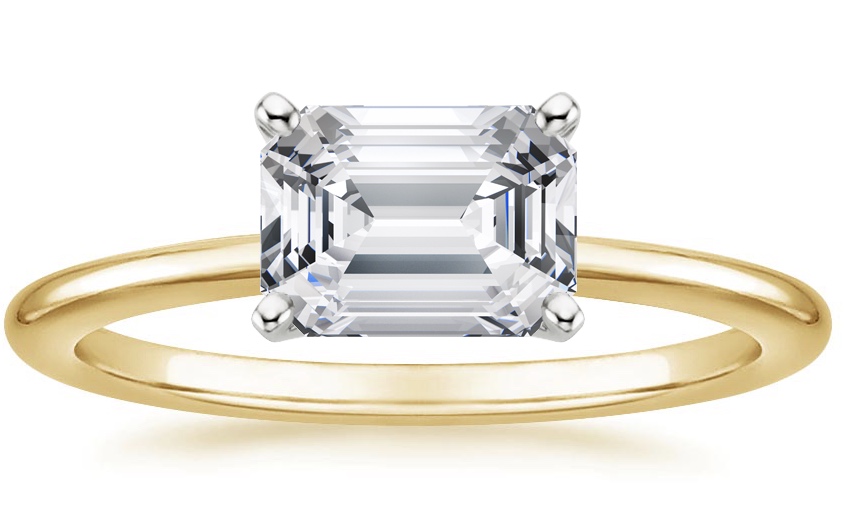 Sev: What is your current favorite ring from the collection and why?
Kathryn: One of my personal favorites is the Arista Eternity Diamond Ring. This glamorous cigar style ring features over one hundred pavé set diamonds for a striking, shimmering design that wraps the finger in an aura of light.  Definitely on my holiday wish list! 
Spread the word, tell your friends, and don't forget to watch the Happiest Season on Hulu during the Thanksgiving break!