Last year, when Emma Stone got engaged with a pearl engagement ring, the jewelry industry was somewhat shaken by the news. Pearls are beautiful yet fragile. Brides have been wearing pearl earrings and necklaces on their wedding day for centuries.They are a symbol of purity and fertility and do look good with a white dress.  A majority of celebrities embrace the diamond center standard and have launched many diamond engagement ring trends.   We all know the story of how De Beers created the  clever "a Diamond is Forever" campaign in 1948 that convinced many generations diamond engagement rings were their only option. Truth be told, diamonds are a 10 on the Mohs' scale, the hardest precious gemstone. If you are living an active lifestyle and are planning to wear your engagement ring every day and  forever, a diamond is still your best option. A close second are sapphires. They come in hundreds of unique hues  and are close to diamonds on the Mohs' scale of hardness with a 9. For reference, pearls are only a 2.5.
Emma Stone is very active but probably doesn't plan to wear her pearl ring 24/7. She doesn't wear it at work when she plays a part in a movie and was probably told not to work out or clean dishes with it. She most certainly can handle a pearl engagement ring like many jewelry educated millennials with similar lifestyle can. On top of  factoring in gemstone preferences, a growing number of modern women do not see their starter engagement ring as something the couple should spend all their savings on. It might just be a first ring to collect and wear now. Then, down the road, there will be upgrades to celebrate milestones and a more solid financial situation.
Anna Sheffield was one of the first designers to focus on providing alternative center stone options for engagement ring settings. We had a quick remote pandemic chat with her about engagement rings featuring softer gemstone centers.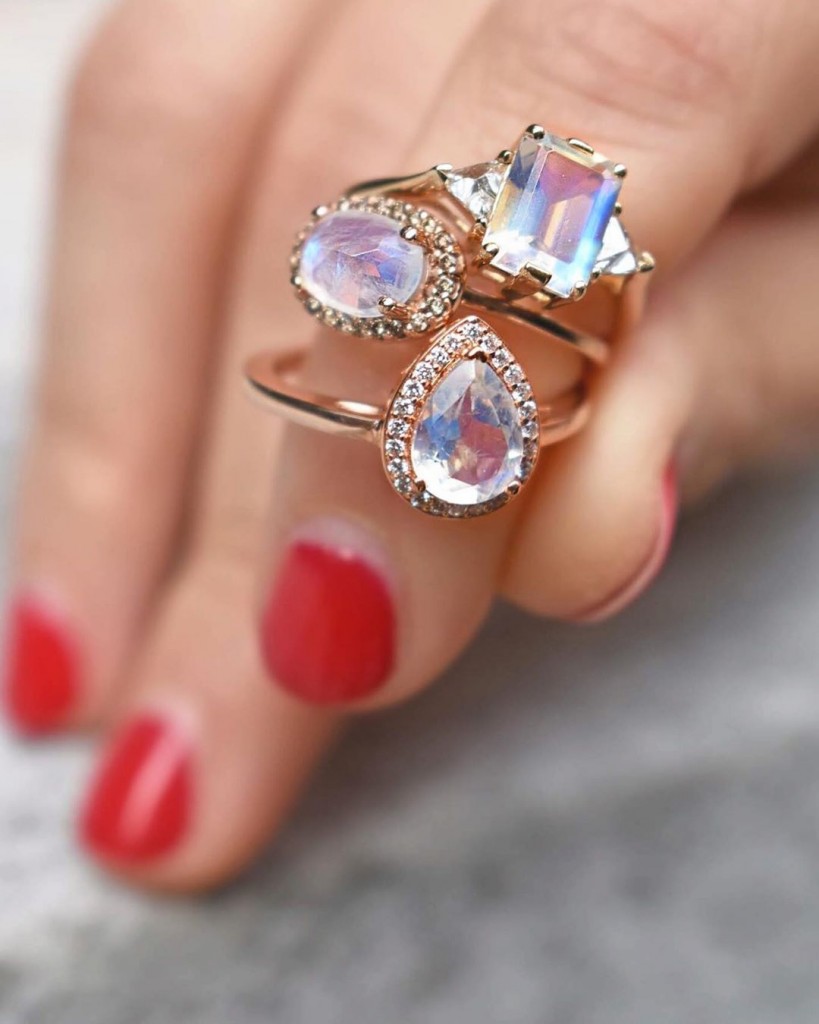 Anna Sheffield moonstone engagement rings
"We launched the engagement, or what we now term ceremonial rings, collection in 2011 and from then I've been interested in using stones uncommon to this type of jewelry traditionally. Semi precious and colored stones are indeed softer than the diamond, but many of them withstand the test of time. It's just a matter of care and being aware. (There are some amazing Georgian vintage pieces in the world with opals, one of the more delicate gems, and I think that's a testament to giving your jewelry TLC.)." Says Sheffield.

"I like to pair these gemstones with delicate details and classic settings, which makes them feel considered in the design. We pair rainbow moonstones with diamond trillions in our signature Bea. And I love turquoise with yellow gold, accented by white, champagne or even grey diamonds. Recently we added a beautiful stone called grey spinel, and I think it's so gorgeous it works even as a solitaire."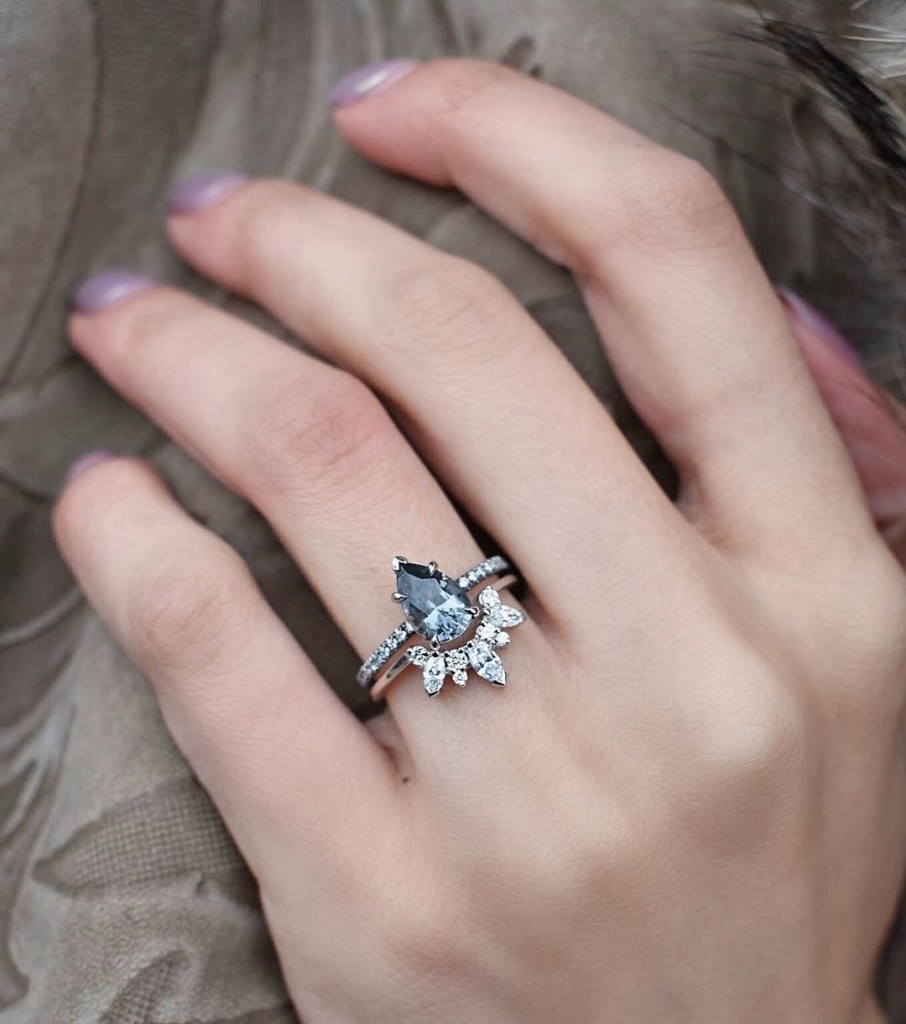 ---
---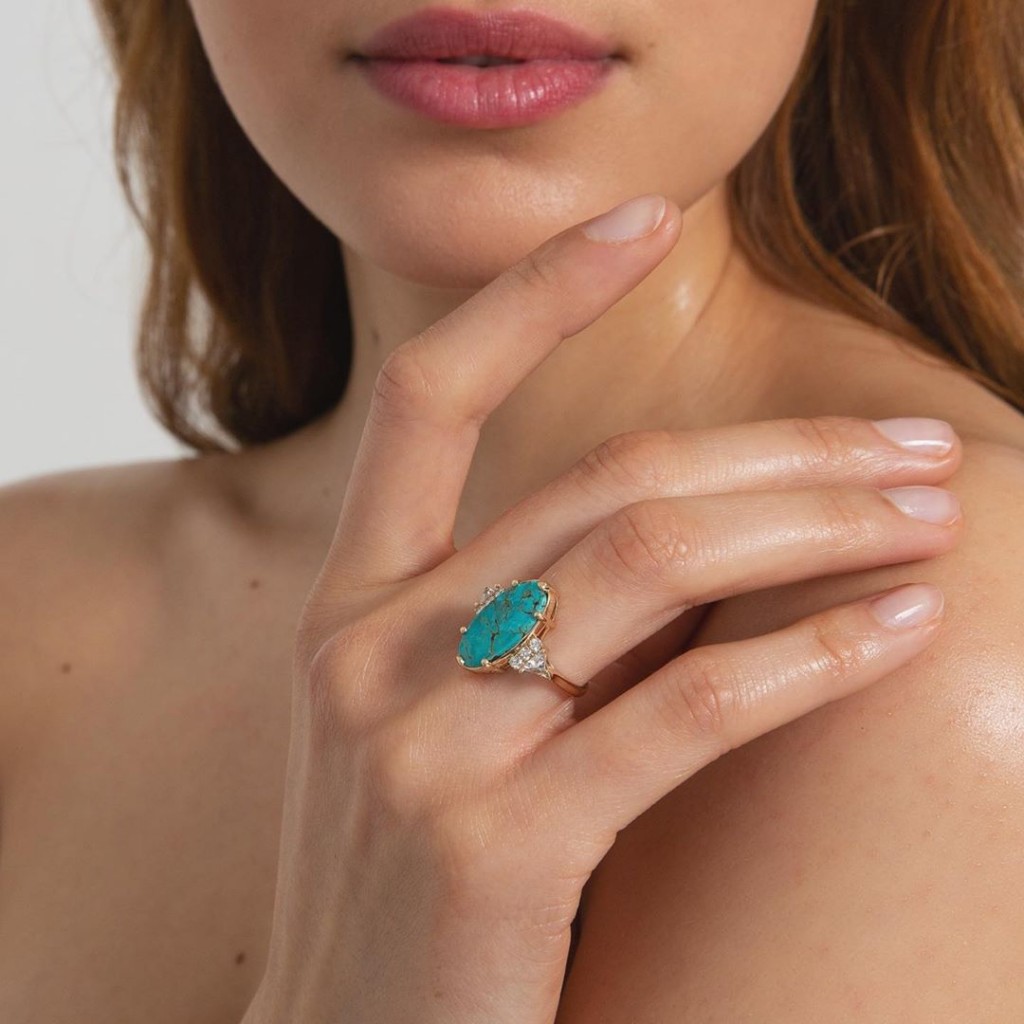 Custom Bea engagement ring setting with turquoise center by Anna Sheffield
We recently talked with bride-to-be Ahbee Gomez who just got engaged to CJ  Sapong. He purchased  a custom turquoise and diamond engagement ring from  Anna Sheffield.  The couple has a long-distance relationship. He is based in Chicago and she lives in Los Angeles. They  try to see each other every month, but in the midst of this whole pandemic, they  found out they were pregnant in March. Ahbee had plans to visit him 10 days after she broke the news, but within three days business were shut down and traveling was not advised. So Ahbee spent the first three months of her pregnancy without seeing CJ. Finally in May she decided to take the chance since things were opening back up. She flew to Chicago to spend some "quarantine" time with him. She was in the middle of a FaceTime call with her family on the couch in her PJs when CJ came up from behind her and said, "look what I have." She turned around and saw the ring. He got down on one knee in his living room and asked her to marry him with her family still on the FaceTime call.
She said yes, of course!  CJ had all these elaborate plans for the proposal and had been wanting to do it for a while when the pandemic broke. After a while, he just couldn't bear the fact of not being engaged. The ring is  the Anna Sheffield Stardust Bea Ring. It has a turquoise center stone with trillions and baguette diamonds. Ahbee is  Native American and always wanted a ring that incorporated the generations before her. Turquoise is a prominent stone in her lineage.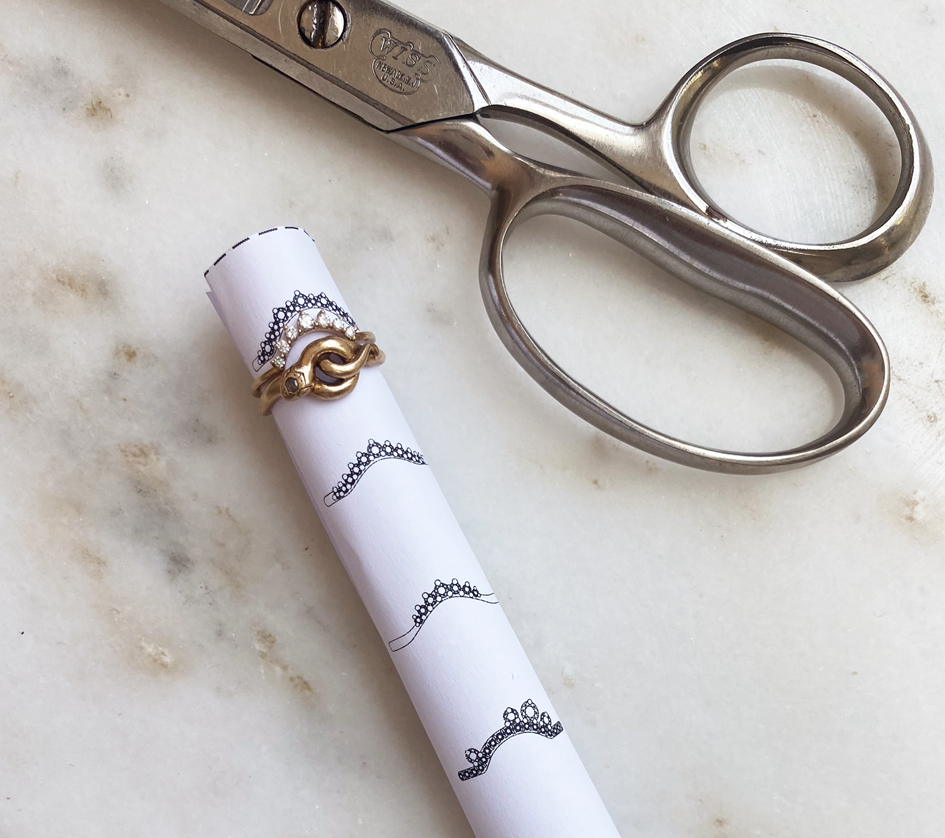 If you'd still like a diamond as your center stone, Anna Sheffield offers a lot of stackable band  options including pearls and other gemstones. Check out her stacking guide here.