I could create jewelry gift guides forever… My wishlist is getting prrrretty long. I just gathered gift  ideas around 2 more themes for my last "Holiday Gifts" post of the decade! First, stackable rings inspired by my favorite celebratory drink, pink champagne. I looked for bands with different "roles" or specificities, all in 14k or 18k rose gold.  Then I picked 4 cool necklace pendants to wear on the days you need to feel empowered.

1. Texture: Milgrain metal beads give a vintage vibe to new jewelry styles. Enters Sholdt with a totally fresh approach. The symmetry of the milgrain rows of their signature fern finish is so very modern… 2. Shine: Baguette bands are a hot trend. They are chic and sparkle in a unique way. They can get pricey though. This petite ring by Parade Design is only $1,250.  3. Practical: If you have a job requiring to wear gloves or are athletic, you need a band that will not let you down. The diamonds on this Mark Patterson ring are smooth set and will not get in your way. 4. Open ring: A very popular trend this year, open rings are stand-outs. This style by Noam Carver is a stunner with marquise diamonds set as leaves. 5. Tracer band: Gabriel & Co. offers a variety of curved bands to add waves to your stack or fit flush around the design of your engagement ring. 6. Unconventional: though it's a good bet to build a wedding suite with timeless bands, you should take risks and include something unexpected. Gigi Ferranti's Lucia collection is full of unique stackable bands. You can pick one or start playing jewelry legos and collect them.
Some days are harder than others and you need jewelry armor to face them. The pendant styles I selected come in affordable options in sterling silver or vermeil. Some are also offered in precious metals.  Look for price options on the designers' websites.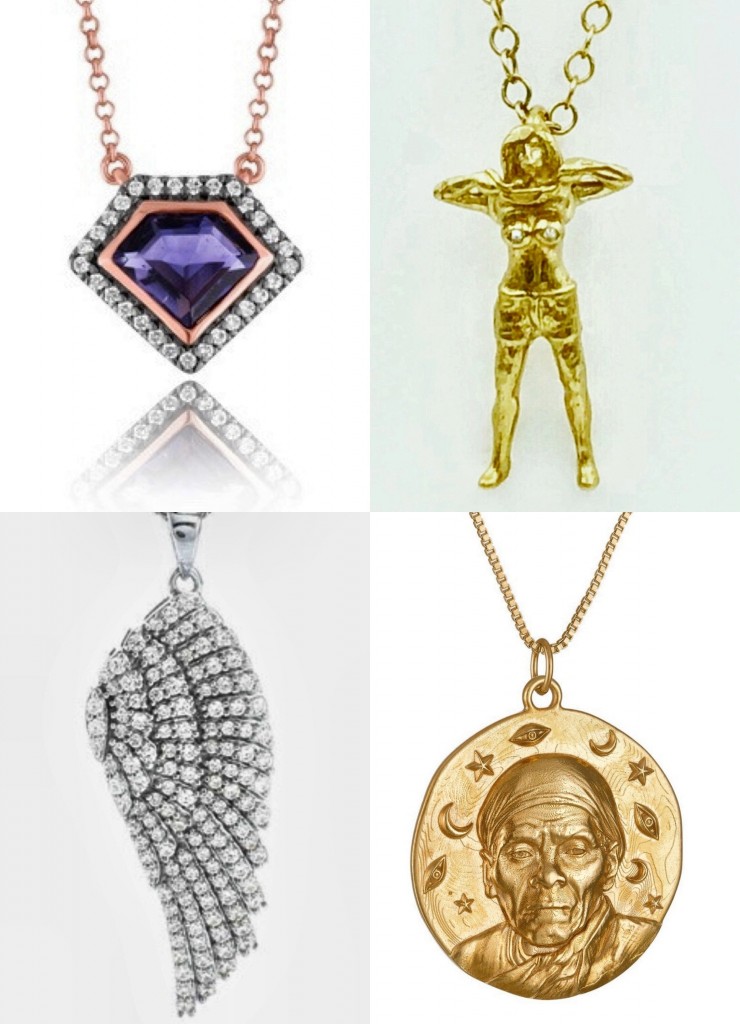 1. Julie Lamb's  Metropolis collection features gemstones and diamond shields to remind you to acknowledge your superpowers. The deep indigo of this stunning iolite is definitely my kryptonite. 2. Gemsteady's Flashin' Janet is a party girl and a feminist that supports the movement to "Free the Nipple" on social media. She is funny and irreverent, I love her attitude. 3. Some of you may know that I lost my Dad earlier this year. The angel wing pendant pictured above feels very special to me as a way to remember someone who has passed on. Michael O'Connor began work on his first angel wing design following the death of his own father. During this pensive time, Michael remembered something special his father had said to him almost every night – touching words he hadn't thought of in months – "Good night and God bless, and may the angels watch you always." 4. I live in Harlem. Since moving to this neighborhood so rich in history, I have tried to educate myself and learn about African American heroes and icons. Harriett Tubman helped rescue 300 slaves and fought for the rights of women to vote. She more than deserves to be on the $20 bill. Since there seems to be a delay, you can honor her by wearing this Sewit Sium pendant and by watching the just released movie Harriet.
EPILOGUE for those looking for the perfect engagement/wedding gift for a friend

Celebrate key dates of a couple's love story by gifting them with a customized print by Still Novel. You create the artwork on their website, pick a frame and then voila, they ship it to them… or you can just give the couple a gift card so they can create the artwork themselves.