Time to report on the 10 new engagement ring trends spotted during Vegas Jewelry Week.
1- Rose Cut Diamond Centers
They glow in such a unique way! Engagement rings with preset rose cut diamond centers were the strongest trend we witnessed this season. Purchasing an engagement ring is usually a two-step process during which you need to pick a setting and a stone separately. Preset engagement rings allow you to know the price of the whole ring as is and right away.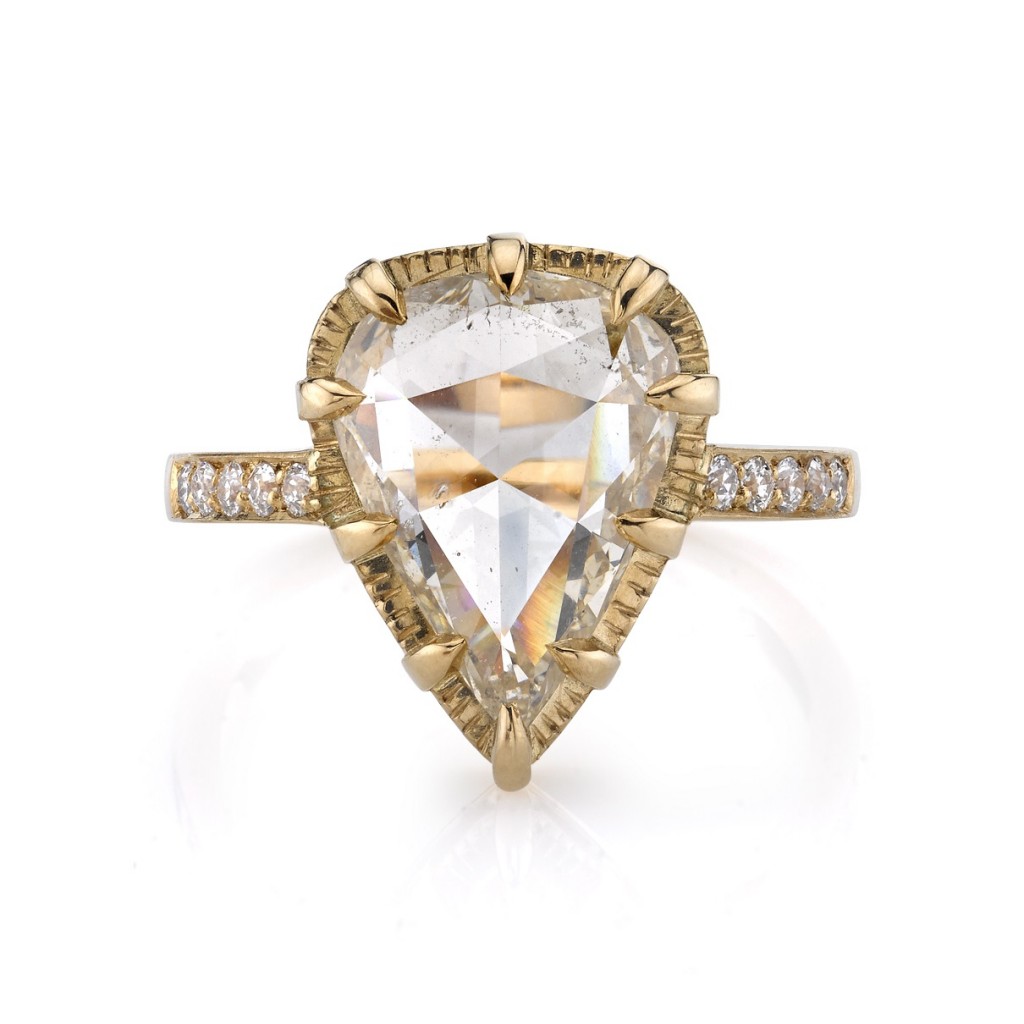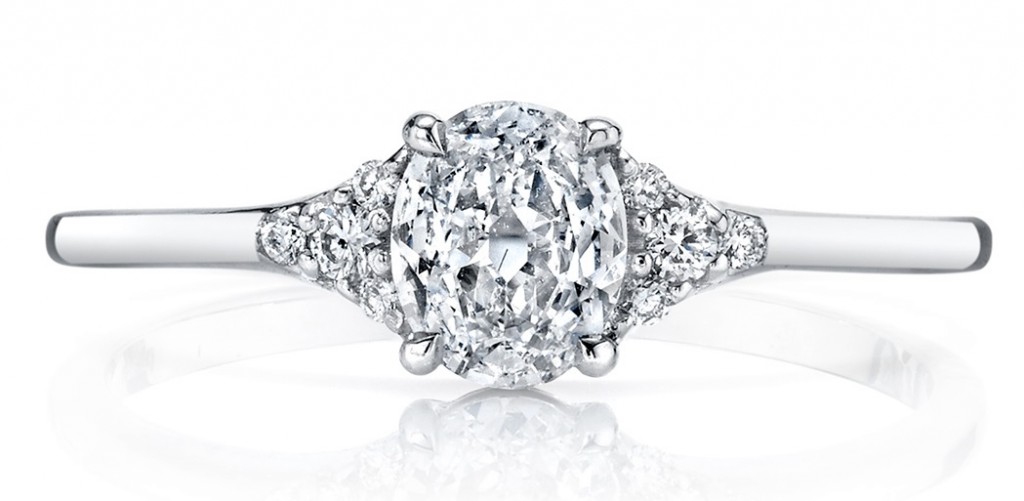 First, a pear-cut stunner by Single Stone set with claw prongs.
The ring below is by Parade Design featuring their brand new proprietary Lumiere diamond cut.  This new cut is a unique hybrid of a rose cut and a European cut.
2- Under Halos
The side of your engagement ring is as important as the top. You will stare at your ring a lot from a 3/4 angle. Under or hidden halos have become very popular with brides for this main reason. Several designers introduced new designs around this trend this season.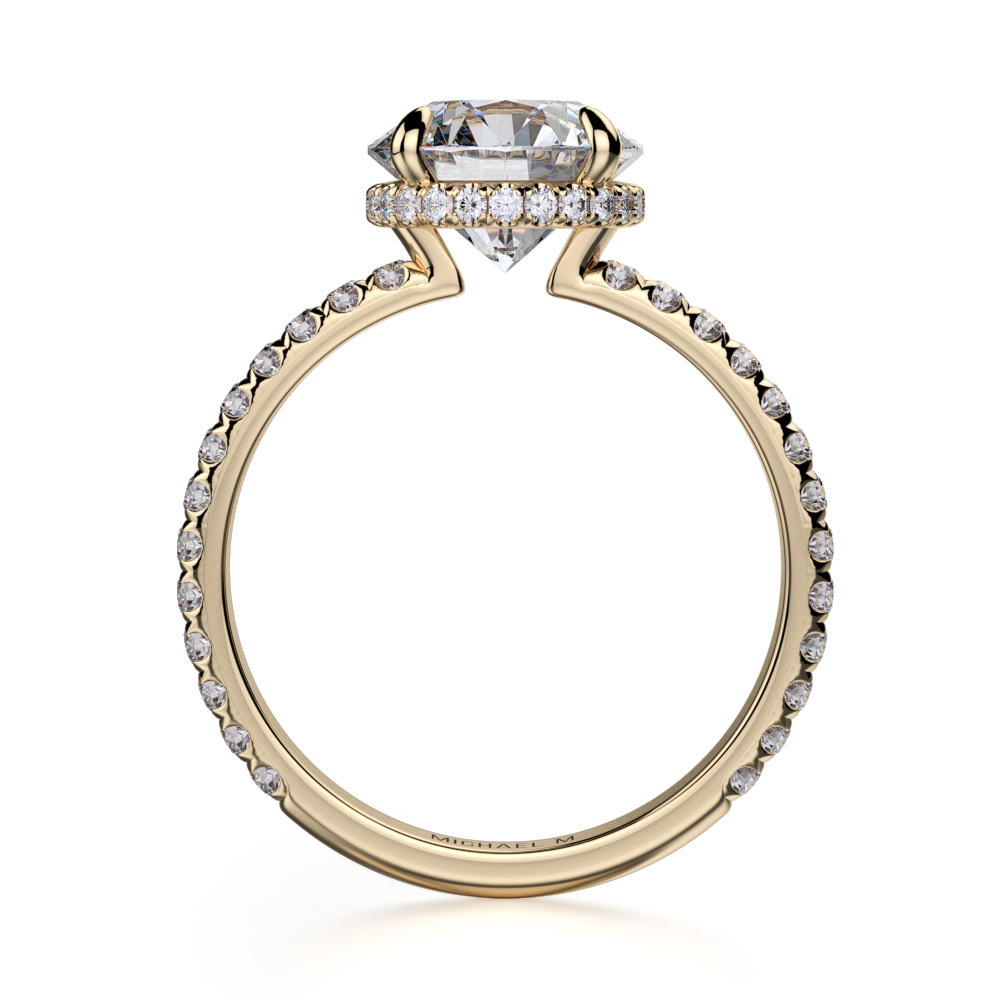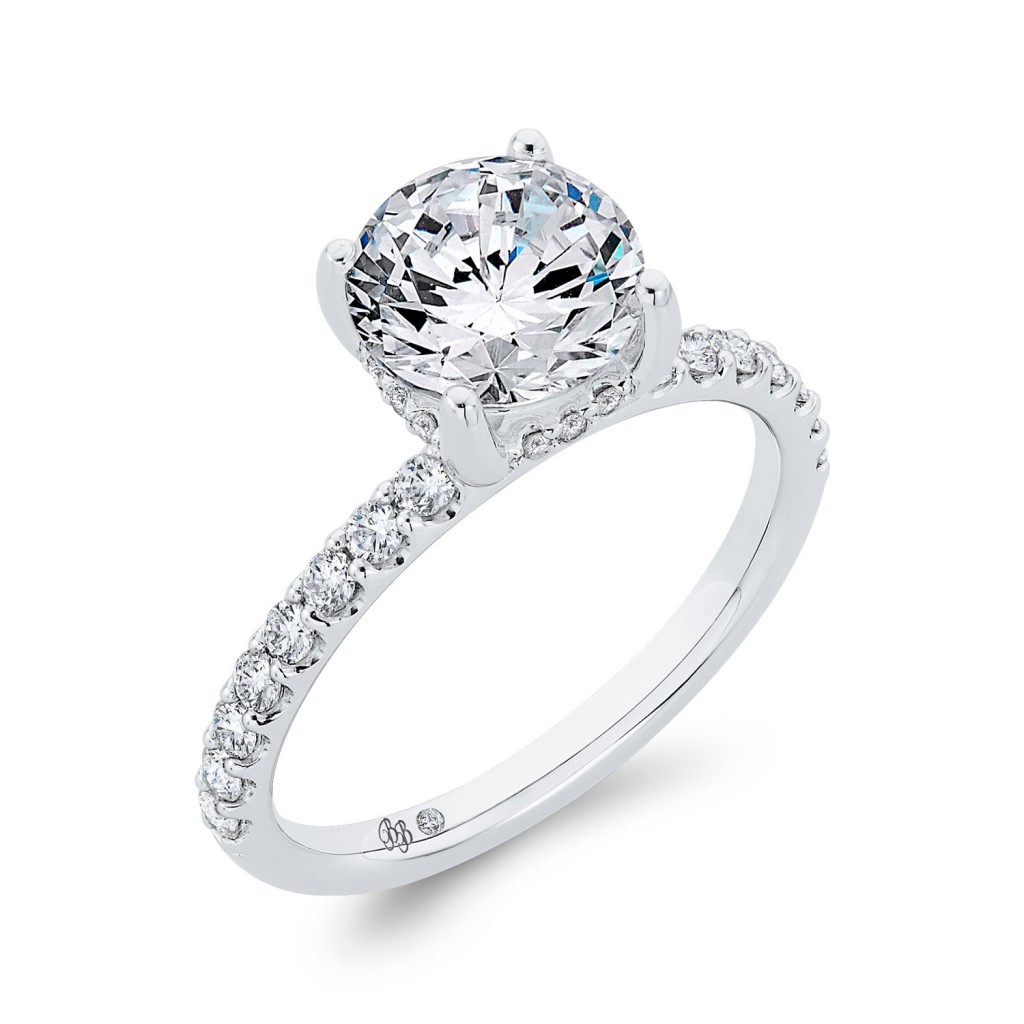 The yellow gold ring is part of the new Michael M. Crown collection which is focused on under-halo rings.
Ben Bridge's new Bella Ponte collection includes rings with a secret diamond collar. You can spot one on the platinum ring.
3. 50 Shades of Blue Sapphires
Keeping in mind that sapphires come in many colors, we were dazzled this season by the array of blue sapphire shades.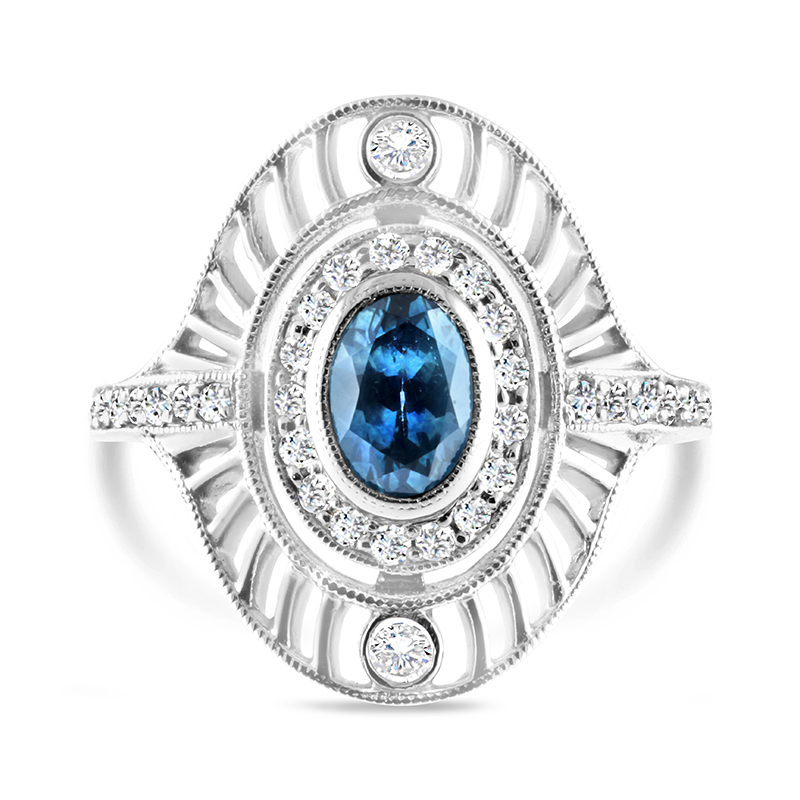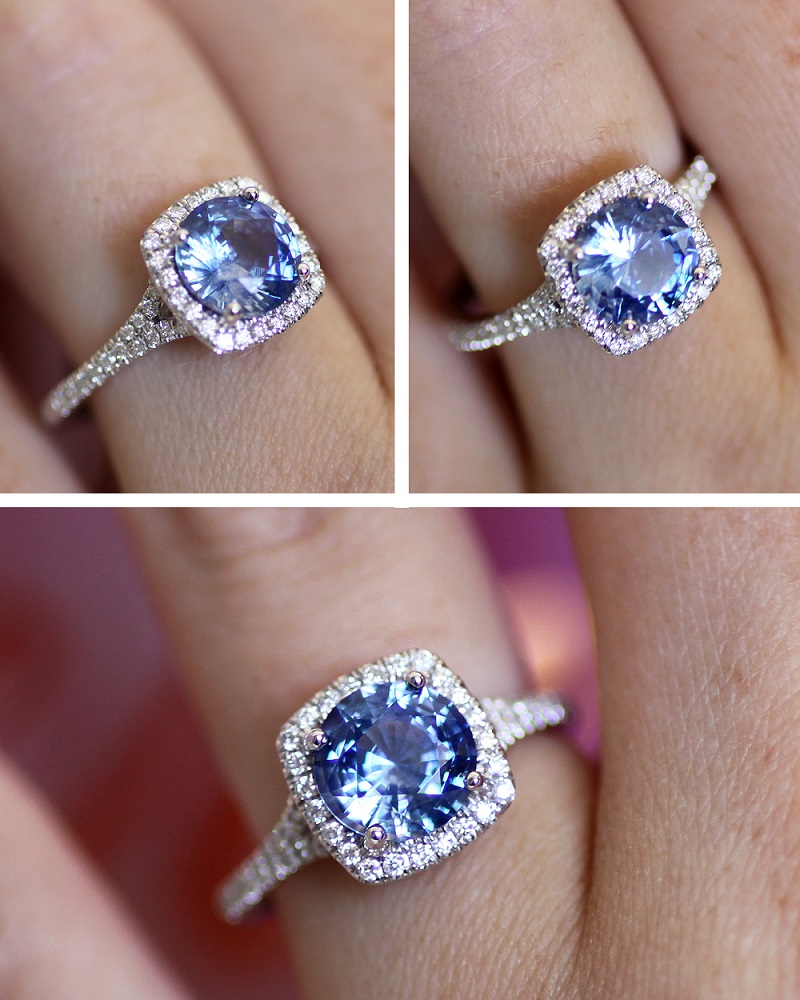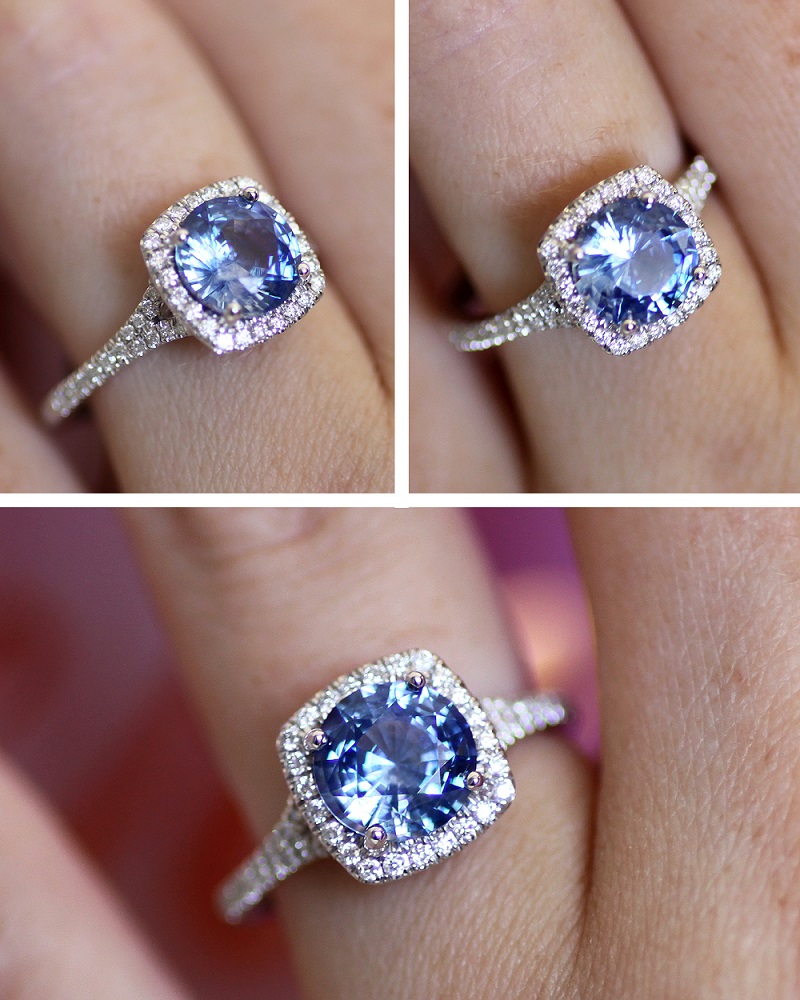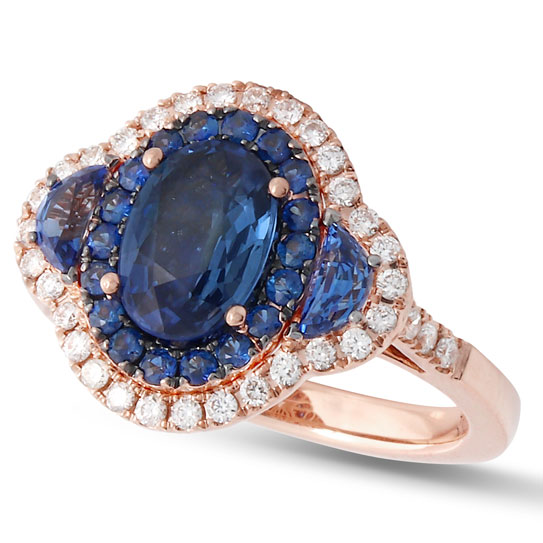 The top ring by Sholdt includes a Montana sapphire. Montana sapphires come in unique hues of teal and other greenish blues.
In the middle, a new engagement ring by Coast with a mesmerizing periwinkle sapphire.
Last but not the least, if you are still favoring dark blue sapphires, consider setting them in rose gold like this new style by Beverley K., so gorgeous.
4. Build Your Own Ring
Stackable bands have been a hot trend for the past couple of years, allowing for many creative ways to spice up your engagement ring. Designers were inspired this season to enter the next level of this trend, adding chevron and tiara band options. The game is on to build the wedding suite of your dreams and either wear all your rings together or separately, depending on the day or the occasion.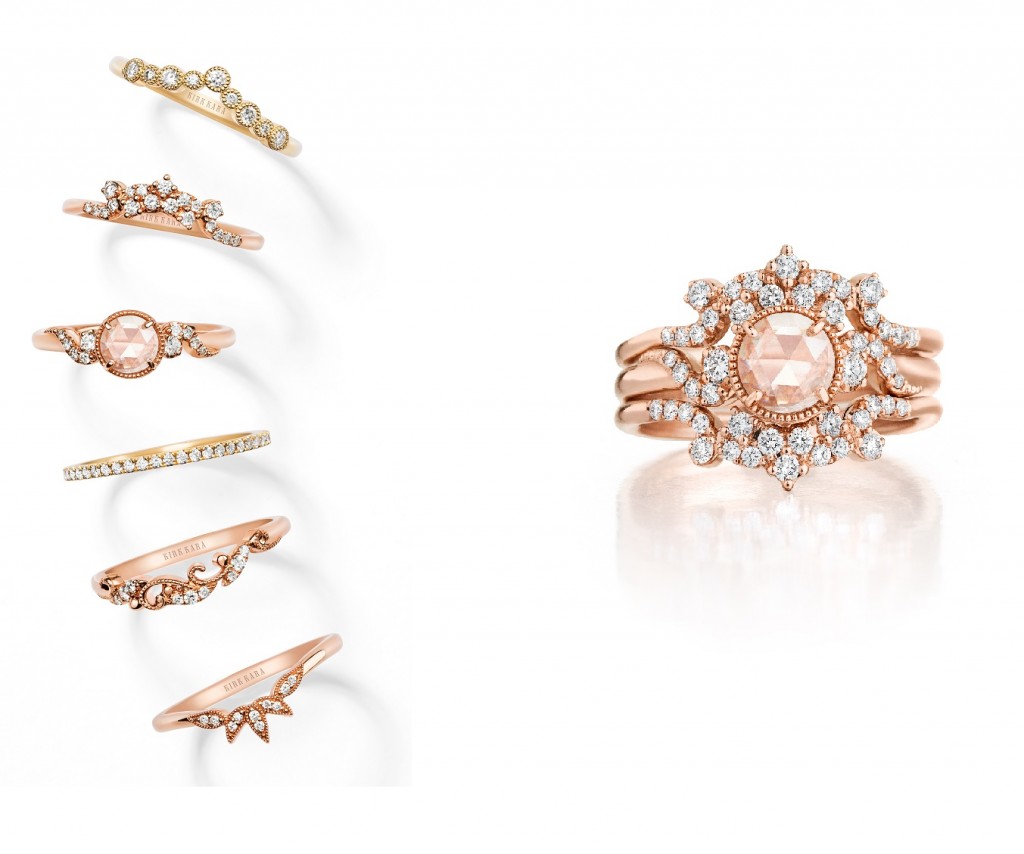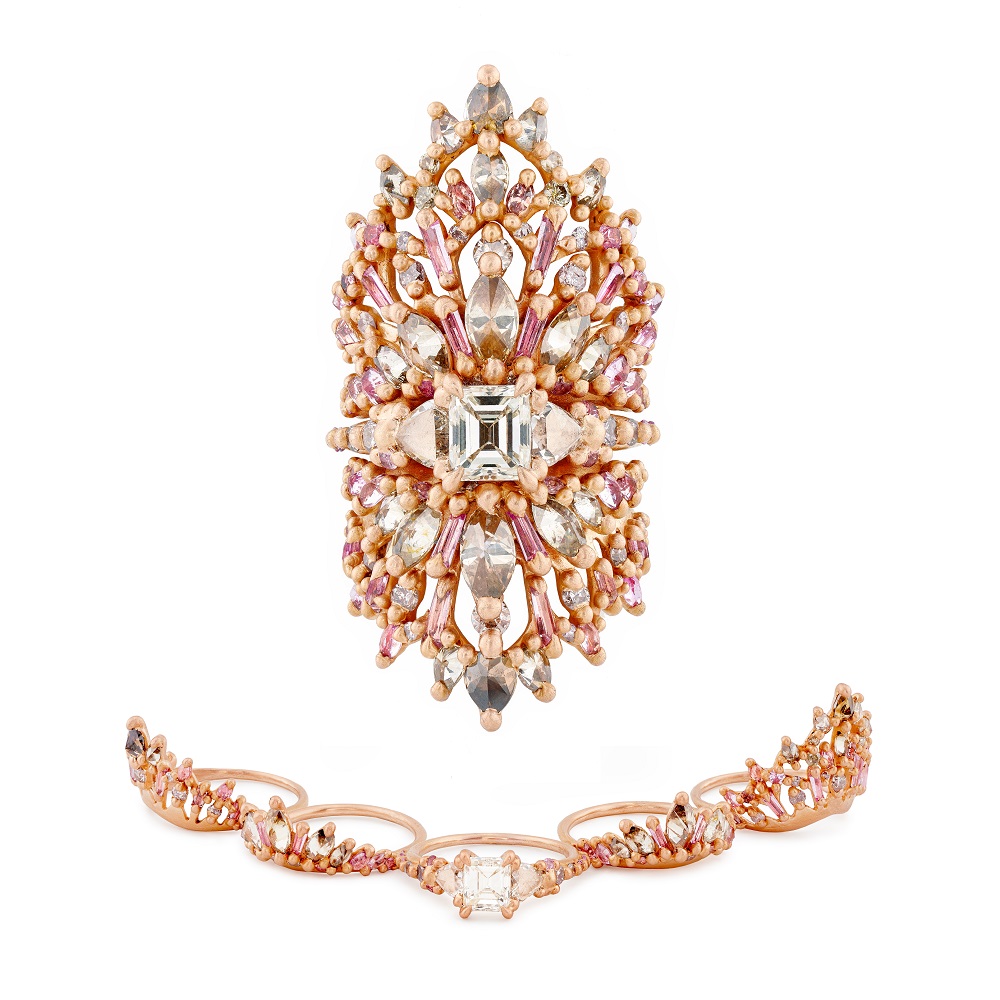 Kirk Kara's new rose cut engagement rings are very sweet and affordable. The price point leaves you plenty of room to start collecting their amazing bands (first picture).
British designer Polly Wales wants you to go big or go home with her unique Lady Stardust wedding suite mixing white, cognac and champagne diamonds with pink sapphires, all cast in rose gold.
5- Bring Back the 80s, the Ballerina Ring is Back
Diamond baguette halos in the shape of tutu skirts are stealing the thunder of the classic halo design.  Ballerina engagement rings really make a bold statement!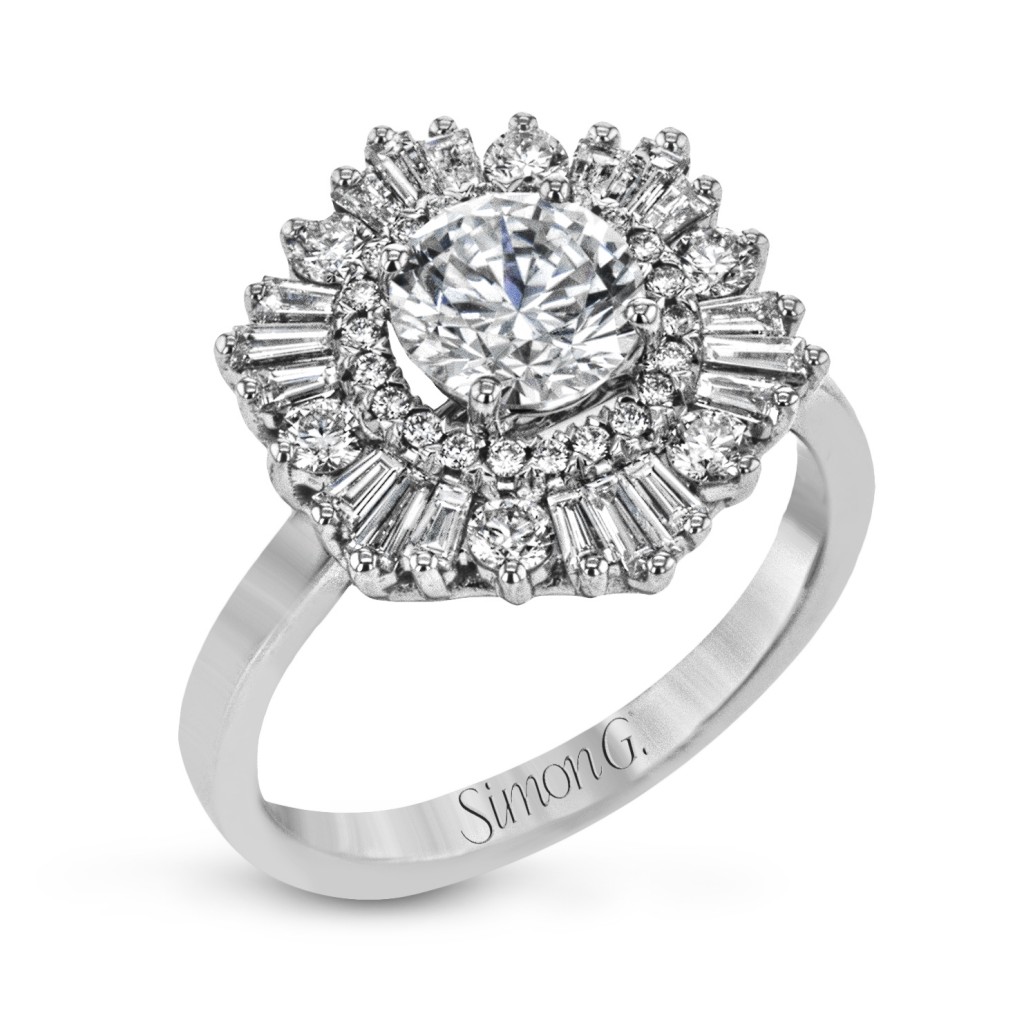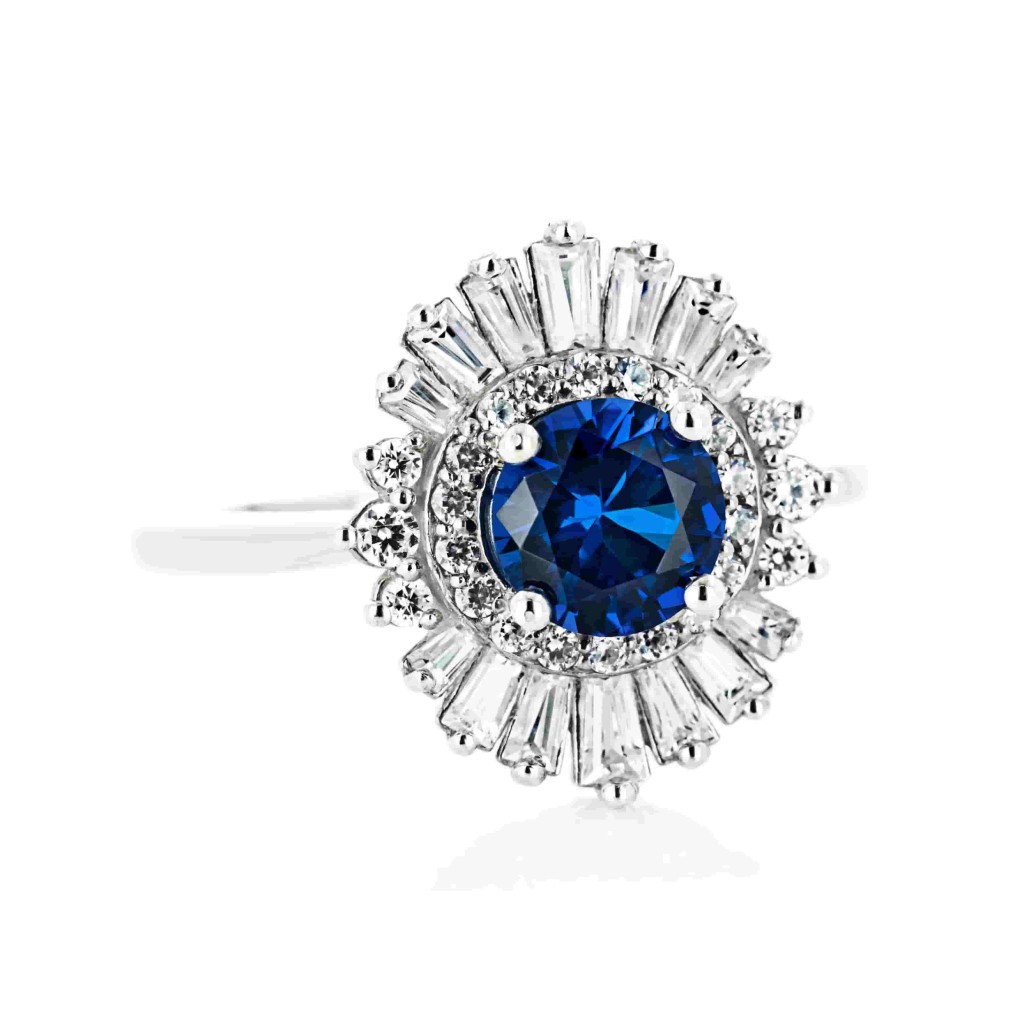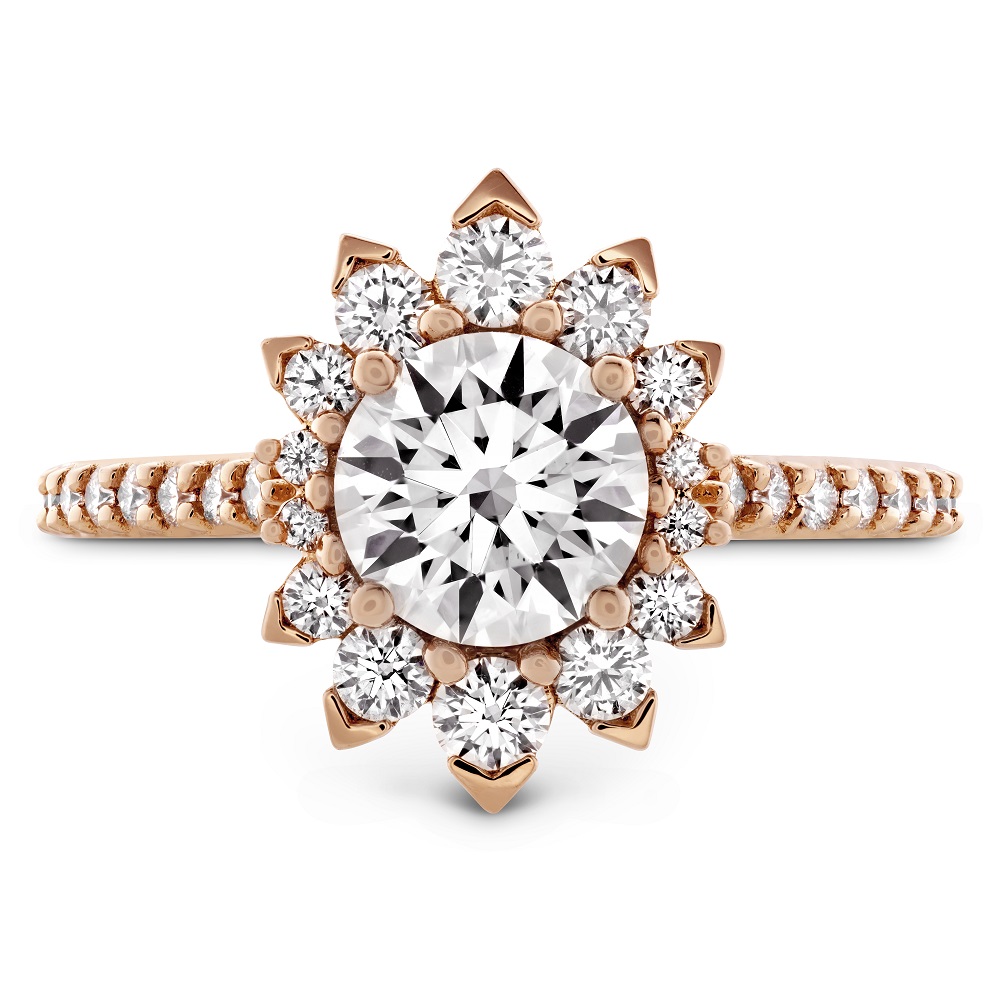 The first platinum ring is by Simon G.. As you can see, the tutu halo is mixing baguettes and round diamonds and surrounds a classic halo.
The second option has a more elongated look and features a lab-grown sapphire by Miadonna, set with recycled mined diamonds.
The rose gold ring is part of the Hayley Paige x Hearts on Fire Collaboration. The setting is creating the ballerina skirt effect but only features signature Hearts on Fire brilliant cuts, no baguettes.
6- Bohemian Engagement Rings
Thicker bands with one or three stones deeply embedded in the metal are so beautiful. These rings are perfect for women who don't want a traditional engagement ring and might be considering just a diamond band. It's an in-between option that's laid-back but still looks like an engagement ring.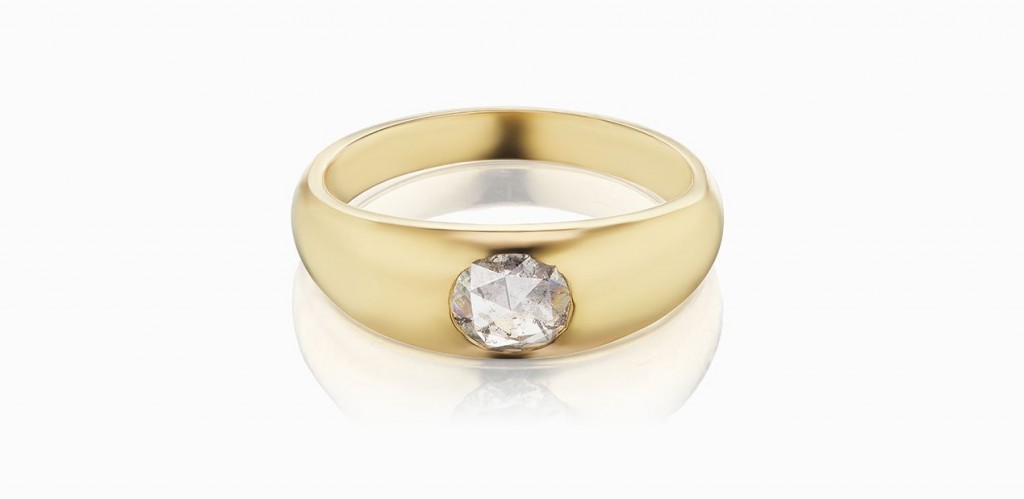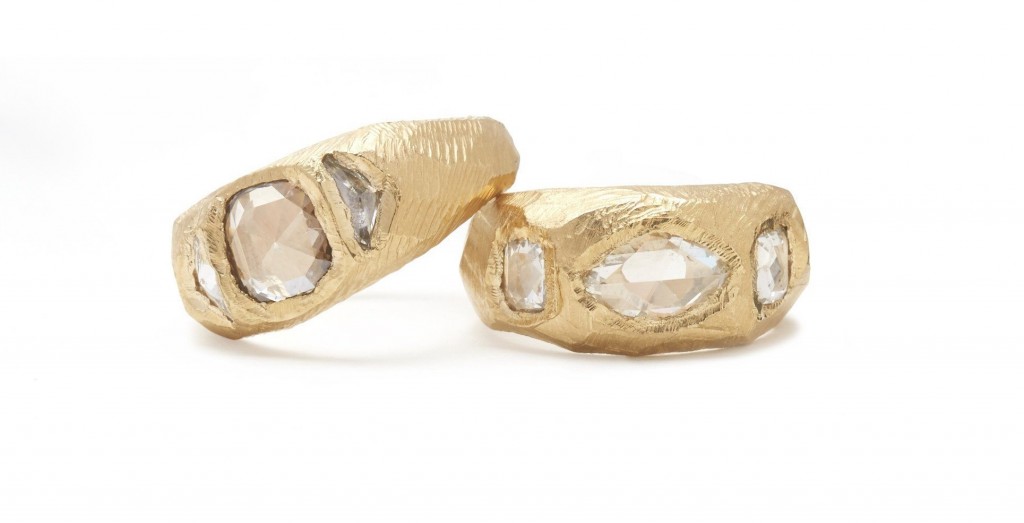 Set with a rustic rose cut, the first ring is by Australia based designer Mania Mania.
Below beautiful handcarved rings with diamond slices designed and ethically made by Page Sargisson.
7- A Hint of Platinum
Platinum is the purest, strongest and whitest metal for engagement rings. However, we know that some of you favor colorful gold settings. Jewelers are now offering two-tone styles in yellow or rose gold that also benefit from the amazing platinum properties to secure and enhance the center stone with a platinum crown.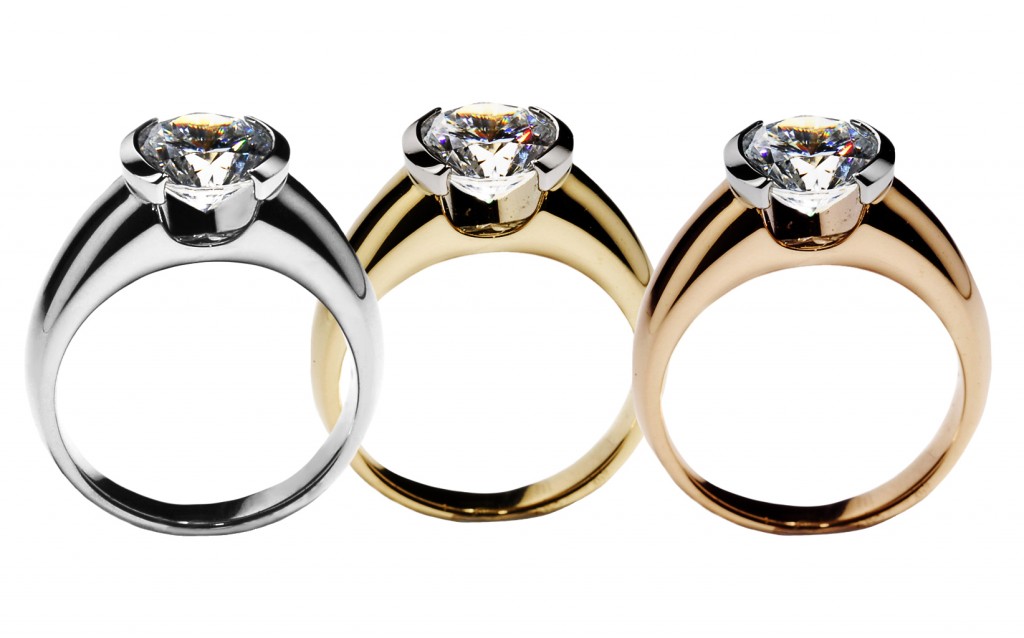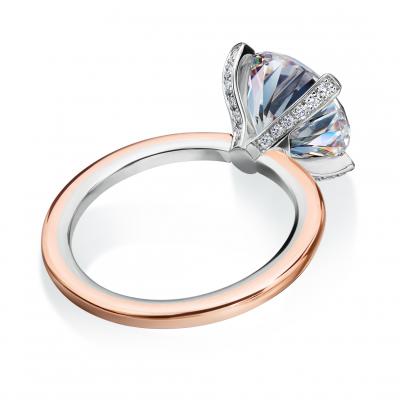 The trio of rings is by Michael Bondanza, they all feature a platinum crown. Below is a piece from the White Rose collection by Mark Patterson made of platinum fused with rose gold, the stunning platinum prongs make sure the center stone is fully secured.
8- Say Yes to Negative Space
Ring finger, it's time to show some skin! Vintage-inspired engagement rings are a great option. However, for the woman who loves art and architectural design, new contemporary settings featuring intricate lines and negative space could be a match made in jewelry heaven.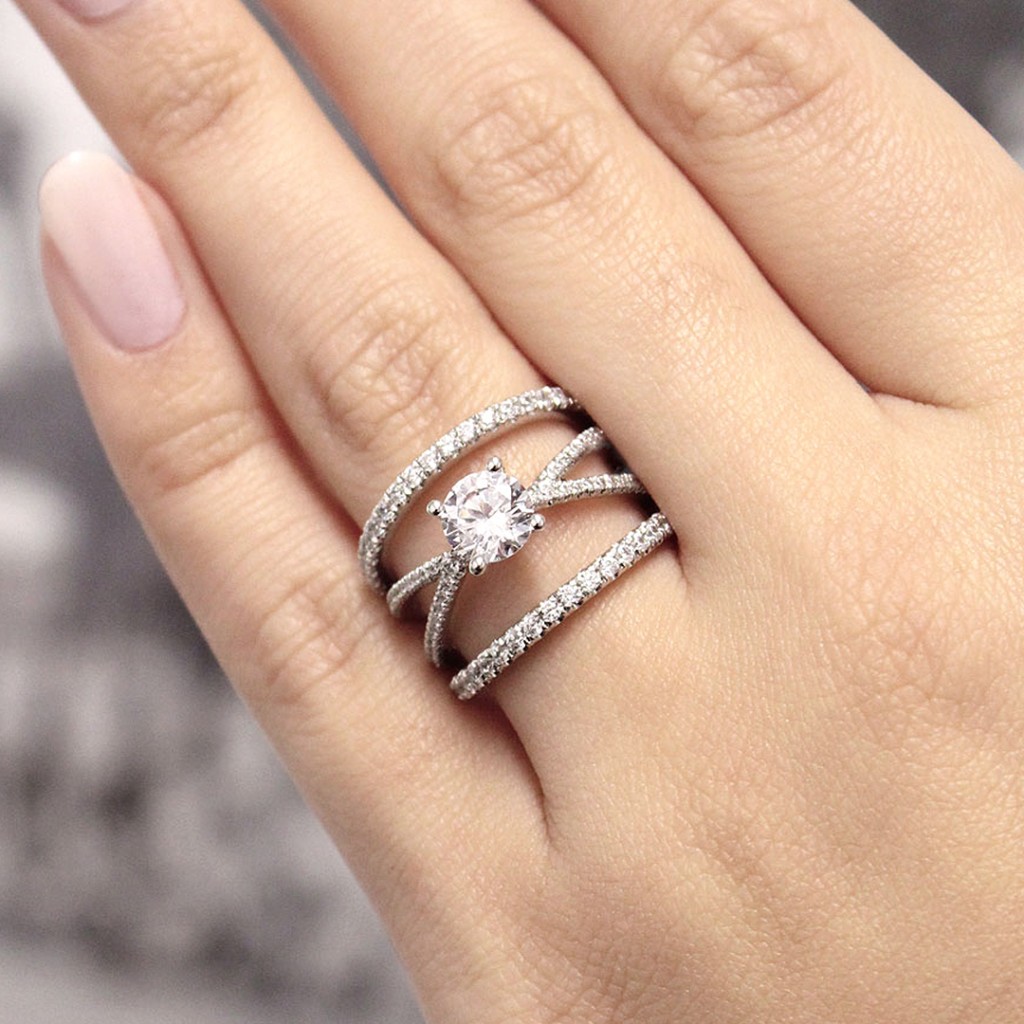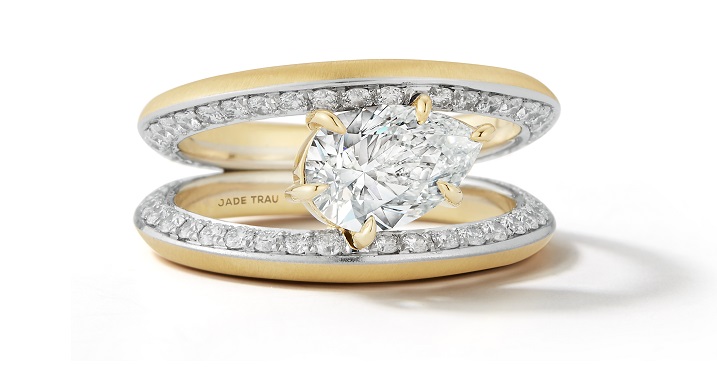 The top ring is from the popular Nova Collection by Gabriel & Co. Each year this company adds new styles featuring metal splits and turns. We love so many of them, it's hard to pick a favorite.
Pear-shaped diamonds are often set as classic solitaires or halos but super talented designer Jade Trau went in a very different direction. The award-winning ring featured above is in gold and platinum. We definitely get a Venus by Botticelli vibe, though in this case, Venus is a stunning pear-shaped diamond.
9- Shape-Shifting Rings
Now you see it, now you don't! A new generation of engagement ring settings plays hide and seek with your mind. From far away the center diamonds take a different shape…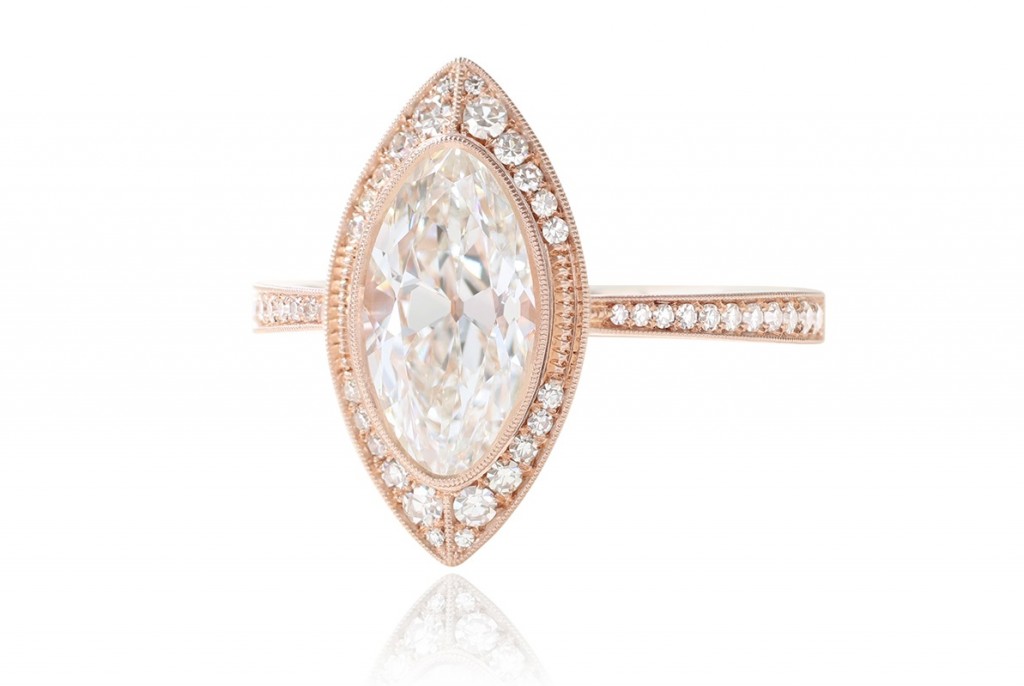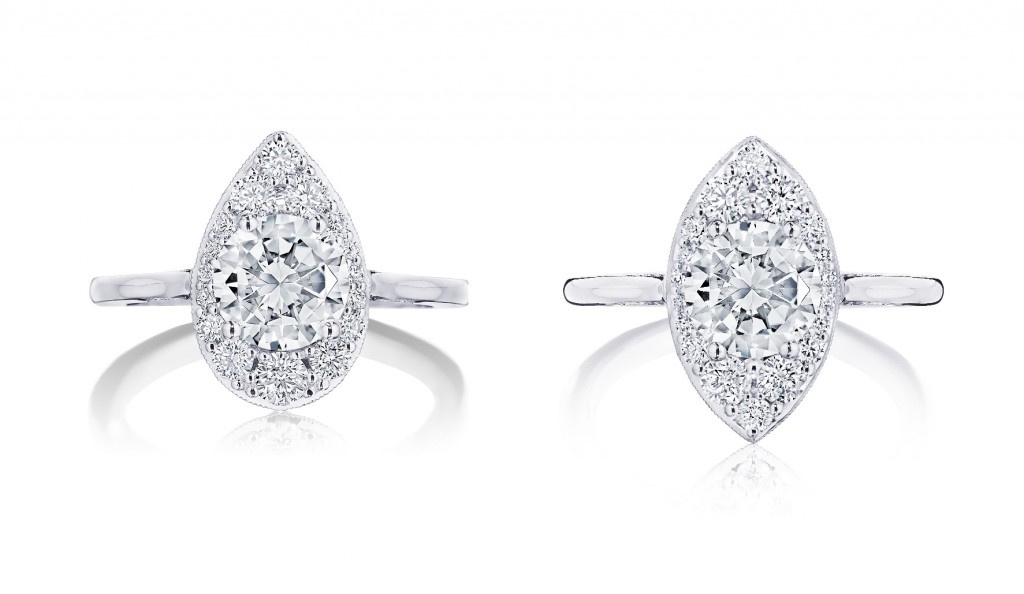 The gorgeous ring on top is by Erika Winters.  Though you might think you are looking at a marquise ring because of the pointy North/South ends, the center diamond is actually a moval (an elongated oval cut).
The twin ring styles below are part of the new Inflori collection by Tacori. The crown settings are shaped like pear, marquise or oval diamonds but the center stones are brilliant cut diamonds surrounded by smaller diamond clusters. A great advantage to this trick is when you are craving a fancy cut diamond but only have a round diamond to re-style.
10- Mix and match 3-stone rings.
Meghan Markle did it first, now it's a big trend! Surround your center stone with twin diamonds of different shape and … it looks amazing.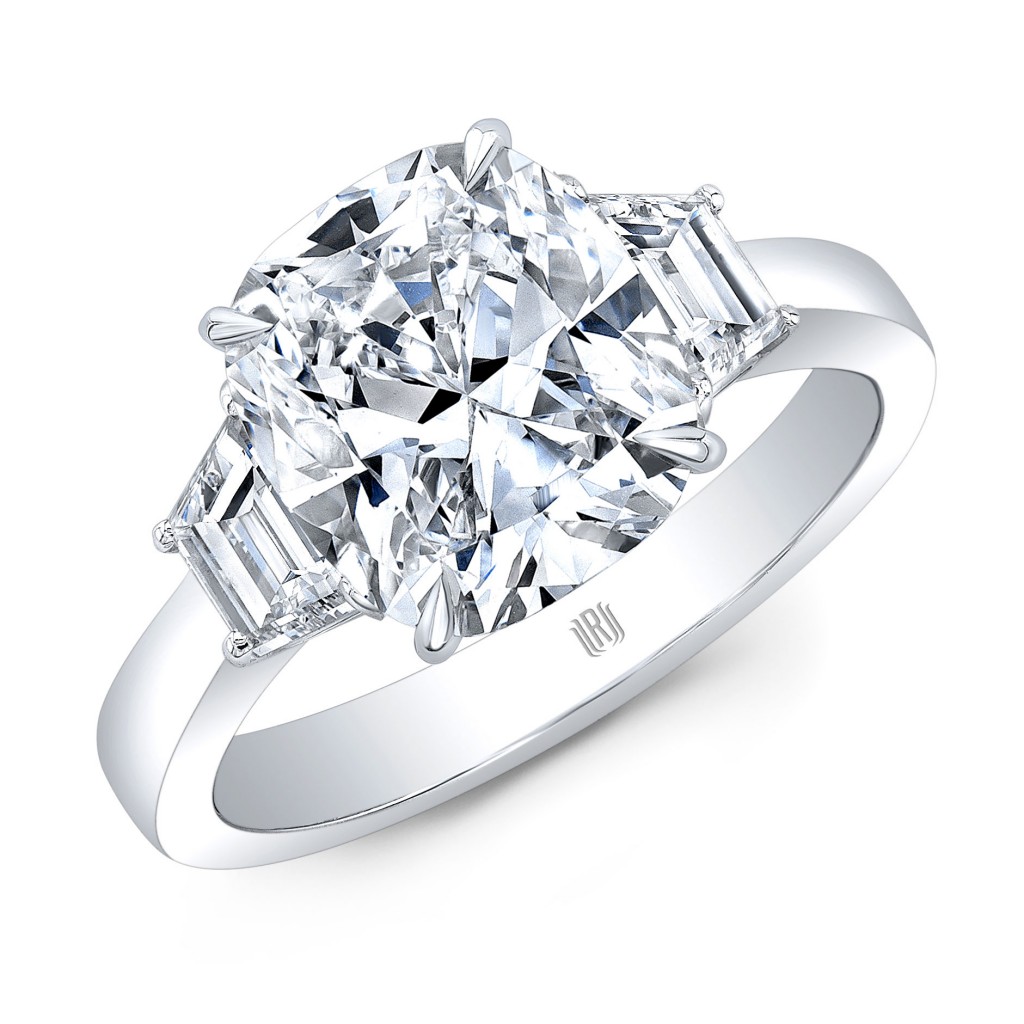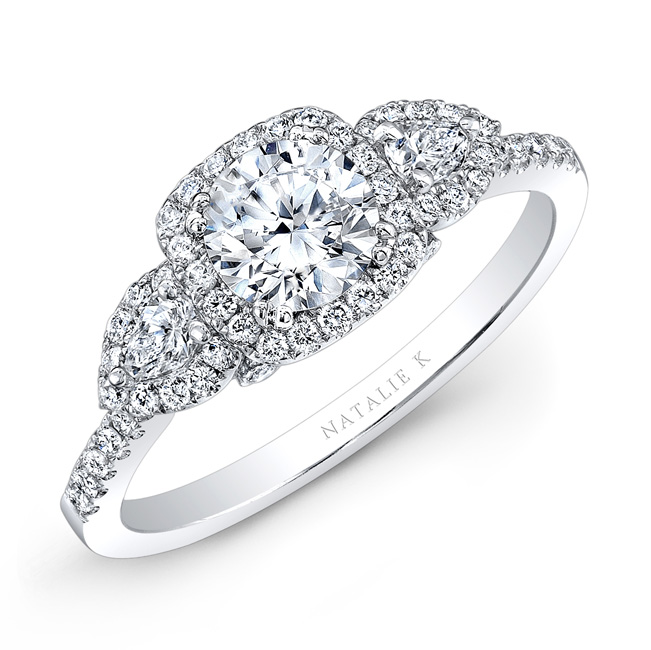 The top ring is a platinum stunner by Rahaminov, a huge cushion center is surrounded by two trapeze diamonds.
The bottom ring is by Natalie K. The setting is a cushion halo, the center stone is a brilliant cut with twin pear diamonds on each side.