Before delving into a somewhat more traditional approach of proposal season and engagement ring trends, I wanted to highlight 4 designers whose engagement rings inspire me as an editor. If you are a future bride or groom looking for a truly unique and beautiful engagement ring, this article is for you. I think what sets these 4 designers apart is where they draw their inspiration from. Traditionally bridal jewelry designers are inspired by art history, architecture and nature. Anthony Lent, Sofia Zakia, Julie Lamb and Jill Maurer are taking us on a very different path.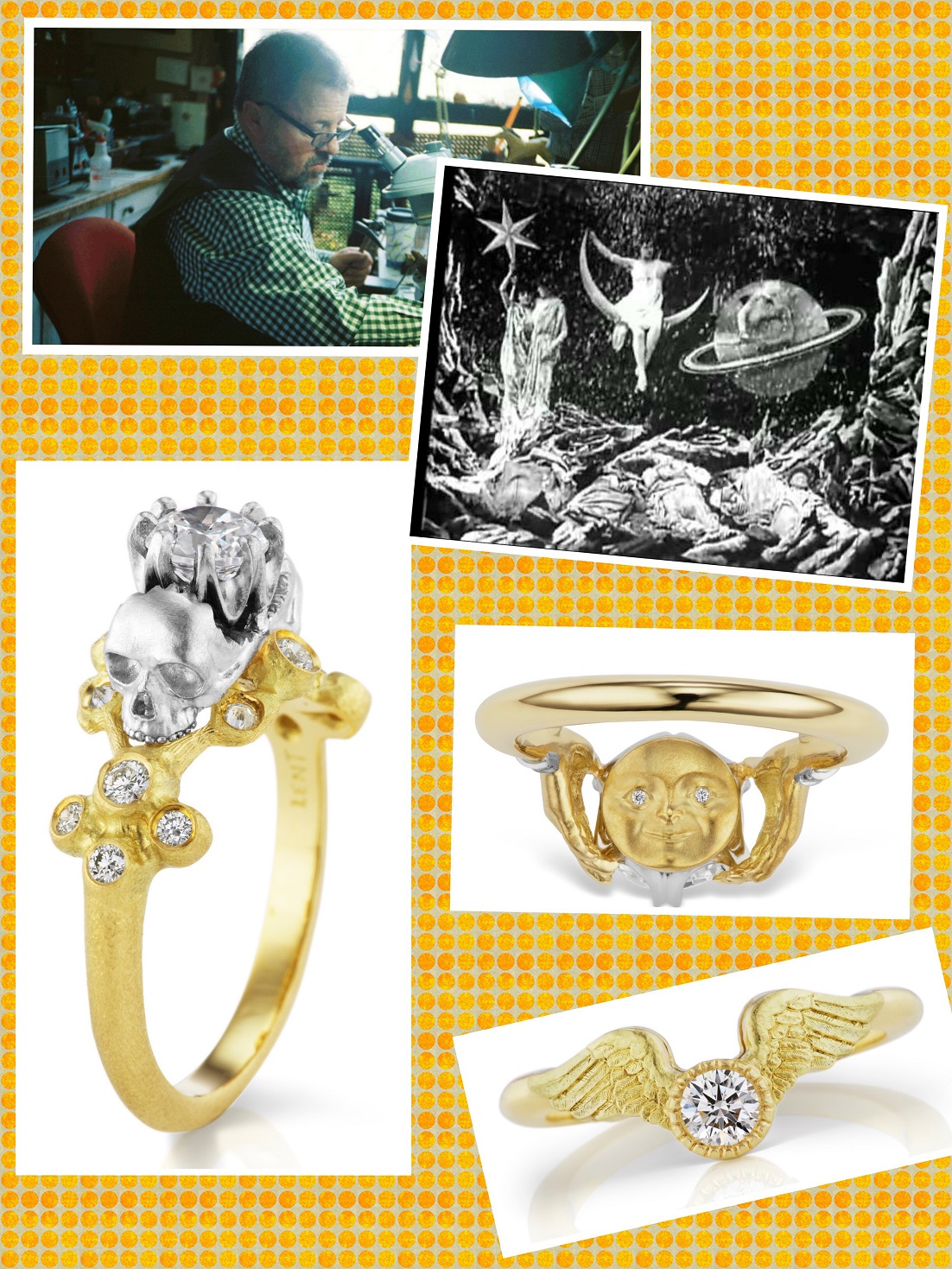 I have featured Anthony Lent's fashion pieces before and I am a BIG fan. I was over the moon when I discovered the new bridal line at the Couture Show in June. Really, I could feel my heart beating faster of excitement. As you can see in the above collage, Anthony's creations remind me of George Melies films. My favorite new bridal ring is the hands ring with the moon-face, it is so Anthony Lent and just magical.
Anthony, your jewelry collection seems to be an homage to nature, the elements and the human condition. Each piece includes an element of fantasy and a mystical vibe. Is there any reason or philosophy behind your design approach?
Beauty makes me dream. Design is a multi-layered process and inspiration comes from everywhere. The other day I was helping my wife in her garden move a large planter and out from behind it walked a big black beetle. It stopped and seemed to look up at us, decide that we were not a threat and then it continued along its way. Where was he going? Where was he coming from? Who is Mr. Beetle and what is his life? There is curiosity and wonder in even the tiniest thing.
I am so excited that you have a full on bridal line. How and why did this happen?
People have profoundly powerful emotional attachments to their bridal jewelry. I have always made custom engagement rings and  wedding bands for clients, friends and family, but this is the first time I have designed specific pieces for a bridal collection.
What is your point of view when it comes to designing for couples in love and ready to commit for a lifetime, sometimes even beyond?
I have been married for 45 years…
What is your favorite piece in the new bridal collection and why?
The Memento Mori Engagement Ring (the skull ring featured above). There is something really poetic about the skulls joined together around the diamond; a metaphor for a connection transcending mortal life.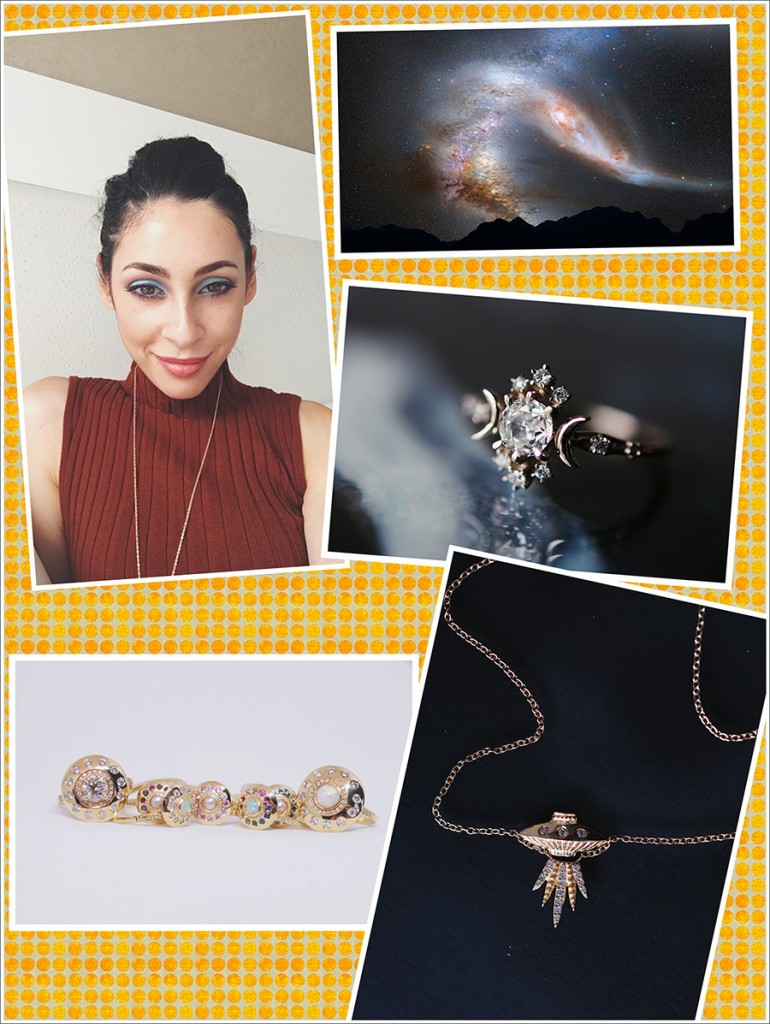 I am  a major nerd. I love Sci-fi and fantasy movies and books. When I discovered Sofia's collection, it felt like being home and having found a kindred spirit. The Wandering Cosmos ring with the two crescent moons is her most popular engagement ring style. It is so pretty with a diamond or a moonstone. I also love her UFO ring which top spins. It comes in an array of gemstones combinations.
Why are you inspired by the universe and Sci-fi versus humans and Earth?
Mythology has always really fascinated me, so I definitely have some collections inspired by humans & our sweet blue planet.. but I think there's something inherently enchanting and romantic about the universe outside of what we see and experience here on Earth. I think Sci-fi and horror have both been wonderful genres, not only in film but in general, to push the envelope on how we introspect as beings with consciousness and how we fit into the universe as a whole. Also, the unknown has always really captivated me, so I've been pretty enamored with exploring that in a way that's still visual and tells a story.
Do you believe Aliens exist?
I do. I think it would be arrogant for us to assume we're the only planet with living creatures on it with there being a speculated 100 billion billion Earth-like planets out there in the vast universe! They might not all be "intelligent" or communicate in the way that we do, but they're out there. I want to believe! Also, if you have the time, you should check out Tim Urban's article on The Fermi Paradox – it's a long but interesting read that answers the question: if there's so many Earth-like planets out there.. where is everybody? Chilling but totally worth the read!
Star Wars or Star Trek and why?
Neither! Cthulhu mythos! Or maybe that's a bit too dark.. Alien! That's a bit dark too.. X-Files, then!
If you could live on any other planet, which one would you pick?
Venus, because it's nice and toasty and I want to roast in sunshine because Canada is way too cold for my clammy hands to make jewelry with.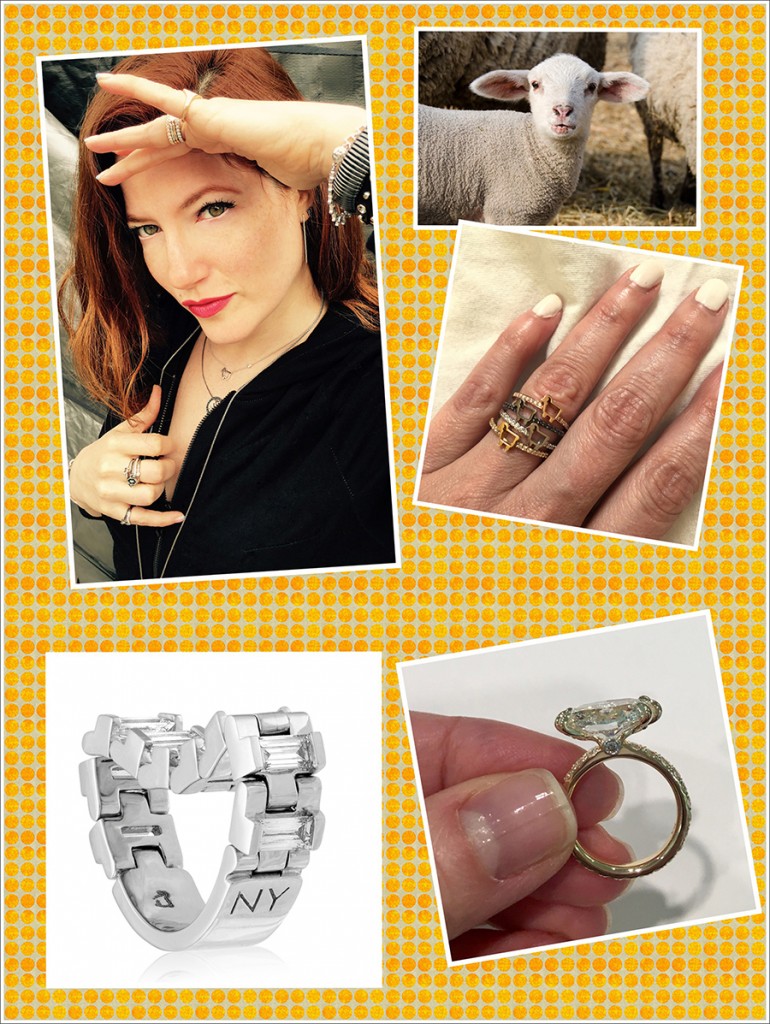 Julie Lamb's  Be Ewe collection includes rings, pendants, necklaces and earrings featuring lambs. Before meeting and chatting with Julie, my guess was that she was either a quirky lamb lady or a fan of cannibal serial killers. I am kidding of course, there's much more behind the Lamb than meets the eye. I love her new Freelancer wedding band which is flexible so it stretches a little bit on these days when your fingers want to expand.
Julie, why lambs?
Lamb is my last name. I grew up (and still enjoy) answering to nick names like Lammy, Lambchop, Chops, Lambalicious, and so on. I used to have a kid in High School yell 'Baaaaaaaa' into every classroom I was sitting in, for some reason we are still friends. Early on I started signing my illustrations and paintings with a lamb symbol, the original one was fluffy, I minimized his look to what it is now in the 90's. I started making some of my original Be Ewe pieces in the late 90's just to wear around. I had a lot of models done already when I want to launch my own line in 2015. I pushed myself to answer the nagging question 'Who the (bleep) is going to wear a diamond sheep around their neck?' and to answer that for myself and find a way to connect with others I came up with the sweet and universally empowering message 'Be Ewe'. I have a ring that says 'Stand Out' inside the shank, one that says 'Be Herd', a pendant that says 'Rock Your Flock', Lambtags that read 'I Love Ewe', and let's not forget Johnny- 'The Black Sheep'. He's got a cult following all his own. As I like to say "Its not always easy to be The Black Sheep but wearing it proudly in diamonds is a great reminder of why you chose to stand your ground."
When you can't sleep, do you count sheep?
I do not. I go on Instagram.
Are you a vegan? Do you eat lamb? Do you wear UGGs?
No way. I eat lamb sometimes, it's not my favorite. Sometimes I've posted it with a cannibal joke… I do like a butterflied leg prepared on the grill Greek style and I make a nice green pea and mint sauce in the spring. I have 1 pair of black UGGs- oh but I live in my UGG slippers all year round. So yes to shearling, wool, Spring lamb and all lamb products! I have a lot of followers who are sheep ranchers, I have learned a lot about my power animal through them. I use natural wool roving in my packaging and displays.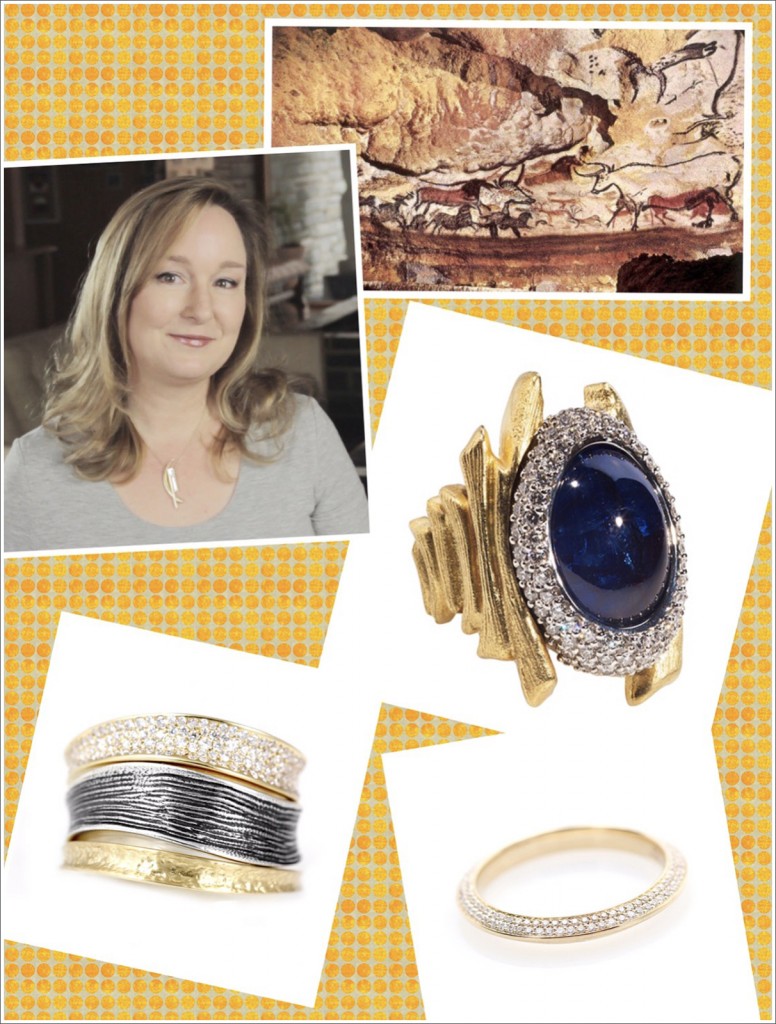 I am excited to meet Jill Maurer in person at the JA show this Tuesday. Ben Guttery of Third Coast Gems introduced me to her collection. I sent her a few questions for this blog. I wanted to know more about her passion for French prehistorical caves. I also really like that many of her wedding rings are unisex. The award winning sapphire ring above is amazing and can definitely be worn by a man or a woman.
Have you always been a fan of archaeology or was it something that you felt when visiting Lascaux that brought you to design  the Lascaux collection?
I've always been fascinated by archaeology especially prehistoric finds.  The concept that each of us can look at a prehistoric work of art and say "that is my history" tells me that we are all profoundly connected.  It's a concrete reminder that there is no "other".  For me the wonder of it is eternally inspirational. In searching for an inspirational site for my first collection I came across Lascaux, and it was love at first sight.  Lascaux is a quintessential element in art history.  The unexpected complexity and grandeur of the art is so profoundly important to human history.  I've never visited Lascaux in person, but I do plan to travel there one day.
A lot of your rings are unisex. Can you tell me a little bit more about that?
I love the human form and design for people.  Every piece I create is designed to be worn by anyone who feels a click of connection with it … man or woman.  I don't even believe that there is such a thing as men's and women's jewelry.  Each of us has the freedom to wear what whatever we want to wear and make it our own.
Which ring in the collection is most popular for weddings or engagements?
My Terrain collection rings are my most popular for weddings and engagements followed closely by my Vertebrae collection rings.  People will often wear one ring or wear a pair, one for the engagement and one for the wedding ring.  We've even had people stack additional rings to represent each child brought together into the marriage.  It's such a beautiful celebration of new beginnings.
Voila,
Sev
Severine Ferrari AKA Sev is the editor and writer of this blog and the online magazine Engagement 101. Sev was born and raised in Paris and has lived in New York City for over 20 years. Her blogging style still includes elements of her French writing style and humor. We recommend reading it with a glass of champagne and a French accent.