Getting a genuine vintage engagement ring is a great way to make sure that your act of purchasing a ring is sustainable. However, a growing crop of engagement ring designers and manufacturers are going even further and have taken to heart not harming the environment nor people while sourcing metals and stones. Some of you think they should stay away from buying diamonds and gemstones jewelry.   You've heard of the term "blood diamond", or have seen documentaries and movies with Leonardo Di Caprio. It is great to be aware that you really need to trace back the origin of your gemstones and diamonds.  Yet, a lot of communities around the world rely on stone mining and the jewelry industry to survive. So do your research but don't give up on finding your dream engagement ring. Here are 6 designers and brands who pride themselves in making truly eco-conscious engagement rings and some of their newest engagement ring styles.
Jennifer Dawes is a trendsetter in the sustainable and ethical jewelry design movement. She uses recycled metals and takes extra care when sourcing gemstones through several partnerships. Her design style is an homage to nature and the earth, always organic.  We love this new engagement ring design featuring a .55ct rose cut lavender diamond with white diamonds flush set in a tapered band. All diamonds are Diamonds with A Story, from their Argyle mine in Australia . Retail price $3,960.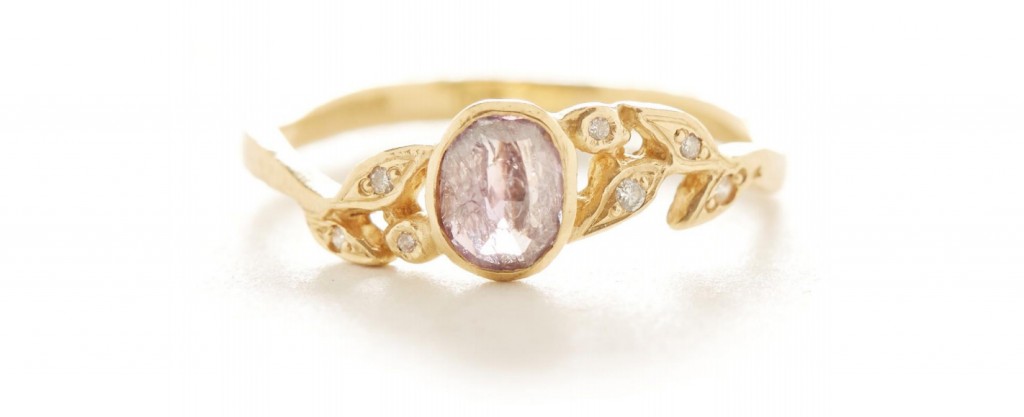 Julie Romanenko is a collector of vintage jewelry pieces that she re-uses to create new designs. We were really excited when she started designing alternative bridal and vintage inspired engagement rings and bands. Check out this very unique 3-stone two-tone recycled gold engagement ring. It features three rose cut diamonds set in hexagonal milgrain etched bezels. Retail Price $4,400.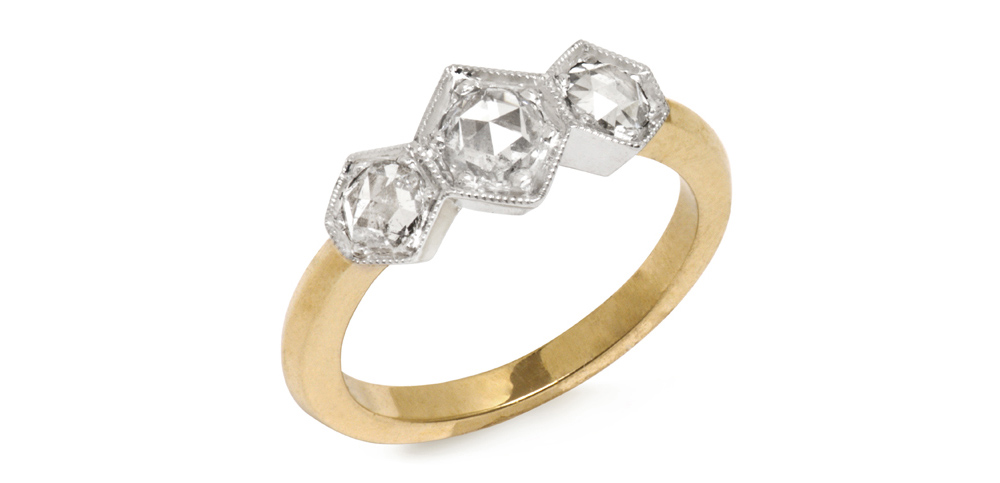 MiaDonna diamonds are grown in highly-controlled laboratory conditions that simulate the earth's natural growing environment, producing real diamonds that are optically, physically and chemically identical to earth mined diamonds.  This process has much less impact on the earth resources than mining a real diamond. The below two-tone gold engagement ring is shown set with a 1.01ct round brilliant lab-created diamond in 14K recycled white and rose gold and is accented with approx. 0.31ctw natural recycled diamonds. Price: $7,982. MiaDonna also offers this ring with Diamond Hybrids, a diamond alternative that brings the price down to $1,747.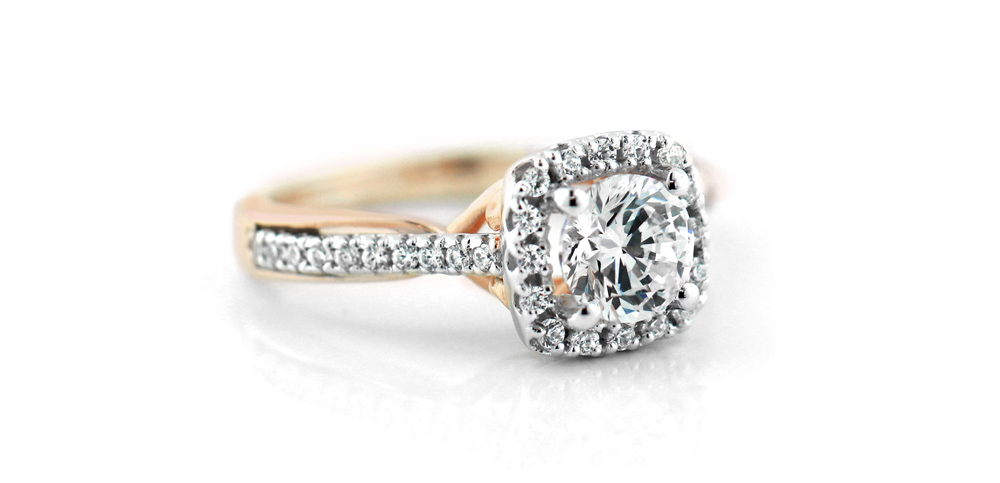 Shaesby
This Austin based designer is always inspired by nature. How lovely is this custom recycled rose gold ring that was hand carved in wax and cast into gold in Shaesby's  studio? The large white diamond on the side was an heirloom family stone and the other stones are ethically sourced raw and cognac rose cut diamonds. Mixing old and new elements is a great way to design an eco-conscious engagement with a unique story. Ring setting $2,700, price does not include the large white diamond which was a family heirloom.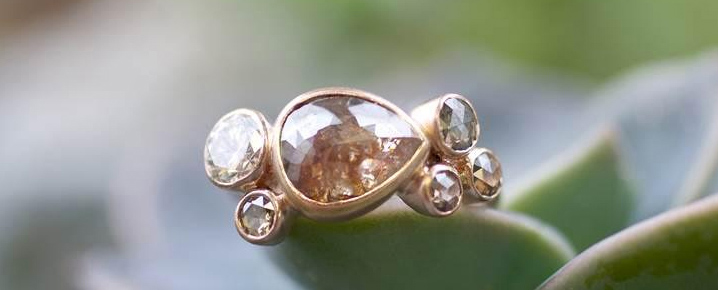 Brilliant Earth was created in 2005 and has been at the forefront of manufacturing beautiful ethical and eco-friendly wedding rings. They give back to local communities 5% of the ring prices and make sure that fair labor practices and environment responsibility are behind each stone they select. They only use recycled metals.   This preset trellis design with wispy vines set with marquise diamond buds starts at $1,710 with a 1/3 carat center.

Written and curated by Sev
 Find more alternative engagement rings here >>