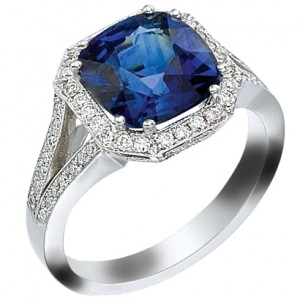 Sapphire engagement rings have been growing in popularity over the years. The trend began way back when Princess Diana sported the now famous sapphire engagement ring when engaged to Prince Charles.
But now the trend is coming back due to its elegance and its low cost when compared to classic diamond center stones.

If you want an engagement ring that is both classic and unique, like the ring on the left, think outside the box and consider sapphire! Below are some of our picks for beautiful sapphire engagement rings.
Designers included in this week's gallery are Kirk Kara, Fusaro, Bergio, The Three Graces and Gemveto.