We are so excited to work with our partner Platinum Jewelry again, and to meet and interview talented designers who love creating platinum engagement rings.
Color gemstones really look the best set in platinum. Jay Gilbert, the designer and CEO of Coast Diamond has created a line of platinum rings featuring the most beautiful and trendy gemstones. "We use platinum for all our very fine colored gemstones. Platinum is a luxurious metal that is generally preferred by discriminating consumers.  Most colored gemstones show better with a white metal and platinum is the ultimate white metal. It's famous for its purity, durability and richness. We use platinum for all our very fine colored gemstones," says Gilbert.
If you're considering splurging on a unique and colorful engagement ring, we'd like to narrow your focus on 3 gemstones that look especially spectacular set in platinum: Sapphires, Spinels and Paraibas.
Let's start with sapphires. Sapphires are primarily known to satisfy that need for 'something blue,' but they come in many other colors and look radiant in timeless platinum settings. Here are 3 luxurious, sapphire picks from the Coast Diamond collection. Each of them on trend with engagement rings currently worn by young British Royals.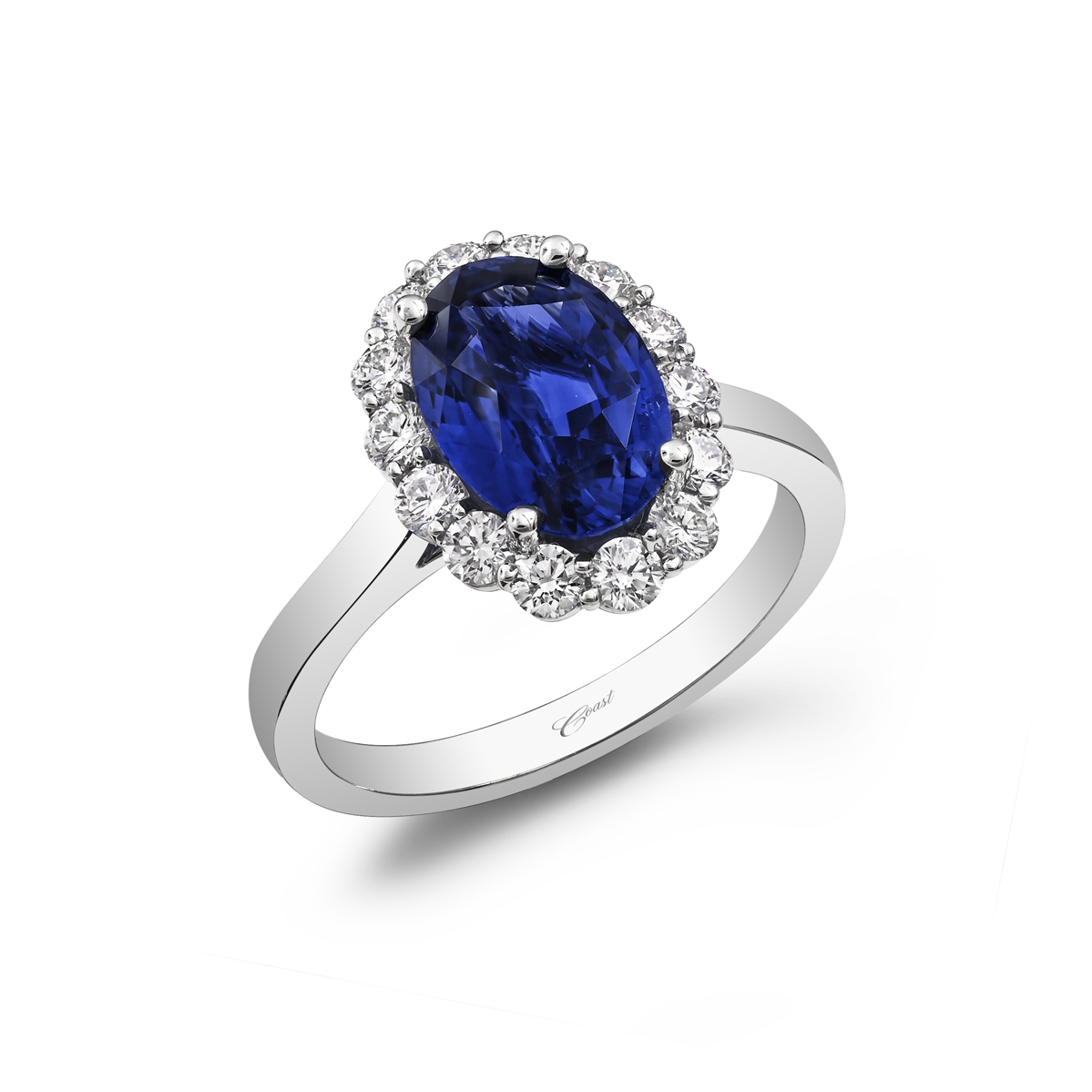 This halo ring, very reminiscent of the Diana/Kate engagement ring,  features a captivating 3.00 ct oval cut sapphire surrounded by a diamond halo. $17,435.00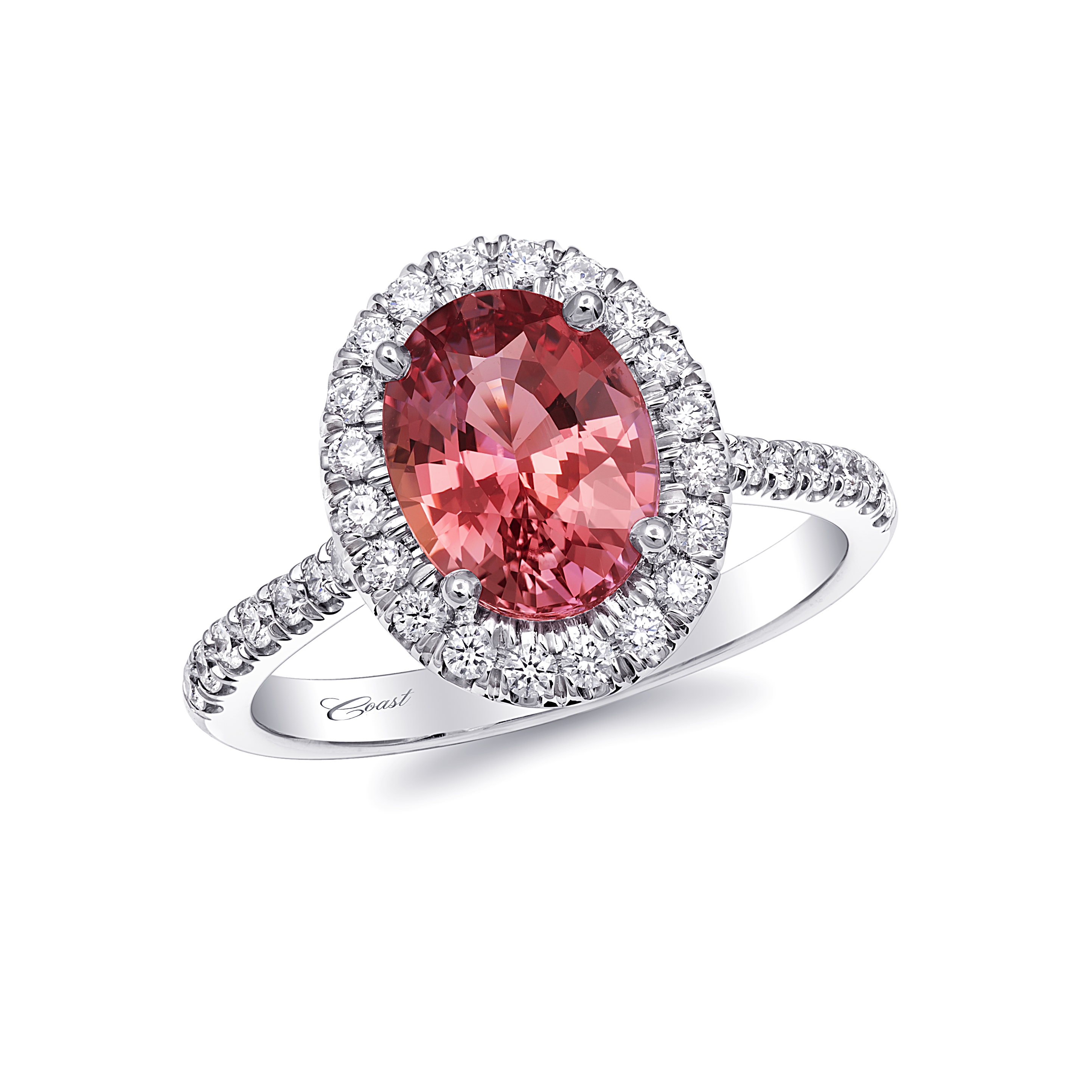 Another regal choice is this  vibrant 2.50 ct oval Padparadscha sapphire surrounded by diamonds and set in platinum. Princess Beatrice of York picked this rare gemstone for her engagement ring. $15,994.00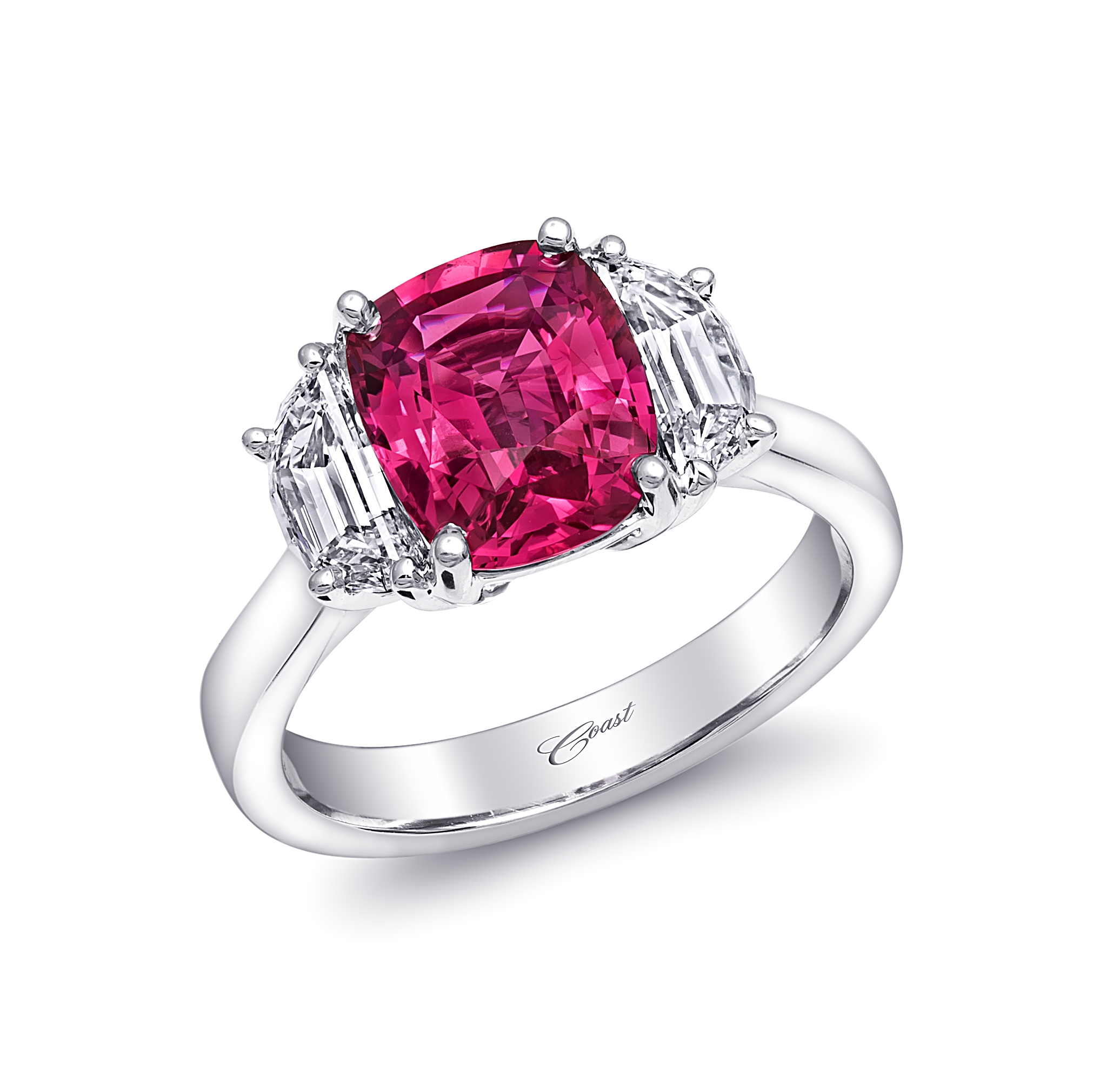 3-stone engagement rings are a hot trend, thanks to Meghan Markle. This exquisitely crafted platinum ring features a vibrant 3.05 ct  pink sapphire flanked by two moon cut diamonds. $57,860.00
Sapphires are amazing but if you are looking for something even more unique, think spinel. Spinel has been added to the official August birthstones options and it comes in the most amazing hues. Throughout history, the red ones have often been mistaken for rubies. "We love spinel. Fine spinels are very rich in color with a lovely luster. It's wonderful that consumers are becoming more aware of a beautiful underappreciated gemstone," says Gilbert.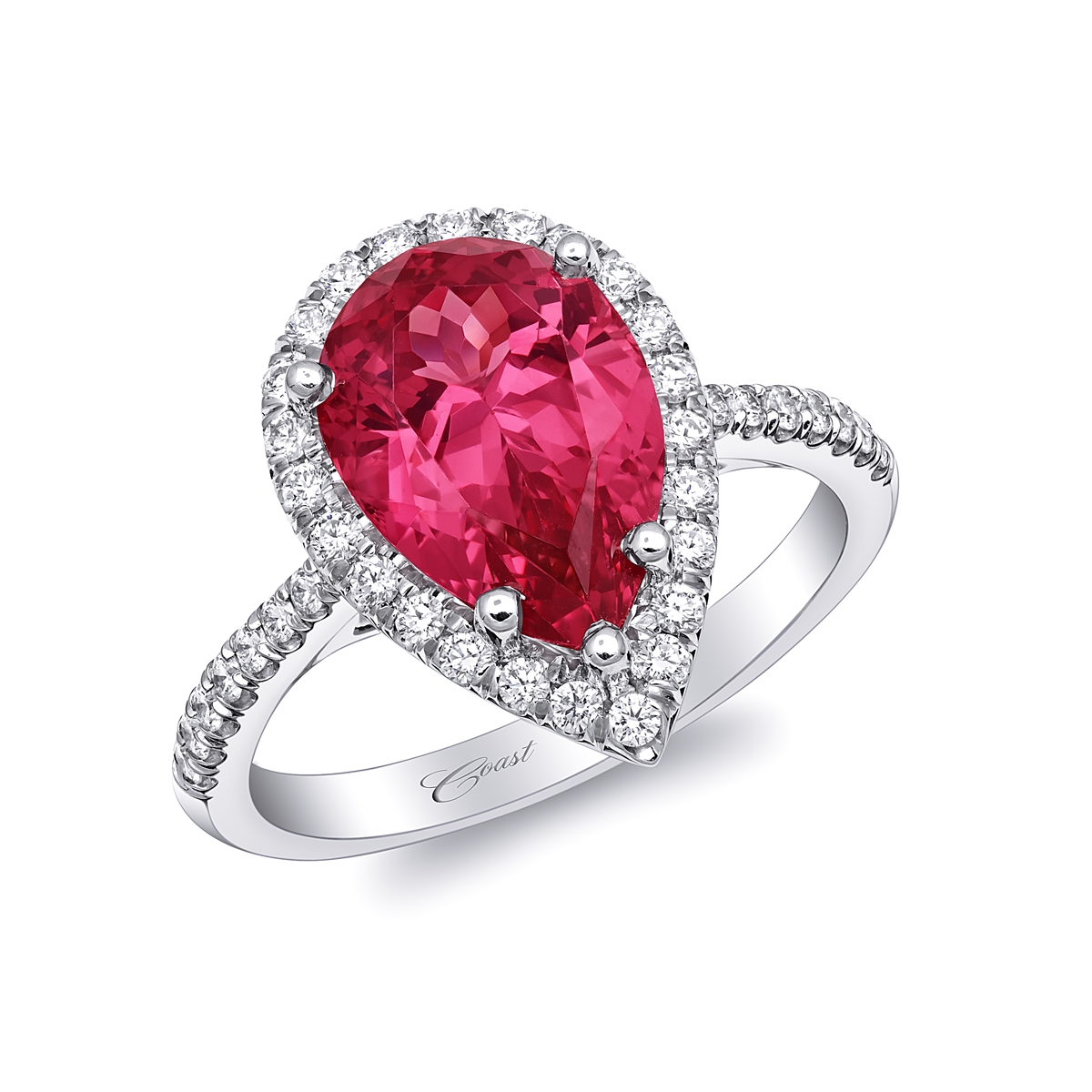 This show-stopping Coast Diamond ring features a vibrant unheated 4.22 ct pear shaped spinel surrounded by diamonds. It is set in platinum. $21,340
Our third gemstone recommendation is not for the introvert bride-to-be.  Sure to be a conversation starter, hypnotic and exotic, Paraiba tourmalines  look amazing set in platinum. "We have always been a big fan of Paraiba by virtue of their beautiful color. The past few years we've largely expanded our collections, as Paraiba has been greatly increasing in popularity."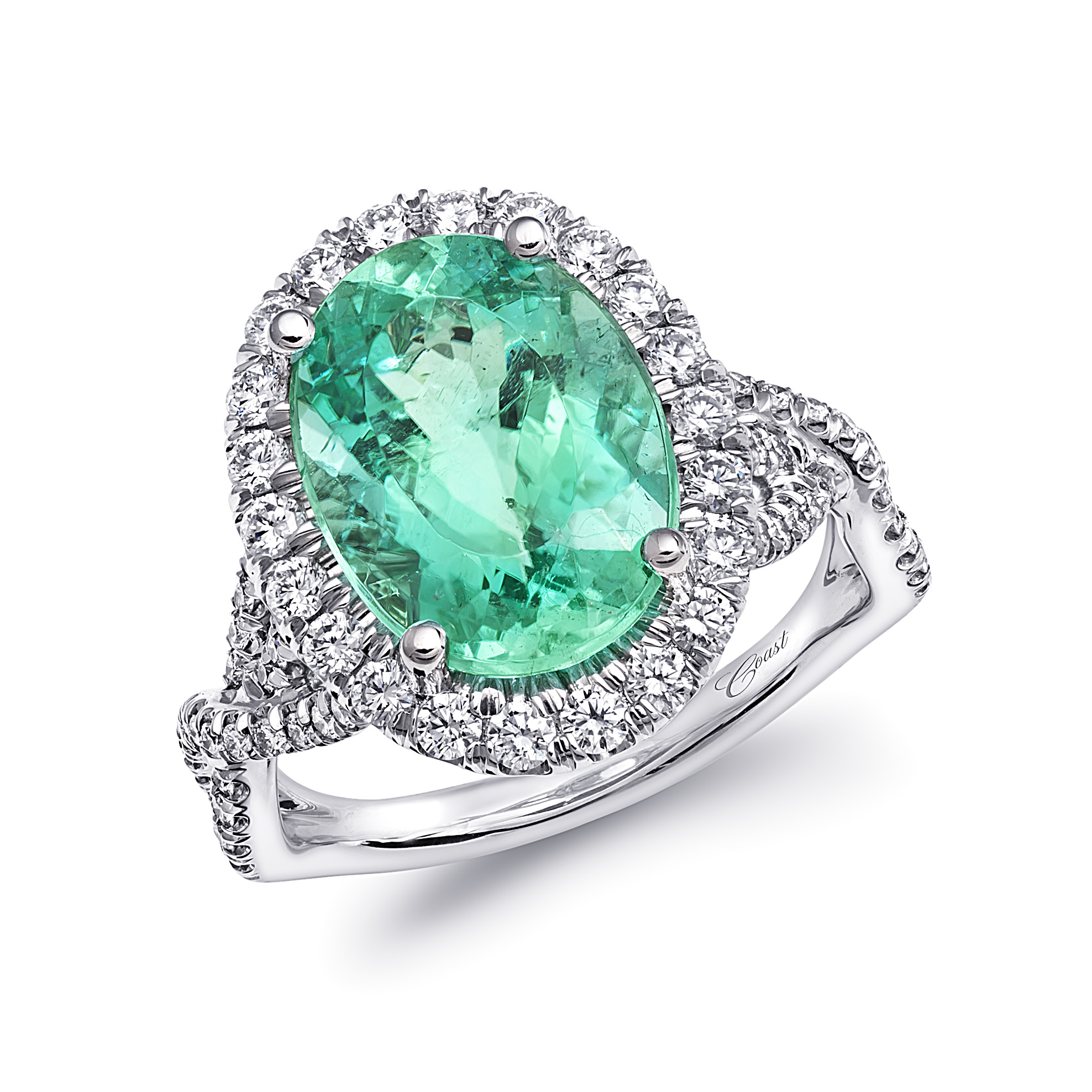 An exquisite 5.20 ct Paraiba is the crowning feature of this beautiful ring crafted in platinum. The centerpiece diamond halo is accented by strings of diamonds set which twist down the sides of the shoulder. $75,020.00
All the rings featured in this article are by Coast Diamond , they can be customized with different center stones according to your taste and budget!