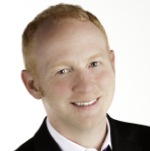 Looking for the perfect gift for this holiday season? Here is a few ideas from jeweler Andy Koehn, owner of Koehn & Koehn Jewelers, author of the Buy Like a Guy blog. From pearls to diamonds, get her the gift of her dreams!

Pearl jewelry has made a huge comeback…because they're affordable, classy, and still have a certain mystique.  My Top 3 picks in no particular order for this category: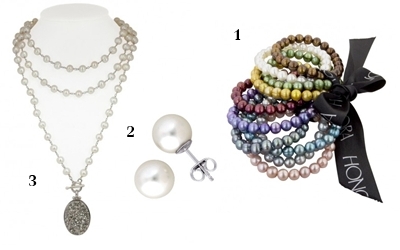 1- Pearl Bracelets.  A set of 10, 7-8mm Multi Colored Ringed Freshwater Cultured Pearl Stretch Bracelets from Honora.  SRP: $125
2- Pearl Stud Earrings.  If you're on a budget and still want to send a powerful message.  We've found exceptional freshwater pearl studs starting at just $19!
3- A cool pearl necklace.  Designers have taken traditional pearl strands and combined them with metals and other gemstones to make them less formal…and much sexier.  I really like this one from Honora.  It's sterling silver with classic white ringed freshwater pearls that suspend a natural agate drusy sparkler.  It looks like it costs $1 million but rocks with an SRP of just $650!

This seems a bit like a cop-out…but there's a reason they show up on Wish List's year, after year, after year.  Women LOVE diamond earrings!  There are seemingly countless varieties to choose from…but I'm going to stick with powerfully basic styling.  (Tip: Don't buy those cheap, cloudy diamond earrings that don't sparkle.  As one woman said, "They look like cotton."  Ummm…yeah…probably not what her husband was going for.  And NO…he didn't buy them from me. Ha!)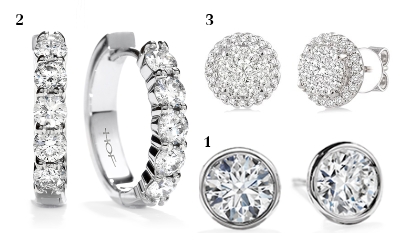 1- Diamond Stud Earrings.  If she doesn't have a nice pair…she wants them.  Enough said.  One of our all time favorites are the Obsession Stud Earrings from Hearts On Fire that start at $1,590.  (Don't worry if that's a bit rich for your budget.  You should be able to find basic, smaller, and still sparkly diamond stud earrings starting as low as $99.  Yes…they are significantly smaller…but as long as they sparkle…it's a powerful gift for that price.)
2- Inside-Out Hoops.  Most women gravitate to hoop earrings, and diamonds on both the outside AND the inside make these extra special.  Given the small number of women who have a pair of these…you'll be THE MAN if you raise the bar a little bit.  Price ranges for a decent pair of Inside/Out Diamond Hoops: $495-$10,000.
3- Cluster Earrings.  You'll get a whole lot of bang for your buck with these!  From a distance they look like one big pair of diamond stud earrings…and even under close scrutiny they have a charm all their own.  (Plus she'll have a whole bunch of little diamonds throwing off reflections and sparkle that make them very noticeable…but not ostentatious.)  The pair below looks like they'd cost much more than the $899 price tag, which is why they're a favorite with both women and the men who buy for them;)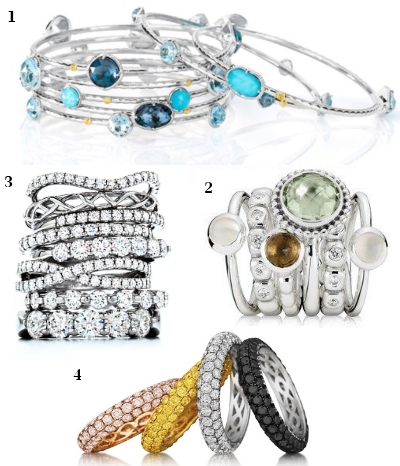 Women love versatility and the jewelry industry has responded by creating countless mix-and-match ensembles that allow her to create her own style with the same grouping of jewelry.  Here are 3 suggestions that will definitely melt her heart this Holiday Season.
1- Stackable Bracelets.   I chose these "Island Rains" bracelets from Tacori as a starting point with a very affordable opening price of $350-$480 for each one,  depending on which bracelet you choose.  The main point I want to make is that stackable bracelets pack a lot punch!  (See the Honora pearl bracelets above as another example.)
2- Pandora Stackable Rings.  Pandora Jewelry is probably best known for their iconic beads and bracelet combinations, but they knocked it out of the park with their stackable ring collections.  There are multiple rings that one can choose to put together a stackable ensemble, but make it easy on yourself and choose one their pre-packaged sets pictured below.  The "Midnight Enchantment" set has an MSRP of $150, while the "Moonlight Serenade" is attractively priced at just $100!
3- Hearts On Fire Rings.  If you haven't stepped up to the jewelry batter's box in a while…or if you're accustomed to giving her the very finest of everything…then a series of rings set with "The World's Most Perfectly Cut" diamonds are just the ticket.  Prices start at around $1,500.
4- Colored Diamond Bands:  These are my wife's favorite.  She wears them all the time and I can't tell you how many compliments she gets when she does.  Henri Daussi has them down to a science, but I know of several other manufacturer's that produce inline, colored diamond bands.  As with all jewelry you buy, pay attention to the quality of the mounting…especially when it comes to thinner diamond rings.  The Daussi rings pictured below start at just $795 for the black diamond version! 

Black is the new…er…black!  This is another jewelry category that is on the forefront of fashion and a slam dunk gift this year.  (Especially if you go all out and get matching ring, earrings and pendant.  They're lower price tag makes this far more "doable" than one might think.)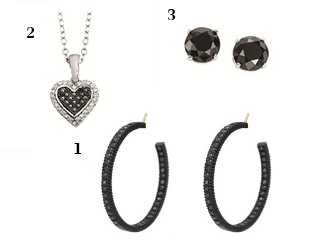 1- Black Diamond Hoops: Just like the white diamond counterpart I reference above.  Different color diamonds…same story.  The pair pictured hereis 1 carat total weight and retails for $1399.  As usual, beware of low quality mountings.  It's easy to make things cheaper…but frankly…they disappoint in the end.
2- A Simply Diamond Pendant:  I'm chose a heart shaped pendant, but honestly personal taste should dictate what design is chosen in the end.  Some woman loathe hearts…some can't get enough of them.  The main point here is that you can get a beautiful black diamond pendant of quality for as little as $149.  (Like the silver diamond heart below.  Did I mention I think heart shaped pendants are cool?)
3- Black Diamond Studs: 'Nuf said.  The pair pictured below is ½ carat total weight with a SRP of just $149.  (2 carat total weight are just $699!  And they're pretty, too.)
The gift ideas I've presented barely scratch the surface when it comes to what's available "out there" for gift giving.  Still, they are general enough to give you some direction if you're looking for a starting point…yet specific enough to be "the gift" should you decide to go with what I've chosen.
I hope you have a great and blessed Holiday Season.  I sincerely hope these suggestions make life easier for you.  Is there anything you think I've missed?  By all means…let me know.  I'm an open sort of a guy 😉
Best,
AK