Buying an antique or vintage engagement ring guarantees that your ring will never go out of style. That is why today's jewelry designers like to modernize classic looks hundreds of years ago. Your engagement ring will be an instant heirloom. The first engagement ring or betrothal ring (like in The Other Boleyn Girl or The Tudors) were used in Rome in the 2nd century B.C. They used simple gold wedding rings to symbolize their engagement. While vintage jewelry can be any ring from any era, antique jewelry must be more than 100 years old. Like fine wine, vintage engagement rings and wedding bands become more valuable over time.
We created a simple guide to vintage and antique jewelry. If you are like most and receive your post-college history lessons from movies like Breakfast at Tiffany's or from novelists like Jane Austen and Phillipa Gregory, this guide is for you.
Middle Ages/Medieval and Celtic Engagement Rings & Wedding Bands
400s to 1400s
| | |
| --- | --- |
| | |
| Novell | A classic claddagh ring |
Celtic wedding bands became popular in the medieval times. Celtic rings incorporate braided gold bordered all around the wedding band. Jewelry designer Novell has a modern interpretation of a Celtic wedding band with their hand braided wedding band with diamonds in platinum.
Claddagh wedding rings have two hands holding a heart topped with a crown. When worn with the crown facing your finger nails, you are married, if facing down, you are not. The claddagh ring is a symbol of friendship, love, and loyalty.
Renaissance Engagement Rings & Wedding Bands
1500s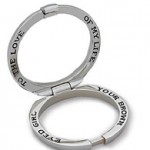 The Renaissance was a romantic time that provided the world with classic love stories like Romeo and Juliet. During the renaissance, gimmel rings with hidden messages were given engaged couples. Tammy Kohl of Takohl Design Ltd. has modern day gimmel rings that was featured in our "Message in a ring" article.
Georgian Engagement Rings and Wedding Bands
1700s – Mid 1800s
The Three Graces
The Georgian era is well-known to us due to the famous English author Jane Austen, who told us a woman's entire life was dedicated to getting engaged not to a suitable mate from a suitable background but to one who had sense and sensibility. However, all sensibility was lost when it came to how many diamonds should be on an engagement ring. Of course, the girl's engagement ring had to be ostentatious in order to be socially acceptable. The Georgian rings are characterized by symmetry in which the diamonds and gem stones are arranged. The diamonds are distributed generously throughout the ring.
Art Nouveau Engagement Rings
Mid 1800s slightly before and during the Victorian Era
| | |
| --- | --- |
| | |
| Ze Bridal | Kirk Kara |
Art Nouveau inspired engagement rings and wedding bands incorporate nature into their settings. Floral, especially orchids and leaves, and even animal designs are usually etched into the settings along with soft curves in Art Nouveau engagement rings.
Victorian Engagement Rings
1835 – 1901 during Queen Victoria's Era
| | |
| --- | --- |
| | |
| John Apel | Sasha Primak |
In the Victorian era, settings were usually in yellow or rose gold with a large center stone. The center stone could be a diamond or a colored gem, like a ruby or an emerald. The center stone of the engagement ring was often surrounded by little stones or two side stones. The sides of the ring were decorated with a scroll design similar to the Art Nouveau era, but minus the nature motif. A halo ring would be the modern version of a Victorian ring.
Edwardian Engagement Rings
Early 1900s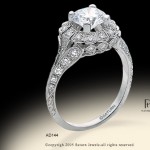 Saturn Jewelry
Platinum became very popular in this era with the evolution of jewelry making tools. It was simultaneous in Belle Époque era in France and the Gilded age in America. A lady looking for a suitor in the Edwardian era would be a social hostess, a modern day Ivanka Trump. She would be very classy, well educated, wear a different outfit to every occasion during the day, and of course have luxurious jewelry. Her goal would be to party with King Edward VI
Engagement ring settings mirrored that of lace, with intricate patterns surrounding the center stone, a technique called filigree. Filigree is the threadlike working of precious metals into a continuous curved style continued from the previous era's but devoid of floral patterns. The rings looks light and airy with some having mill-grain, which is the appearance of small beads on the borders of the setting, giving the ring a unique regal texture.
Art Deco Engagement Rings
1920s – 1960s
A Jaffe
The Art Deco era started in the 1920s and lasted until the 1960s. Glamorous actress and Princess of Monaco Grace Kelly was the leader of style in this era. Art Deco is defined by strong geometric shapes and symmetry. The stones are triangular, round and square, and other shapes. It can range from a simple setting to an ornate setting with several side stones. However, you immediately notice the shapes. Contrasting colors on one ring were also popular. Usually the jewelry featured blue sapphires contrasting with white diamonds. Baguettes were everywhere. Celebrity actress Katie Holmes and singer Beyonce both have Art Deco Engagement rings.
Retro Rings
1960s – 1970s
Sharon Stone in Casino

Katherine Heigl's

engagement ring
Retro rings symbolized our nations most prosperous times. When you think retro, think about Sharon Stone and the movie Casino where she wore large beautiful and bold gold rings. Even though in the movie she often wore too many rings that conflicted with her engagement ring, they were still glamorous and featured asymmetrical shapes with colored gemstones. The popularity of fancy shape diamonds also arose during this period. Fancy shape diamonds include pear, marquise diamonds, heart shaped diamonds and emerald cut diamonds. The settings were platinum, yellow gold and rose gold. Celebrity actress Katherine Heigl wears a marquise diamond engagement ring that's very retro.
–Stephanie Taylor