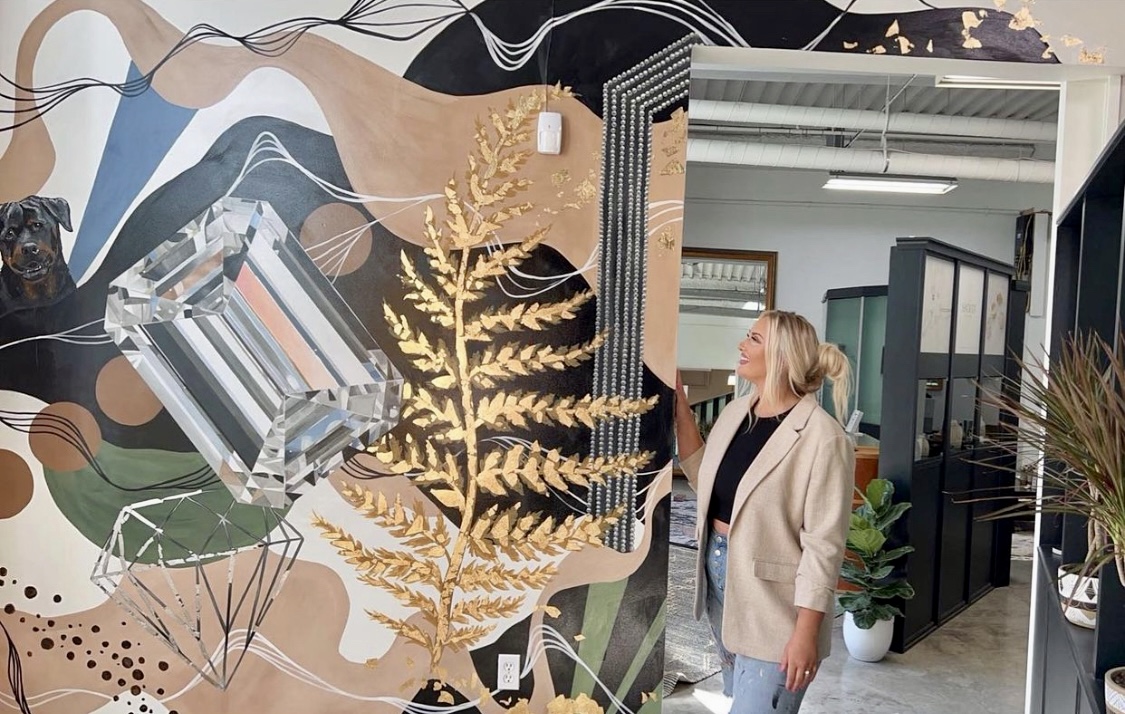 Checking in with Kalee Sholdt owner of Sholdt Jewelers!  They've just revealed a brand new decor for their Seattle showroom, a stunning mural by local muralist Carly Sarver.
"Carly is a great Sholdt client and when I found out about her mural skills, I just HAD to have her create something special for me. I had a few must-haves including miss Pearl, our logo with the gold leaf fern and an emerald cut diamond (because it's my favorite shape) and left the rest up to Carly. She selected the colors, the added design details and placement of the entire piece. She created the mural while I was on vacation and when I came home, it brought me to tears! The piece represents the vibe of my business and truly makes people smile when they walk in the front door."
Have you been browsing Sholdt rings yet? A must if you are planning an engagement.  If you've already heard about this popular brand, here are 10 facts about this 4th generation jeweler you might not know:
1  
They manufacture everything in Seattle, WA
2
  Four generation family business – Kalee is the first female owner
3  
Pearl the shop dog is the real boss!
4  
Their workshop and showroom location is in the original Rainier Beer Brewery
5  
There are a lot of authorized retailers throughout the United States and Canada that carry the Sholdt collection
6  
Looking for something custom? They love creating one of a kind pieces.
7  
They are happy to source the center stone of your dreams. Whether it's a colored gemstone, earth mined or lab grown diamonds, moissanite, etc…
8  
Do you have an old piece that needs to be repaired or refurbished? Sholdt has 4 full time jewelers with over 100 years of combined bench jewelry experience
9  
They have multiple collections that fit the bill for any bride or groom. From modern to art deco inspired, they've got it all!
10
They have a LOT of fun while doing what they do best!