In celebration of acclaimed jewelry author Beth Bernstein's new book release, we sat down to talk about shopping for antique engagement rings. Beth's new ultimate go-to guide, The Modern Guide to Antique Jewellery is a fun trip down jewelry memory lane, from the 1700s to the early 20th century. It is full of tip and ideas on how to style antique pieces and how to spot and score the best pieces. Thanks so much Beth for taking the time to answer our questions and give our readers and followers some great ring shopping tips.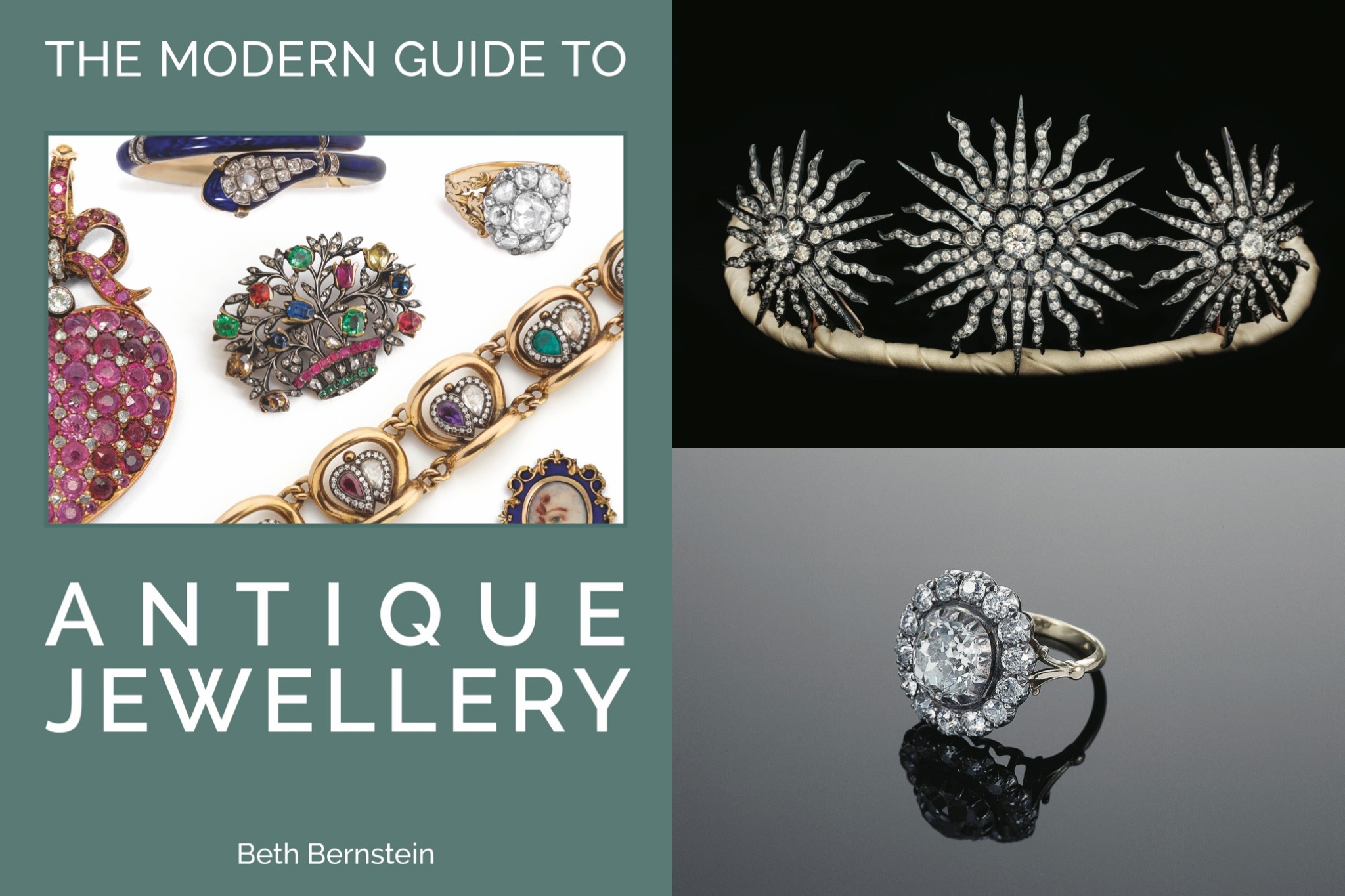 Tiara on the top right corner courtesy of Pat Saling and ring below courtesy of Fred Leighton
Why did you feel that you needed to write a "modern" antique jewelry guide?
I think there are a lot of jewelry books out that cover antique jewelry from a scholarly or academic perspective, they delve very deeply into the historical and societal aspect of each time period. Many seem to cover a lot of jewels that are in museums or temporary exhibits. My approach was to be a bit different and set the book apart from what was out there or on the internet. Therefore I thought it best to choose to give a briefer overview of the historical (yet still enough for the reader to understand the times) and then go into the jewels that best represented those times. I only selected pieces that are available for sale on the market today, with quotes of the top dealers and shops that deal in antique jewelry. I also added in chapters of how to define your style, how to wear antique with modern jewelry, how to shop different venues and other topics that would make it feel very accessible and contemporary.
Our readers love looking for ways they can help protect the planet. Isn't purchasing preowned jewelry a great way to achieve this goal?
Yes it's a wonderful way to achieve this. We can't vouch for the human rights conditions back in the 1700s for example, but we can say that by wearing pieces that have been owned before, you are investing in an amazing and rare piece of jewelry as well as the future of our planet and our generations to come.
What is the difference between vintage and antique engagement rings?
Antique engagement rings are 100 or more years old.  Vintage engagement rings are anything after that up to the 1980s. After that it is second hand or Estate.
For example Georgian (which you should never own as your main engagement ring due to the care it needs), Victorian, Art Nouveau, Edwardian/Belle Epoque and Early Art Deco all fall under antique, and anything over 100 years so later Art Deco, Retro, mid-20th century etc.. falls under vintage.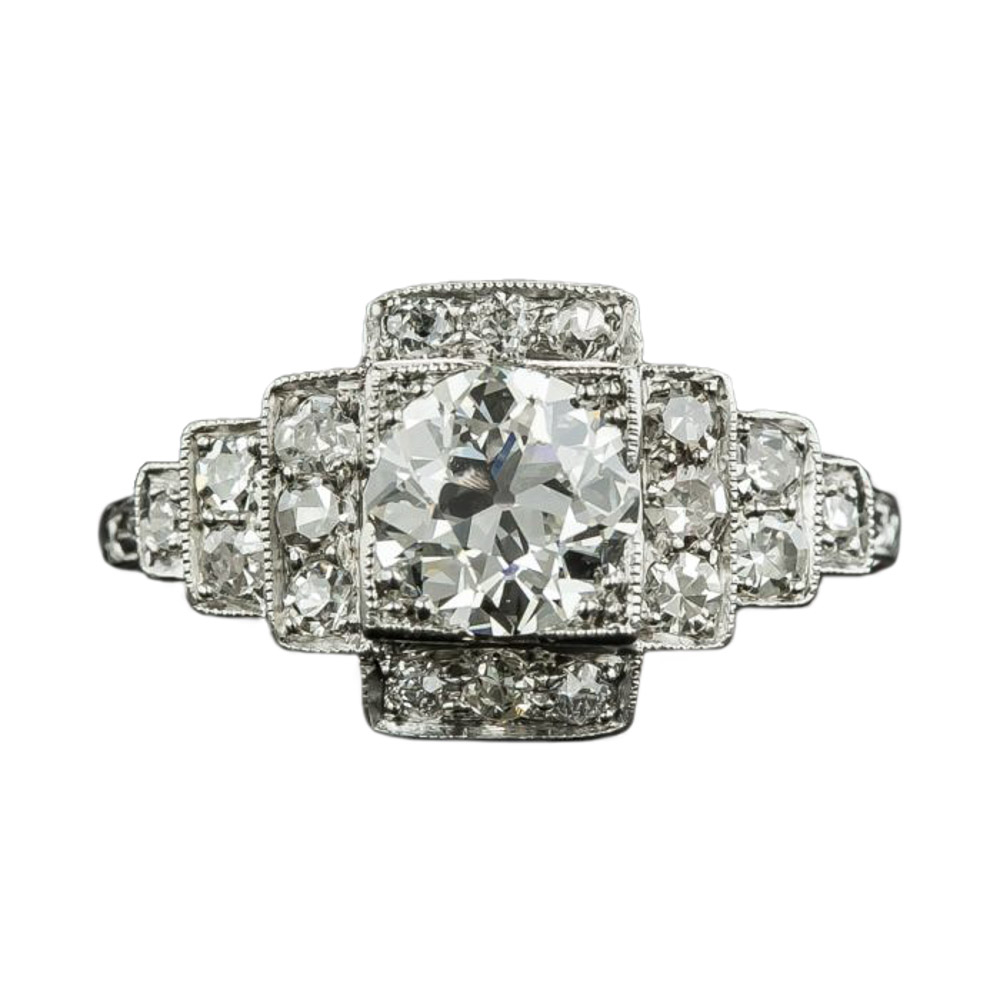 Lang Antiques Art Deco ring. Make sure to check out their site for other beautiful Deco options and from other eras. 
Why do you think Art Deco styles of engagement rings have stayed so popular over time?
Interestingly Art Deco rings were not necessarily engagement rings. It really wasn't until De Beers launched "A Diamond Is Forever" that rings were designed for the sole purpose of being an engagement ring in 1948. Of course there were betrothal rings and promise rings and wedding bands in the earlier times, but not in the way in which we saw them come into popularity after the De Beers' campaign. Art Deco rings were actually designed as dressy finger rings to be worn on any finger you chose. The workmanship was incredible. They incorporated piercing and engraving work,  geometric lines, the use of old-mine, European cut, transitional cut and finally modern brilliant cuts as well as colored-gemstones as the center stone and baguette side stone. The halo rings of the period were innovative in their techniques and designs. For example, the use of all platinum provided jewelers with a way to set rings with much less metal, allowing the creativity of the design and the diamond to shine.
However around 20 years ago, when the movement towards personalization and wanting something different than your peers became the cultural trend, times changed and 'bigger wasn't always better. The design mattered as much  as the stone, and women started really appreciating craft and an engagement ring that would work with their lifestyle. This is when Art Deco styles became the ring to own. Art Deco continues to be popular because they aren't so fragile as earlier rings.There are also great Art Deco rings that are solitaires with different fancy cut stones. They can be cleaned with a little windex or soapy water if they are set in platinum or gold, and the stones have been checked so they don't fall out. You can wash your hands with an Art Deco ring which you can't do with a closed-back Georgian ring.  They are unique in their designs but much more easy to wear and care for.
Any tips for someone planning to get engaged and starting to shop for an antique engagement ring?
Try on a lot of different styles before you decide on one. You might see something on the internet and think that is the ring for you but once it's on your finger, it might not suit you the way you thought it would. You can have some ideas in mind but be ready to be surprised at winding up with a totally different ring
Do a lot of research on the rings you are interested in and who you are purchasing it from. There are a lot of knock offs today and if you want authenticity and instant sustainability, you need to make sure are getting what you pay for and what you want
Have the store or dealer write down everything they tell you about the ring on a receipt so therefore if you go for an appraisal and find out it is not correct, you have the right to return it.
Go for the antique rings that are easier to care for today. As I said earlier–best not to go with a Georgian ring as your main engagement ring even if you love that time period. Celebrities like Zoe Kravitz who opted for a  Georgian ring could possibly change off and wear a different ring everyday. If you can't, go for the later time period when rings were not as fragile and would not get ruined easily.
Also, don't be scared of exploring and looking into different styles. It is the most fun part of shopping for antique jewelry!  I love the Victorian or Edwardian gypsy set rings which modern designers are interpreting today.  My favorite period for rings is the Georgian period but if I was getting engaged today, I would take my own advice and go for something that is more substantial. I would probably at this time in my life go for something that could be an engagement/wedding ring and go for a gypsy-set ring with all old mine or cushion cut diamonds in yellow gold, or with a cushion cut ruby.
You could do a Toi et Moi/Bypass ring style from the Edwardian/Belle Epoque time period if it is platinum over yellow gold (the way in which they first made rings during that time period), or all platinum.
There are beautiful open back cluster rings from Victorian, Edwardian/Belle Epoque and early Art Deco time periods. These also make great engagement rings.
You can buy Beth Bernstein's latest book here. Treat yourself or a friend!