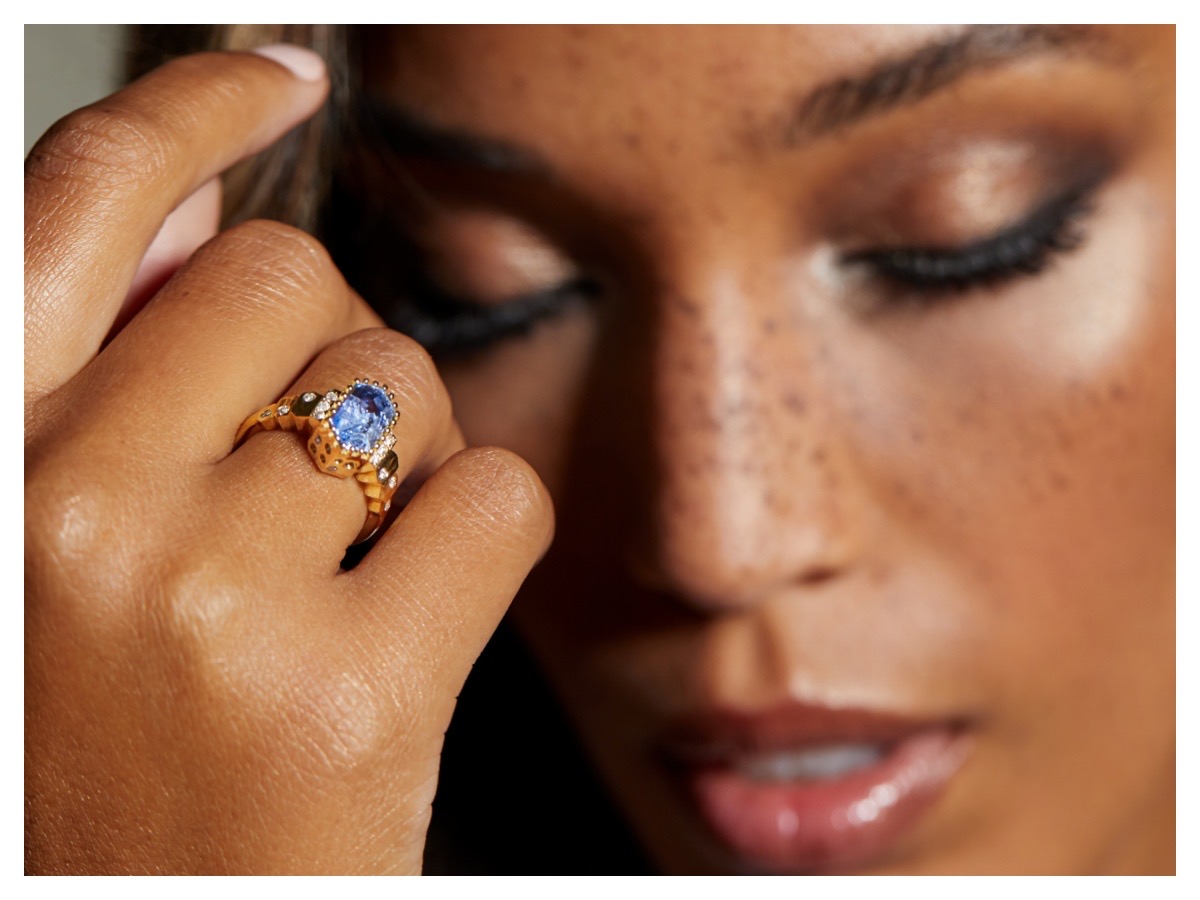 Last year, Dana Bronfman launched her new Love Collection, an array of beautiful rings with innovative design ideas to celebrate partners in love and their commitment to each other. Since starting her jewelry business, Dana has been an advocate for transparency in sourcing precious metals and gemstones.  We just had a chat with Dana about her new collection and how she makes sure her jewelry doesn't harm the earth and empowers communities.
What does sustainable jewelry mean?
This is a big question to start with. And I actually don't like to use the word sustainable, but I do only when I need to in order for people to recognize what I am talking about. For me, it is awareness and transparency. I am constantly educating myself and while I strive to meet clients where they are on willing to hear this, I love talking about these topics with customers to educate them, and that is part of it as well.
It is being mindful of how much we are creating and doing so in small or even one-of-a-kind quantities, creating pieces of exceptional quality and materials so they last forever, and can even be recycled in the future should a client choose to take apart their gold and gemstones and have me or another jeweler make them into something new. We pride ourselves on having very high heirloom quality pieces that are passed down from one generation to the next.  Timelessness is part of this. Although our pieces have a specific style, they aren't trendy and will never go out of style.
The other thing is knowing where the materials come from. My Love Collection is made using entirely fairmined gold. Fairmined is a third-party certification for small-scale artisanal gold mines that requires them to maintain the highest level of ethics and sustainability in the business. You can learn more on our website or fairmined.org.
We use recycled gold for our signature collection but gold has been being recycled forever because it's so valuable, not for environmental reasons. There is no way to know where that originally came from or whether that came from the ground yesterday. Also, using recycled gold exclusively could encourage more illegal mining, because it's so valuable people will continue to mine it. So the best way to give back to the miners is a way that allows them and their communities to benefit from it, and it doesn't impact the climate in a negative way. However, we still use recycled gold in our signature collection to minimize the new gold we are taking from the earth.
For gemstones and diamonds, this can mean using vintage and antique gemstones as we often do, or working with gemstone miners and dealers who work directly with mines and know what's happening there and can tell me how the conditions are for. I also love to work with companies that oversee the cutting and polishing and can make sure that is done in safe and healthy working conditions for the people working there.
It also means giving back. I donate a percentage of sales to a non-profit called Pure Earth's program that teaches miners how to mine responsibly and also how to reforest the Peruvian Amazon areas after they are done mining them.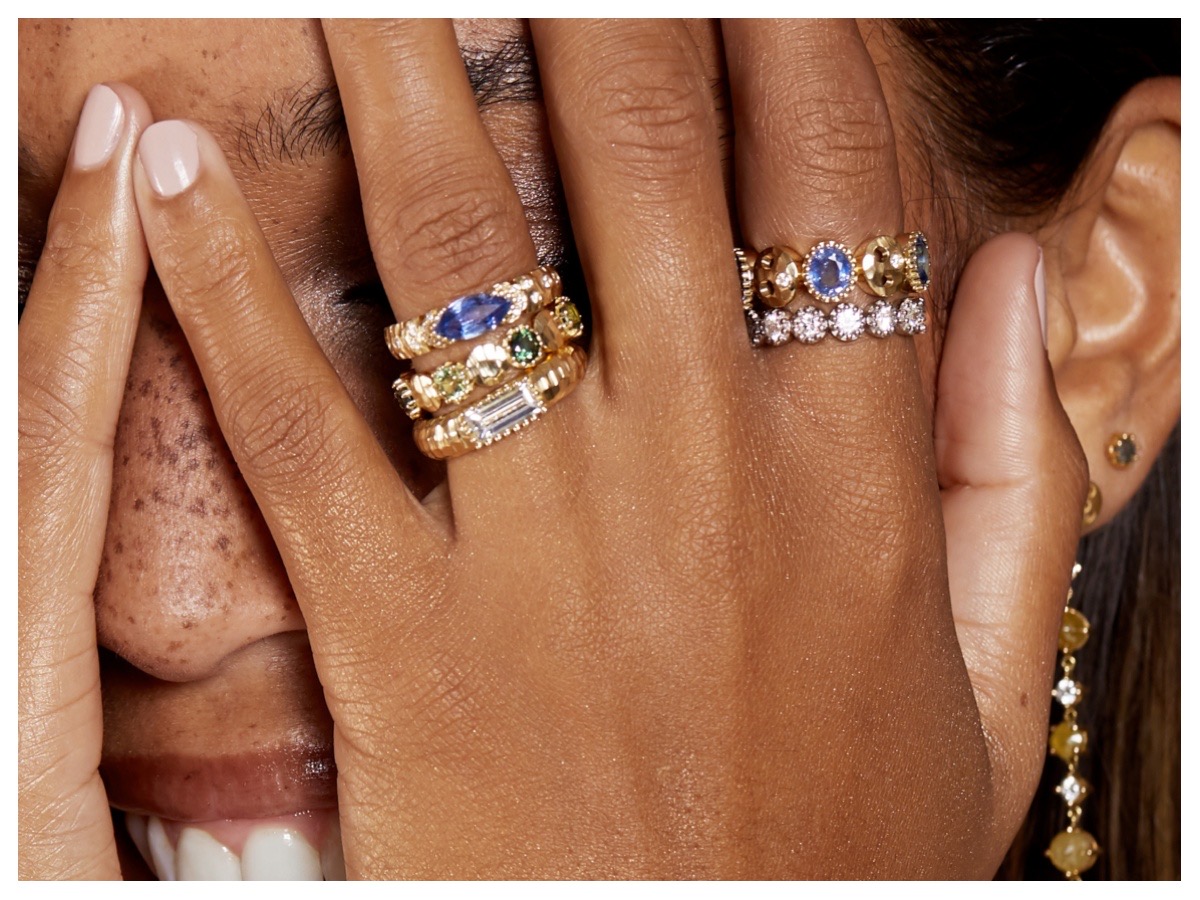 Each of these rings are beautiful on their own but look fantastic stacked together. We have a sweet spot for the Agra ring featuring an East-West marquise shaped sapphire . We also love the hammered band adorned with a large diamond baguette, a perfect gender-free solitaire option.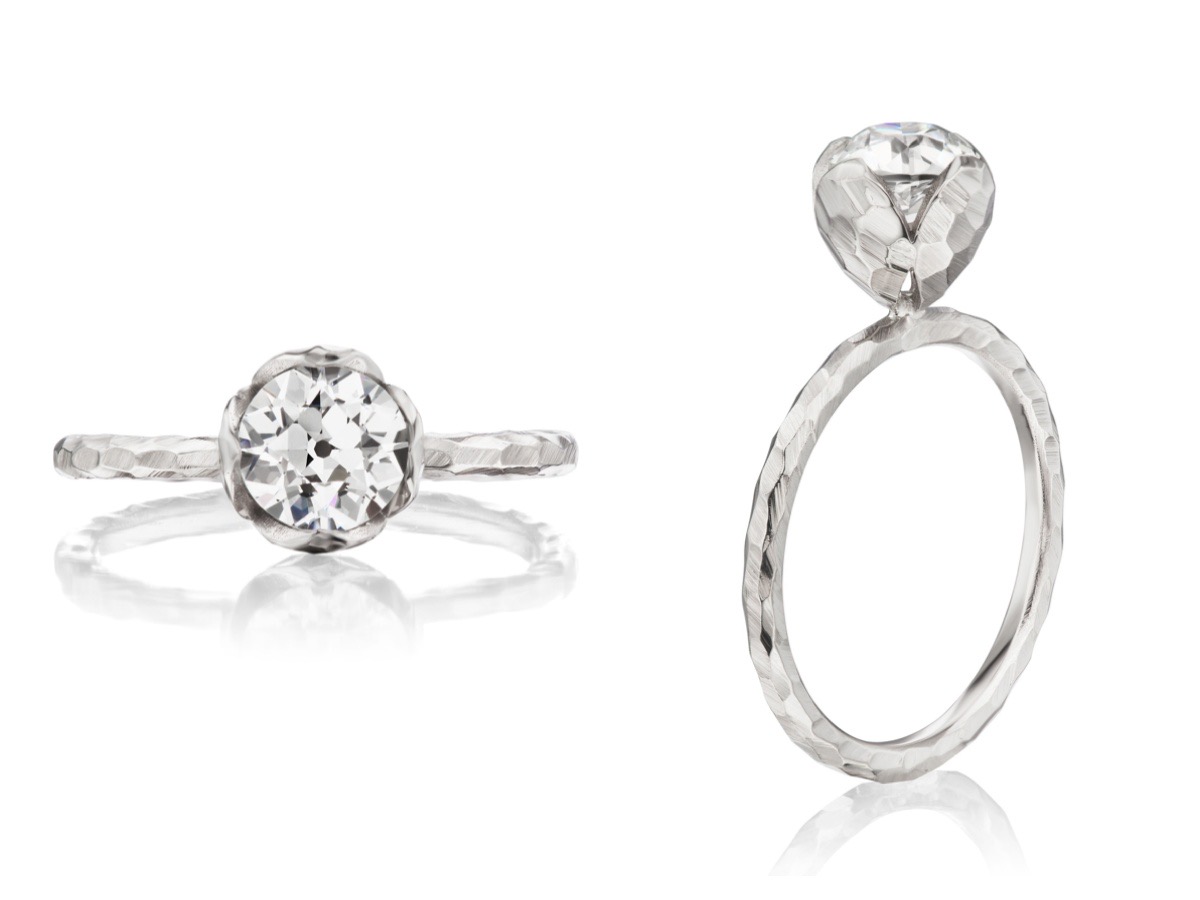 We are major fans of all the bespoke versions of Dana's tulip inspired solitaire. This one features an old European Cut diamond and is set in palladium white gold. The tulip was Dana's late mother's favorite flower and is also an homage to her bonus mother, a passionate conservation advocate and botanical enthusiast, who raised Dana and helped shape her environmentalist values. 
Can you give us some background on the emeralds you've selected for the Love Collection, they are spectacular. Where are they from?
So the emeralds in my Love Collection are all from the incredible Muzo mine in Colombia, which is known for having the best color of emeralds in the world. They have high, almost fair-trade like standards for how the workers are treated, as they partner with their Muzo foundation and also give back to the local community from where they source. They are a vertically-integrated company, so I know what they are telling me hasn't gotten lost in a game of telephone.  They also oversee the cutting and do not calibrate gems, meaning they don't replicate them. So each stone is cut to maximize the color and cut of each stone individually. They produce emeralds like I produce jewelry– the cutters are artists themselves, and each stone is unique. Even in the eternity band, the emeralds are not 100% the same size.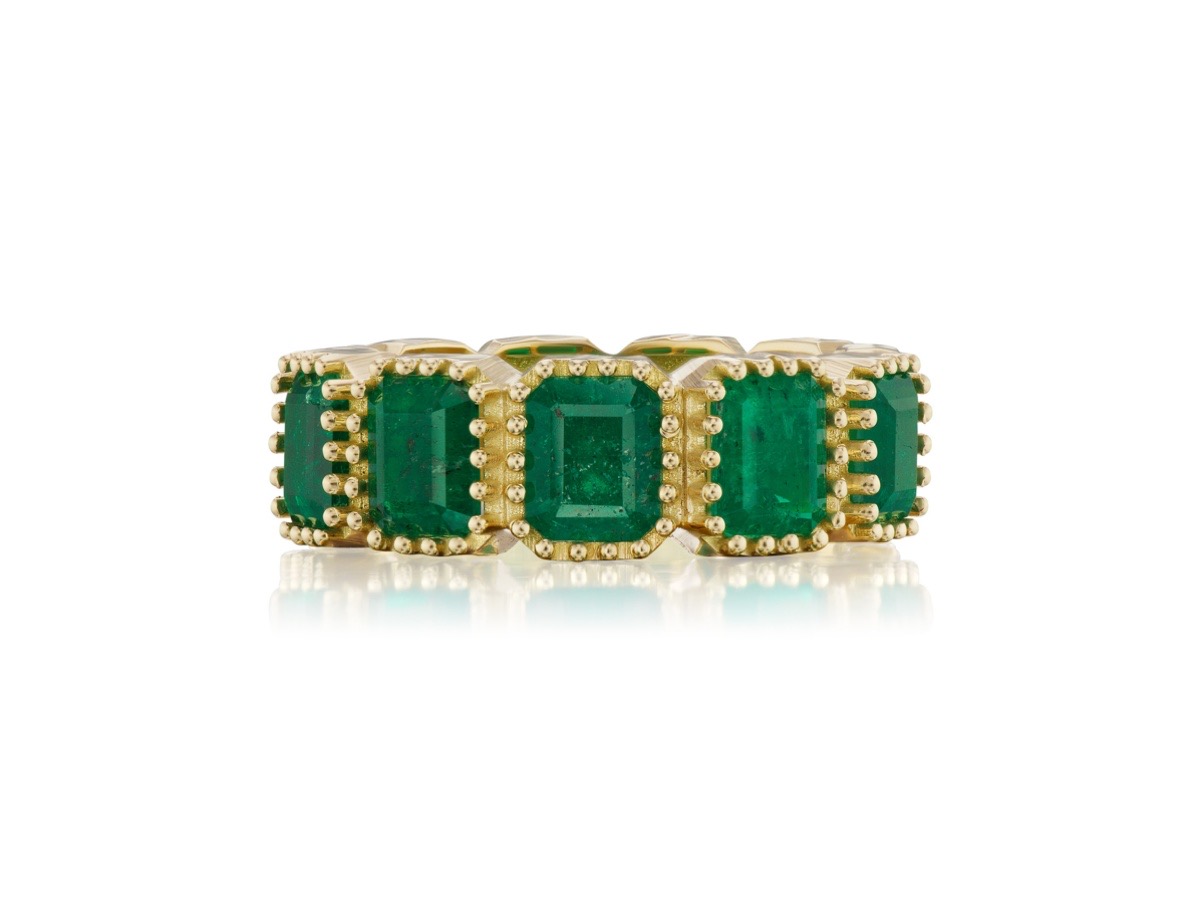 Half hammered eternity band with Muzo emeralds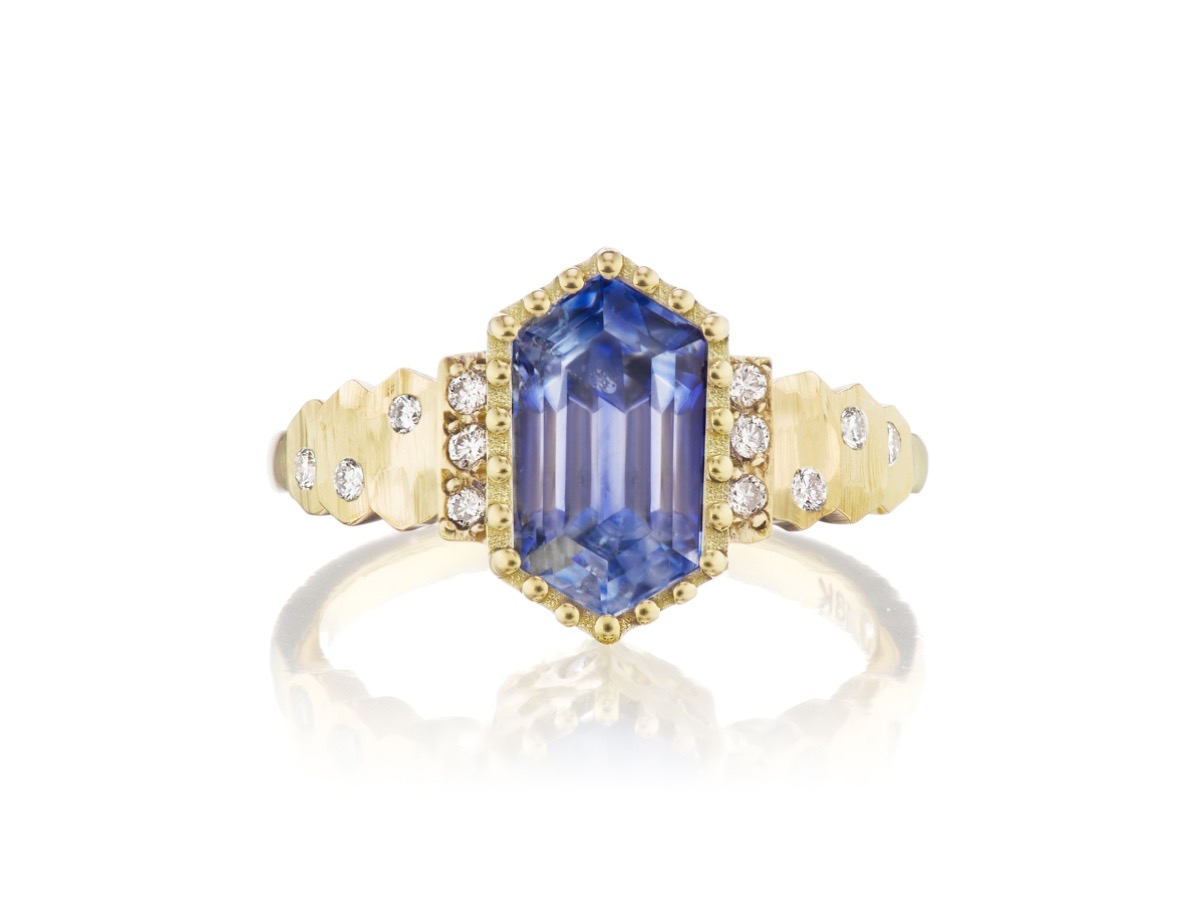 The tapering tiers on this setting represent each step on the journey of love as it grows. The "Plat de resistance" is a stunning elongated hexagon sapphire. Last but not the least, Oculus openings can be seen on the ring's profile.
Several rings in the Love Collection feature your signature Oculus details. What inspired you to create this signature design?
The oculus is a pattern of circular open space. It is the motif that reminds us a bit of swiss cheese, right? This came from one of the first pieces I made for my collection, where I was experimenting with layers and using open space in jewelry. I like to use the word open space over negative space because it feels expansive, and that's what I want to create with my oculus– an expansive feeling. "Oculus" is an architectural term for a circular opening in a space. As I'm really inspired by architecture. Mainly, the oculus is about allowing the light to shine through. Which is a metaphor for allowing your true self to shine through. And that's what adornment is all about, is owning who you are and letting it shine out. I want to empower people to be unapologetically, uniquely themselves. So much of jewelry is about status symbols, but I aim to create jewelry that is more about love and self-expression.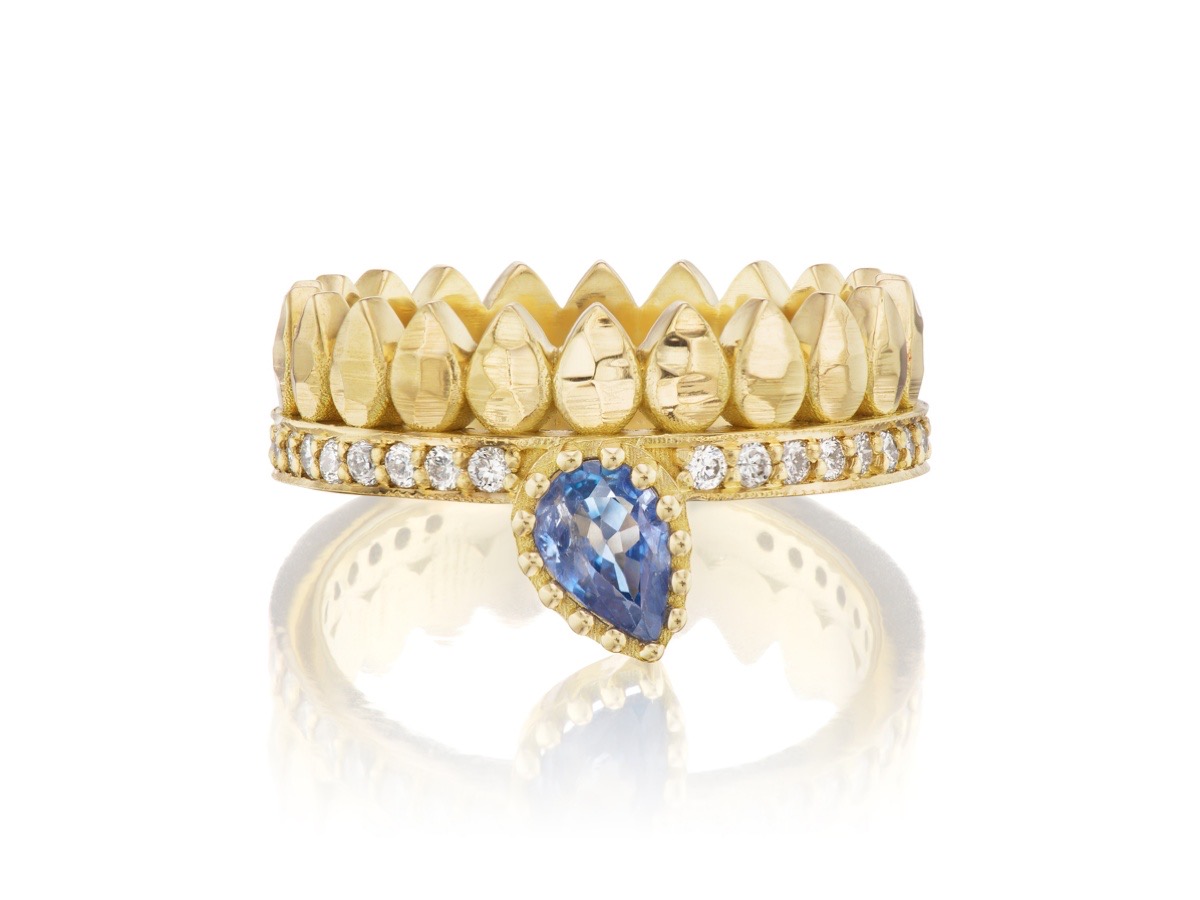 Pear-cut diamonds are having a moment but who needs them when you can have a crown of solid gold pears with a lovely pear-shaped light blue sapphire?
We were so excited to have you as partner for our first NYC Engagement ring shopping Guide. Why do you love about New York in general and in particular why you are proud to make your jewelry in Manhattan?
I think New York is so amazing because of the people who live here. People are so brilliant in every field. There's something here for everyone. It's an intense place but the energy feels so alive.
I am proud to make my jewelry here because I live here and everything is made in my studio where I can keep an eye on every piece of production. I can work directly with clients using technology from all over the world in addition to local people, but I can actually see in person physically direct and oversee how everything is done. I work really closely with my team and I absolutely love that. Plus, this allows me to make sure everything is done ethically and fairly.  I can be sure of what materials go into my work.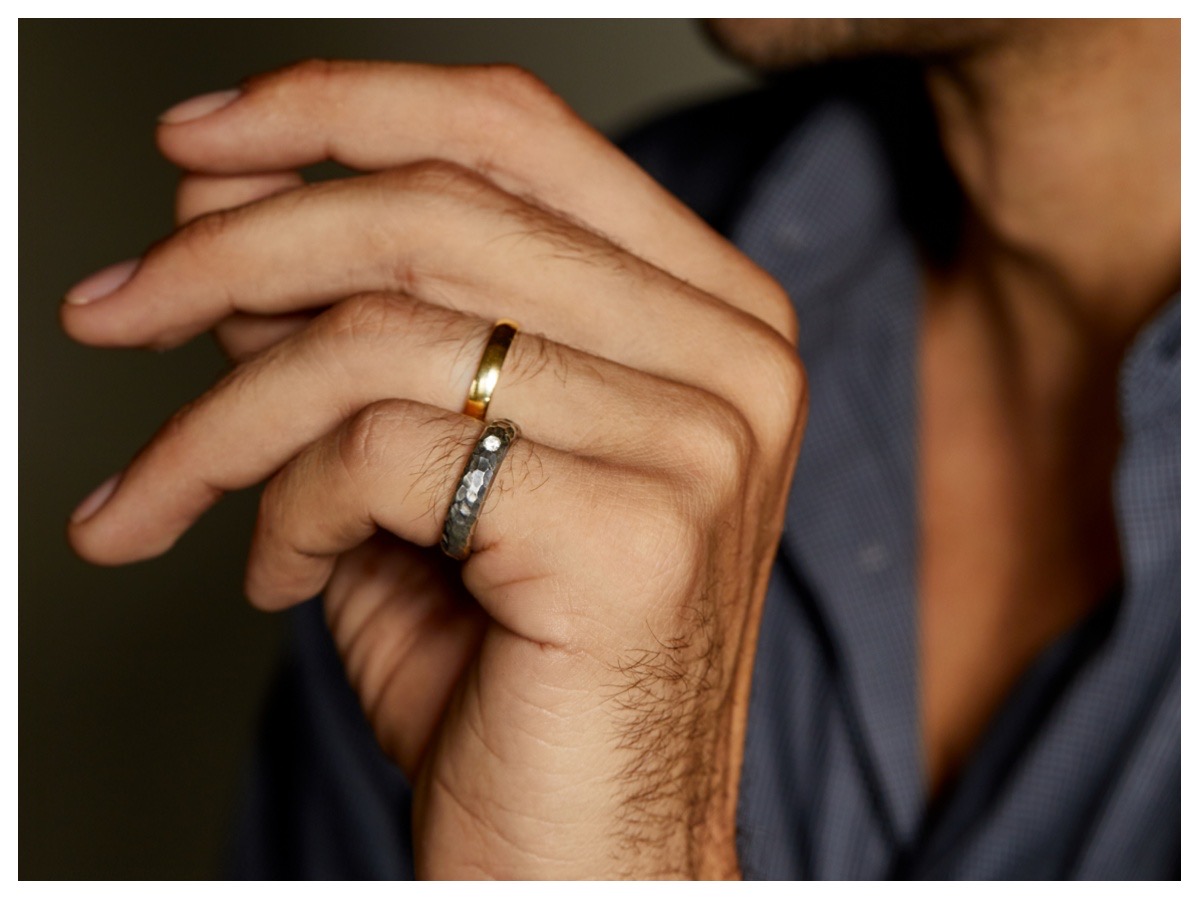 Start browsing the whole Dana Bronfman's Love Collection now, don't miss the wide selection of gender-free wedding bands and engagement rings.