You might have noticed them in our recent photoshoots, cluster rings are making a come back. They are a unique way to create a bigger look with a multitude of stones, instead of just focusing on just one larger center stone. The design possibilities are endless, this trend is a very unique way to personalize your engagement ring.
Cluster rings were very popular a few centuries ago, so you could decide to collect a genuine antique ring such as these beauties by Lang Antiques. The bottom ring is from the Edwardian era and the top ring is from the Victorian era.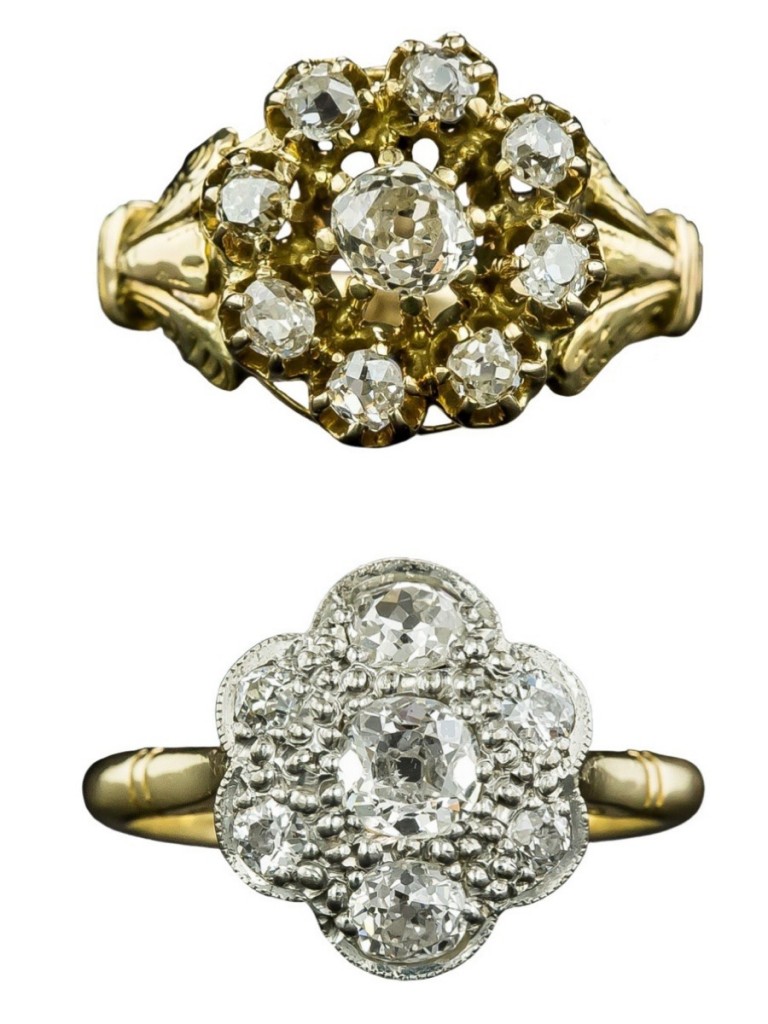 There are also many new contemporary styles to consider, I have picked some of my favorites below.
I love Artemer's take on the antique floral cluster ring, down to the gold beads!
Maevona's brand new wedding rings are always inspired by her native Scotland. Check out this whimsical new addition with pear diamond clusters.
Marquise diamonds create beautiful clusters too, as you can see below, engagement ring by Sarah O. Jewelry.
A lovely custom engagement ring by Amthorne using pop of colors and white space to create a more modern look.
The ultimate cluster wedding set by Ruta Reifen mixing classic diamond cuts with rose cuts.
These cluster rings by Abby Sparks are like unique diamond and gemstones puzzles.
A new take on the Lady Diana cluster ring with a green tourmaline center and a marquise halo by Makur Designs.
I have already featured the Triple Threat collection by Rahaminov with diamonds and spinels. It also looks amazing with tsavorite garnets.
It is such an exciting trend. These rings can be customized with a mix of family stones and new stones to create a new heirloom. I am leaving you with this stunner by Coast Diamond pictured below.