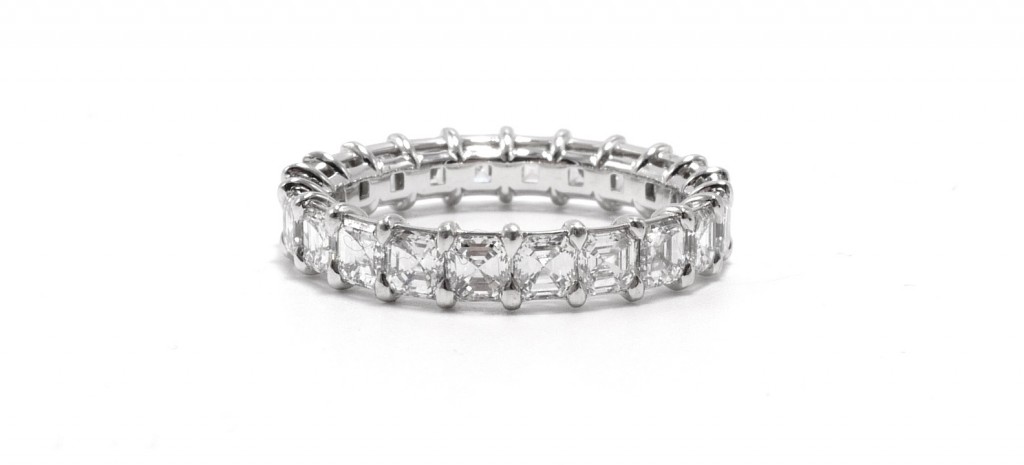 We recently stepped in the new Roaring 20s with a thud which name starts with a "C"… However, we can definitely forecast the upcoming years will be full of big celebrations and lots of sparkle!
Let's talk diamonds since it's April's birthstone. The Asscher cut is making a big come back. An interesting coincidence is that this step-cut was also very popular during last century's Roaring 20s. Its geometric lines are so quintessentially "Deco". The Asscher cut was designed by Joseph Asscher in 1902 and was the first diamond cut to be patented. It is square yet nearly octagonal in shape with 58 facets. It reflects light so beautifully. The Royal Asscher Cut is an even more hypnotic version of this unique cut with 74 facets.
My instagram news feed has included recently lots of Asscher cut engagement rings and wedding bands (the Asscher eternity band on top of this article is from Ashley Zhang). Here are a few favorites with my feelings about them in song lyrics.
Baby you're firework!
This diamond baguette party is brought to us by the one and only Heidi Gibson.
Tu es formi, formi, formidable
With tapered baguettes and double prongs, this ring by H.L.Gross looks very French to me.
I like big diamonds and I cannot lie
Go big or go home, there are 26 diamonds set in platinum in this Jack Kelege ring. I love the trapeze side stones.
Something in the way she moves
Love the way the 3 Asscher cut diamonds are set in this Taylor and Hart ring. Note the cutest detail, a hidden ruby inside the shank.
You're really lovely underneath it all
A lot is happening in this Ascot Diamonds ring under the center stone. First, there's a beautiful hidden halo AND you find out that it is a two-toned ring.
So much ice make ya eye sight blurry
Asscher cut wearing is not exclusive to one gender. How beautiful is this Ivy & Rose custom ring worn by Maximus? Can you spot the halo with baguette sapphires?
Baby you're all that I want
Yes you can mix a Asscher cut diamond engagement ring with an emerald cut eternity band! They look so amazing together. The band is by Simon G., the e-ring by Sholdt and they are both available at Steve Quick in Chicago.
Lots of options to consider if you are falling in love with the Asscher cut…
One more unisex style below by
Kat Kim
, a sleek bezel cut set in yellow gold.