"Montreal, Quebec is where old time charm meets youthful creativity; the city's thriving arts scene evolves against the backdrop of breathtaking historic architecture.  This is where our rings are created, inspired by the wealth of culture and creativity that makes Montreal unique."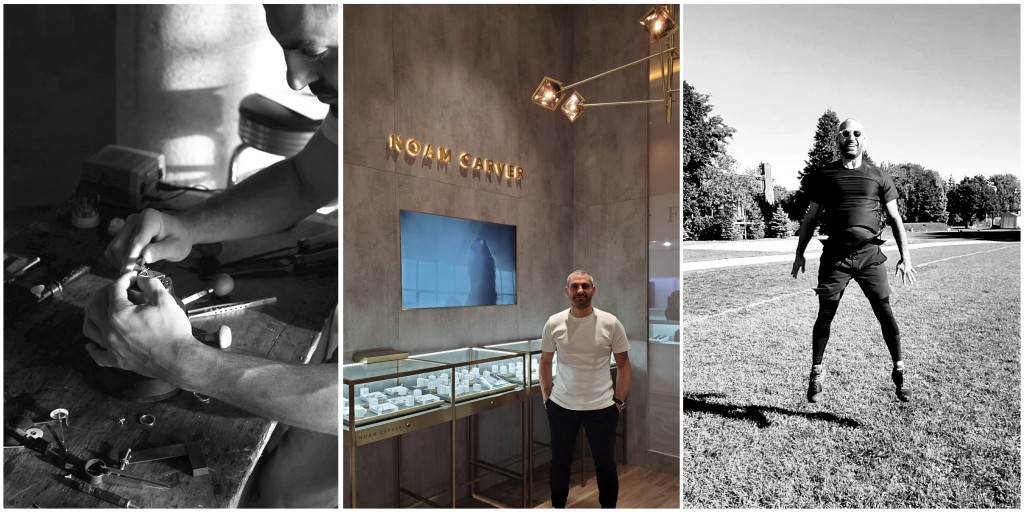 It is still  hard to travel but, we are staying connected remotely with couples in love and talented jewelers who make beautiful wedding rings. Noam Carver , (a division of the CrownRing Bridal House) and his workshop are located in the utterly romantic Quebec province of Canada where both French and English are spoke fluently.
Noam Carver recently launched an upscale line of engagement rings called "Atelier". Some of our favorite Atelier settings include double claw prongs as well as milgrain and pavé details. The top of the rings are stunning but don't miss the side views.
The first Atelier ring featured below includes a Euro shank which prevents the ring from turning on the finger. The 2 other rings are variations on our favorite design. The rings look as lovely in platinum, yellow or rose gold and with oval or emerald cut diamond center.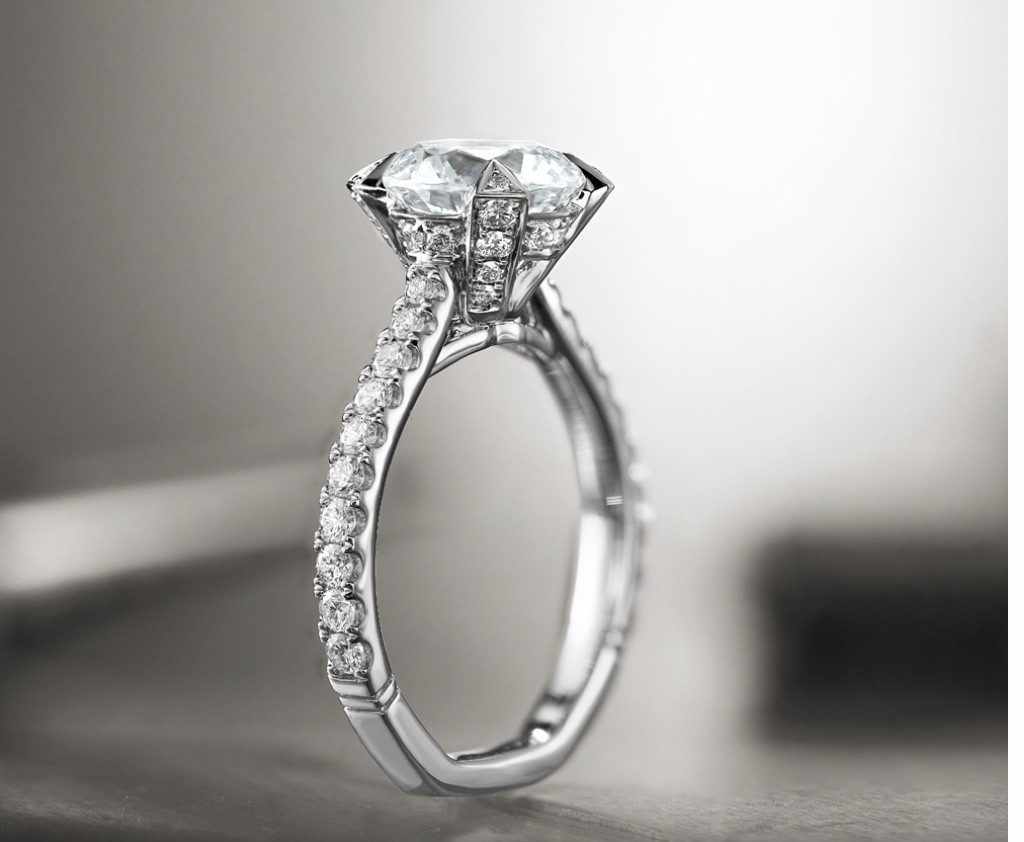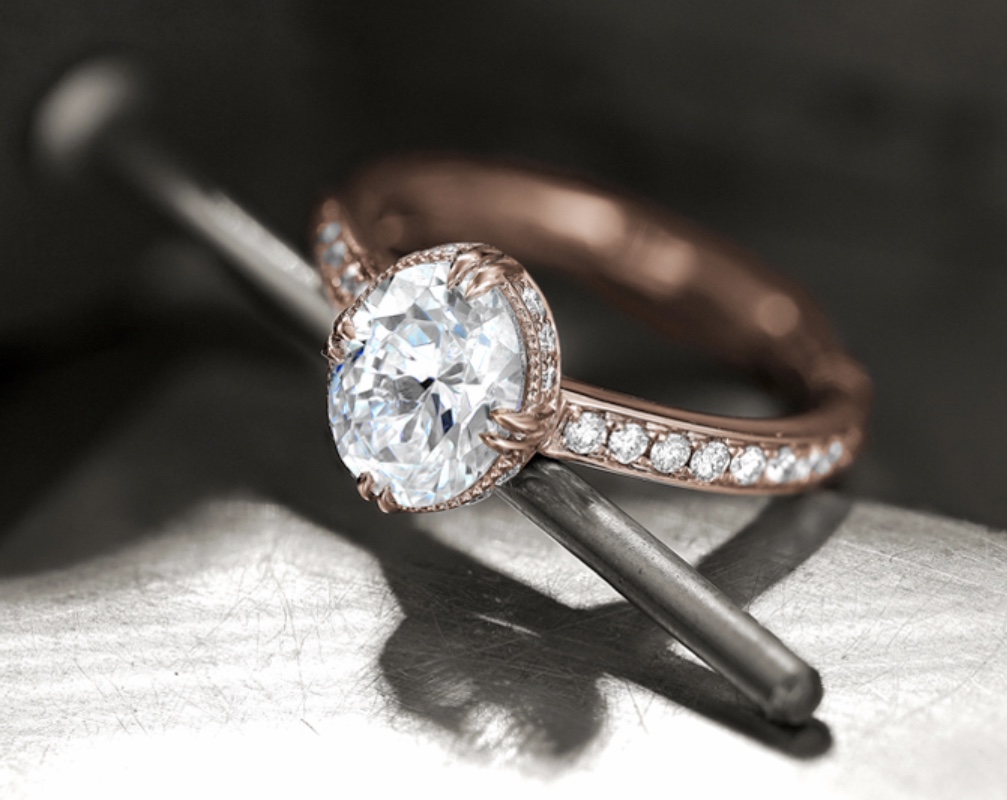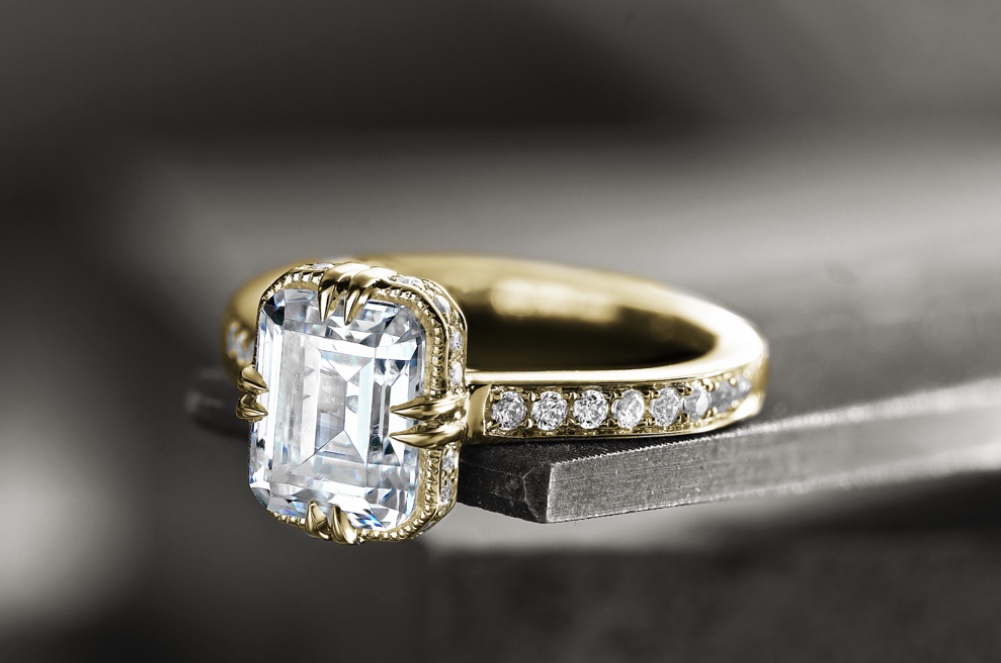 How has Noam managed during the Year of Covid? We enjoyed catching up with him by email. It's always interesting to know a little bit more about the man behind the rings!
What is your typical day like as a designer? 
Life was so simple years ago, I could spend a whole day designing. The challenge today is managing a multitude of projects and servicing our clients. That leaves little time to find tranquility to put pen to paper. I try to get the chaotic work out of the way, then carve out blocks of time for designing.
How would you describe yourself in three words and why?
Non conformist, skeptic and optimist. I inherently challenge and question most established opinions and as a result I am driven to seek truth through exploration and experience. However, I always maintain a positive attitude and strive to look for the good in all things.
What are some fun facts about you?
I love to cook. I really enjoy the process of food prep, researching different cuisines from around the world and following recipes or experimenting. I am a major proponent of a healthy lifestyle. I work out almost every day and eat very healthy. This helps me stay focused and efficient.
What do you do on week-ends? 
Montreal is a beautiful city with lots to do! One of my favorite things is to go for a run on Mount Royal. It's a beautiful mountain in the heart of the city with scenic lookouts.  Right after my run, I stroll down to the hip Mile End district and hit up one of our trendy lunch spots!
What are three essentials you always have with you?
A good pair of sunglasses, a pen and paper and a comfy pair of shoes.
What are some of your favorite jewelry pieces to wear?
One of my go-to pieces is a bracelet from my previous men's collection called Apex. It's classy and edgy all at the same time.  I have 2 unique watches that I love to wear, a vintage Ulysse Nardin and a sporty Chopard.  Lately, my wrist has been reserved for my Garmin fitness tracking watch.  It tracks my workouts, runs, steps and a bunch of other metrics.
In normal times, you travel to the US a lot, what are your favorite places?
There are so many great places in the US.  Top of the list is Hawaii, hard to beat that spot… surfing, hiking and the food is amazing!  Some other notable locations I have enjoyed are Savannah, Lake Tahoe, Scottsdale, and of course the classics:  Miami, Los Angeles and New York.
What do you enjoy the most when doing trunk shows and meeting American brides?
Visiting retailers and hosting trunk shows is a great perk of our business. As a designer it's incredibly insightful to meet people from across the country and design rings with them.  It's also fun challenging people's expectations and creating one of a kind designs with them.  A lot of my work has been influenced by the people I meet.
The CrownRing Bridal House also manufactures creative men's rings. Check out this beauty from their new Bleu Royale hand-painted enamel capsule collection.