Congratulations to all our just engaged ladies! Thanks for sharing your pictures and stories, they are all so wonderful. As your are planning your life and wedding with your love, making sure you take good care of the brand new bauble you are wearing on your finger is very important. This is going to be a long lasting relationship! We asked Trina Woldt of Jewelers Mutual, the best bridal jewelry insurance  (we are not paid to say this, it's true) to help us narrow down how to keep your engagement ring pretty and safe.
Tip #1: Get your ring insured
"Of course the most important thing we recommend is getting the engagement ring insured," said Trina Woldt, chief marketing officer at Jewelers Mutual. "For many, your engagement ring is the first jewelry item you wear every day."
Trina admits this could be a little unnerving for newly engaged brides-to-be when you think of all the things your ring is exposed to. You may not be able to protect it from everything, but with a specialty insurer, you'll likely get the best jewelry insurance – better than what you may get by adding your jewelry to your homeowners or renters policy.
Specialty jewelry insurance – such as what's provided by Jewelers Mutual Insurance Company – is a standalone policy specifically created to protect your jewelry from the unexpected – like loss, theft or damage—and provides an extra level of protection.
Sometimes accidents happen no matter how careful we are and the ring may become damaged or lost and there's no explanation. Make sure your policy not only covers theft or loss due to a disaster, such as a fire or flood, but that it ALSO covers mysterious disappearances.
Choose coverage that gives you the ability to cover replacement costs. Look for a policy that offers repair or replacement coverage with the same kind and quality as the original, especially important if you have a branded or custom ring.
With a honeymoon vacation likely, it's important to consider coverage that includes worldwide travel. You'll have the freedom to wear your ring without worry wherever your travels take you.
Tip #2: Make sure the ring fits
Visit your jeweler to ensure your ring fits comfortably without risk of it falling off. If it's too loose, or feels too snug, your ring may need to be resized.
Tip #3: Know when to remove your ring and where to store it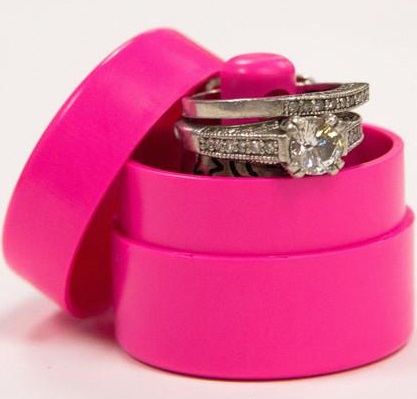 If you missed our article about the 10 times you should remove your ring, read it here. Where to store the ring when not wearing it is equally important – make sure it's in a safe, secure place that doesn't leave it at risk for theft, loss or damage. At Engagement 101, we love the Lion Latch ring tote that keeps your ring safe with you when you need to take it off on the go.
Tip #4: Clean and care for your ring regularly.
Regular maintenance is essential to keeping your ring sparkling like the day you said yes. There's a safe way to clean your ring yourself in between professional cleanings (recommended at least twice a year by your jeweler) by using warm water, a mild dish soap and a soft bristle toothbrush. Also visit your jeweler a couple times of year to inspect your ring for loose stones, bent prongs or any other damage that may not be visible to the untrained eye, but could prevent a much larger loss if detected right away and fixed.
For a complete guide on how to keep your ring safe, download Jewelers Mutual's free time-based checklists to learn the habits you need to keep your diamond engagement ring sparkling like new for years to come.
Photo Credits: Jewelers Mutual and Lion Latch