Some people hate Valentine's Day, what's wrong with them? Flowers, chocolates, jewelry, a card or a fancy date… the particulars are not important, but setting time for being romantic with each other is never a bad idea! Treat yourself or someone you love with one or all of the 9 gifts I've picked to celebrate Cupid's special day.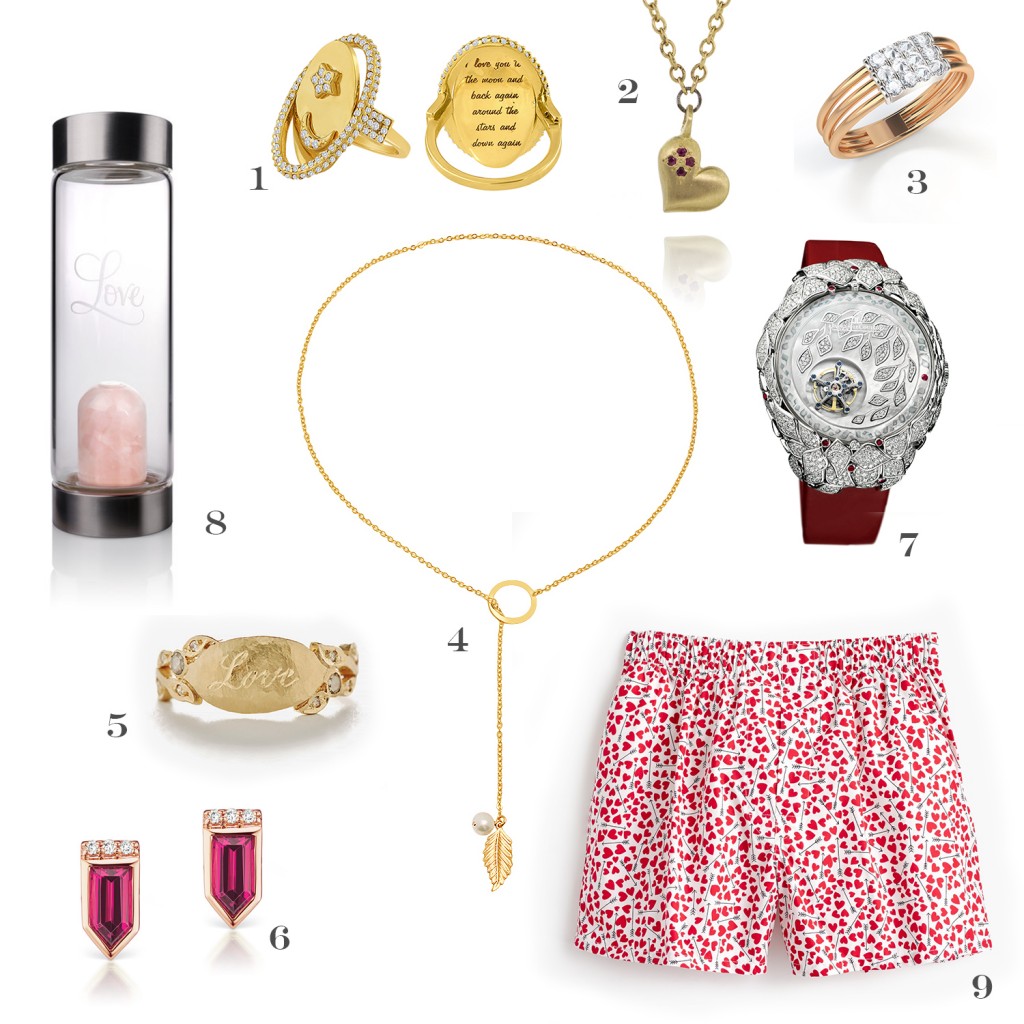 1 – I love versatile jewelry. The Moon and Back flip ring designed by Eden Presley features a secret message that you can hide or show off! $2,200 in yellow gold with diamonds.
2 – Adel Chefridi has designed a new heart pendant with rubies and a two-tone chain. Nothing against a traditional diamond heart pendant, everyone should have one… but I love the fresh take on this jewelry staple, $540.
3 – The new Feel the Love Diamond Braille signet ring designed by Jessie V. E. is simply awesome. You can customize it with the first letter of both your names. Only the two of you will know what's written and you can both share the experience of touching and feeling it, $1,200.
4 –  I have recently become obssessed with feathers in jewelry. This Lariat necklace is so feminine. The  gold fill versions (in the gold color of your choice) are $95 or the 14 K gold versions are $295, designed by Victoria Six.
5 – I was browsing Dawes Design's website for another story and I got distracted by this beautiful and utterly romantic signet ring. You can engrave it with your own word, though I think it is perfect as is.
6 – I have been pinning for all the jewelry featured on Jane Taylor's Instagram page. The colors are incredible and make me happy! These Cirque (we'll rename them Cupid for this article) Arrow Stud Earrings are a great gift,  $685. You can wear them different ways depending on where you want the arrow to point.
7 – So here is a bit of a splurge or just a regular day of home shopping for the billionaires reading this blog. The brand new Hybris Artistica Mystérieuse watch by Jaeger – LeCouture. It is so beautiful that the fact that it can also give you the time of day is just icing on the cake. I love the organic gold and diamond vines that you can see on top as well as the ones on the back that are also incredible. The hours are given by the position of the orbital flying tourbillon while a ruby gives you the minutes. As they say in these cases, price upon request.
8 – Gemstones are beautiful so we sometimes forget that they also have healing powers.  Gem Water is a new line of accessories featuring gems that will enhance your water, tea or wine when you use them. The water bottles and droplets aren't just gorgeous to look at, they revitalize your water to the alkaline level found in natural spring water and give you the extra boost you need through each stone properties . The Love Engraved  Cupid's Kiss bottle features rose quartz which is known as the quintessential stone of love, tenderness and sensuality. It  is a limited edition by Gem Water for Valentine's Day,  $110, includes a love engraving on the bottle.
9 – For the man in your life (I would actually wear it too) this Hearts and Arrows print boxers by J. Crew will make the evening even more romantic… Just $18.50.
Sev
Severine Ferrari AKA Sev is the editor and writer of this blog and the online magazine Engagement 101. Sev was born and raised in Paris and has lived in New York City for over 20 years. Her blogging style still includes elements of her French writing style and humor. We recommend reading it with a glass of champagne and a French accent.