Congratulations are in order, Lisa Bridge is a newlywed! We had the pleasure to publish an exclusive story about her engagement to Gilad Berenstein last year and are so happy for this amazing couple.
I had a conversation with Lisa a couple of months before her big day to discuss her new Hawaii collection. I instantly fell in love when I discovered the rhodochrosite ring and necklace set. I also became smitten with the amethyst earrings featuring peridot and emerald accents. Purple with green is my favorite color combination.
Lisa loves Hawaii where she spent all her Summer holidays from a young age. She wanted to honor this special place in her heart by creating jewelry inspired by Hawaii picturesque landscapes , its vibrant flowers and the warmth of the spirit of the people. Rhodochrosite, the official state stone, is said to have the power to heal the soul and symbolizes love and empathy.  I adore its unique pink ombré pattern. The emerald and amethyst pieces absolutely remind me of plumeria and hibiscus.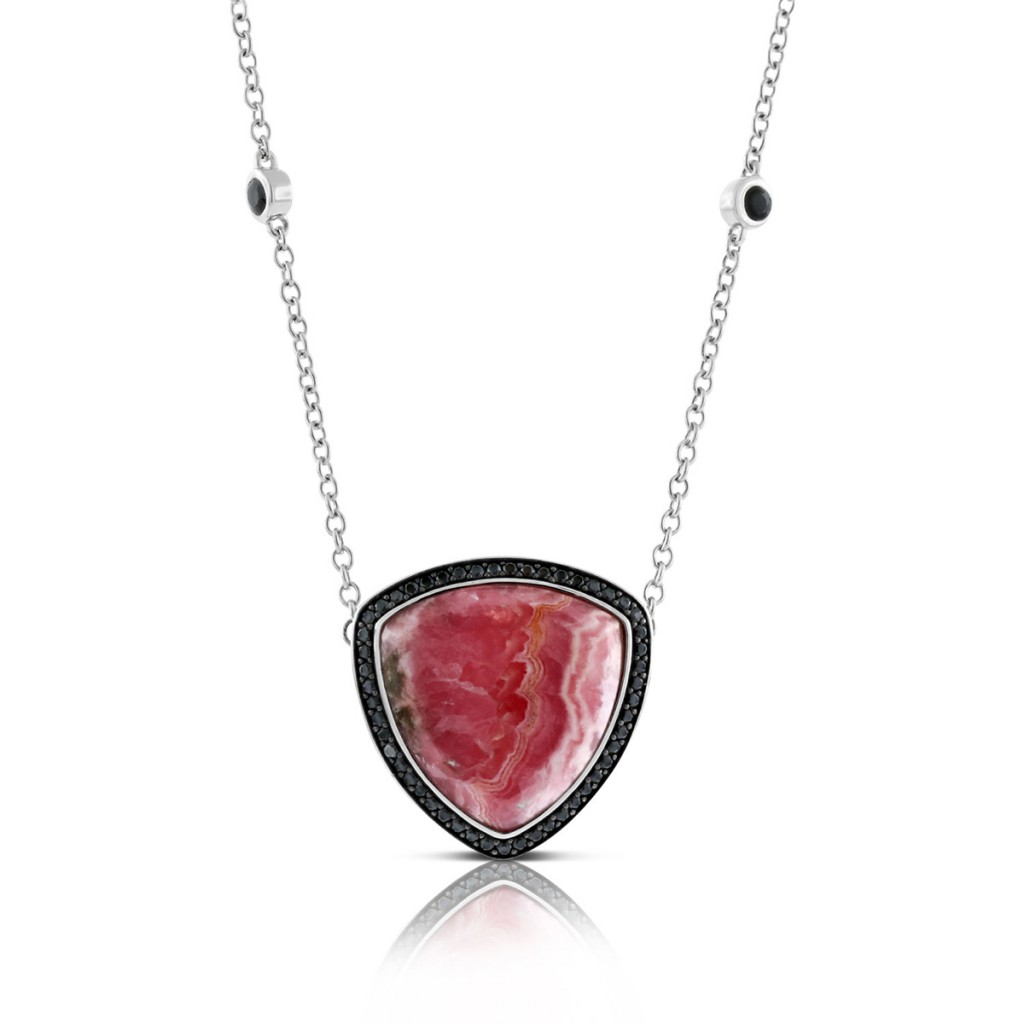 This necklace is my personal favorite from the collection. The black sapphire halo enhances the natural beauty of the rhodochrosite. It's $399 so you should treat yourself or put it on your holiday wishlist. Trust me, you will not regret it…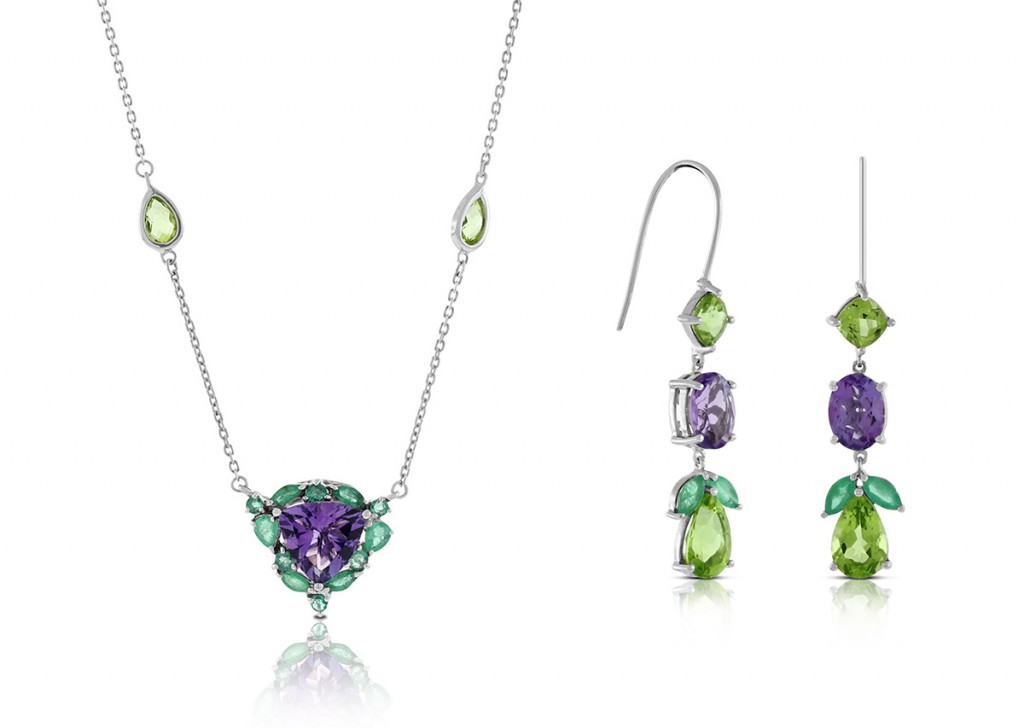 This amethyst necklace is simply gorgeous. The center stone is enhanced with emerald and the stones on the chain are peridots,  $399. To the right, a stunning pair of earrings featuring the same gemstone combination and priced at $279.
You can browse and purchase the Lisa Bridge Collection online here or try it on when visiting any  Ben Bridge store. These stores are mostly located on the West Coast and Texas. After a quick chat with Mark Bridge, Lisa's brother, I need to share the important info that Ben Bridge also offers a huge selection of engagement rings. Ben Bridge  has an exclusive diamond cut collaboration with Forevermark that you can consider for your center stone. It's a modified round shape with extra facets. They can also design from scratch the bespoke ring of your dreams.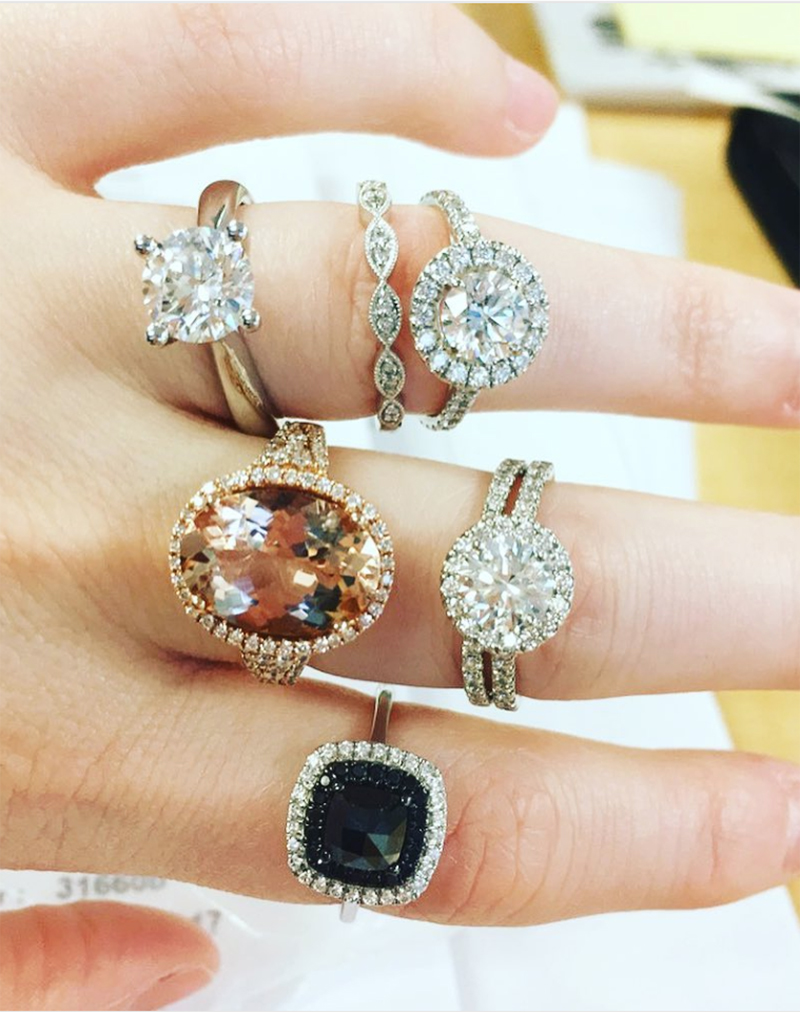 Picture courtesy of Ben Bridge Instagram
Written by Sev
Severine Ferrari AKA Sev is the editor and writer of this blog and the online magazine Engagement 101. Sev was born and raised in Paris and has lived in New York City for over 20 years. Her blogging style still includes elements of her French writing style and humor. We recommend reading it with a glass of champagne and a French accent.