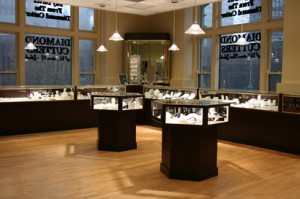 DIAMOND CUTTERS OF WESTERN NEW YORK
Ellicot Sq. Bldg., Suite 214
BUFFALO, 14208 NY
Phone: 716-854-4455
Not quite in Manhattan, but if you're in upstate New York, Diamond Cutters of Western New York might be your source for all of your diamond needs. With more than 450 semi mounts to chose from, their selection is, well, a little overwhelming. In addition to their large selection of semi mounts, they boast a loose diamond collection worth over $1 million, so if you can't find it here then might be out of luck.
New York City is one of the most famous diamond capitals of the world with its famous Diamond District and countless number of jewelry stores. If you're in the New York area, take advantage of the numerous options available and check out these stores that might carry what you're looking for.
GLAMOUR DIAMONDS
55 West 47th Street, Booth #35
NEW YORK, 10036 NY
Phone: 212-382-2634For every marriage proposal there is an engagement ring. For every engagement ring there is a jeweler. Glamour Diamonds Inc. Four generations of making engagement rings. They have stayed on top of modernity, but they never forget the antiquity. It's a choice they have to offer. Make the marriage proposal more extraordinary by creating your own custom design, this will show your loved one how you went the extra mile. Glam Her with Glamour.
DENATALE
170 Broadway
NEW YORK, 10038 NY
Phone: (212) 317-2955The DeNatale Brothers (Peter, Robert, John and Jim) are third generation jewelers with two upscale Manhattan showrooms specializing in classic jewelry styles with a modern flair. Their designs and craftsmanship are on par with Tiffany and David Yurman, but their prices are at a fraction of their costs. With their wide selection of fine jewelry, watches and giftware, you are sure to find something to make your loved one smile.  They gladly offer their expertise to bring your dreams to life and will help guide you in designing a one of a kind engagement ring, customizing jewelry pieces and re-designing old jewelry to give you a contemporary look.
FIRENZE JEWELS
15 West 47th Street #4
NEW YORK, 10036 NY
Phone: 212-302-2863Located in the heart of the New York City Diamond District, Firenze Jewels, Inc is a family owned and operated business. Since 1937, they have been serving celebrities and members of the art world. They feature the finest in diamond jewelry, precious stones, certified loose diamonds, platinum, gold and more. They also have a vast collection of men and women diamond wedding bands and engagement rings. Some of the designers they feature are Simon G, Chad Allison, Natalie K, Charles Krypell, Christopher Designs, Ritani, Leo Pizzo and much, much more.
GOOD OLD GOLD
5278 Sunrise Highway
MASSAPEQUA PARK, 11762 NY
Phone: 516-798-5151Check out this place if you're in the Long Island area and are looking for an engagement ring. From humble beginnings in 1980, Good Old Gold began serving Long Islanders with their jewelry needs and eventually flourished into a full service fine jewelry store. Good Old Gold has built a strong customer following over the years with their knowledgeable and friendly staff, superior customer service and on-site repairs. They have recently been awarded an A+ rating from the Better Business Bureau & Best of Long Island.
MADDALONI JEWELERS
1870 East jericho Tpk.
HUNTINGTON, 11743 NY
Phone: 1-888-999-4038Louis Maddaloni or Maddaloni Jewelers was in his late teens when he decided to follow his dream of being a jeweler. Today, Louis and his wife Laura run their store with love together. "I love what I do. Thirty years later, I'm still excited by it," says Louis. When he was a teenager he acquired the rings of neighborhood couples after they broke up, amassing six diamond rings by the age of 15. "At the time, I never thought I would be a jeweler," Louis says. "I just loved stones, the experience of owning these diamonds." The store, located in the Long Island area, carries unique fine jewelry, time pieces and more.