Ahhh. Autumn is abound and the perfect time to be in love—especially if your man has already popped the question and you're sporting that sparkly engagement ring you've been looking forward to. But alas, oh lady in waiting. You must be on the lookout this Fall to keep yourself from falling victim to some very real engagement ring threats. So just for you, enjoy our guide to fun Fall activities without having a ring fatality.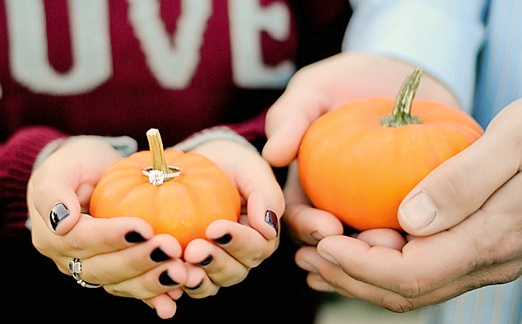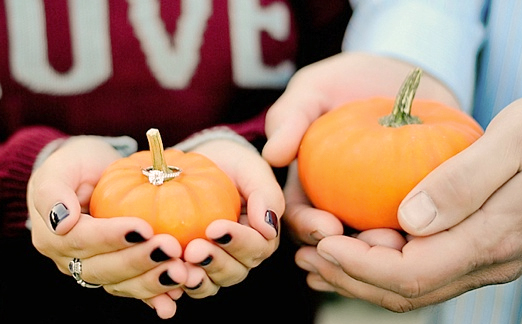 Find out how much you would pay for ring insurance with this calculator.
1 – Apple Picking
Risk Level: 9
There's no better way to enjoy the crisp, cool weather than to go apple picking with your friends and family. But what may seem like a casual, fun activity is really a hazard for potential engagement ring heartbreak.
Imagine coming home afterward only to see that your ring is gone. GONE! It must have slipped off your finger somewhere within the bazillion acre apple orchard, never to be seen again. How do you avoid this scenario without leaving your ring at home? Easy. Wear cute gloves. Slip it over your hand, securing your ring. Throw in a matching scarf too. Not only will you look cute in pictures, but you'll be happy to know that your ring won't be lost in the wilderness for the rest of forever.
2 – Pumpkin Carving
Risk Level: 2
Who doesn't love a good jack-o-lantern? Just make sure that when you're carving the mouth of your pumpkin beast that your ring doesn't get eaten in the process. Sure, if you lose your ring, it would at least be easier to find since, in theory, the location of being lost is relatively small (unless you don't notice until you throw out all the pumpkin guts). But here's how to avoid ring heartbreak during this awesome activity:
DO NOT WEAR THE RING.
We know you don't want to take it off, but since this activity is short and also usually takes place at home, it's not like you're parting with your ring for very long or for very far. Take it off and place it in a super safe location (my go-to is to stick it under a shot glass that I put on the highest shelf of a specific cabinet no one goes in). Not only will you keep your ring safe, but it'll also prevent it from getting gunky with orange goo.
3 – Family Gatherings
Risk Level: 5
Family is a great part of the Fall weather (hello Halloween parties and Thanksgiving) and also a great opportunity to show off your ring. But are you prepared for the potential risks?
"Can I wear your ring?"
"Can I touch your ring?"
"No really. Let me try it on."
"[Insert inappropriate question about cost of ring]?"
And if it's a family gathering involving food where you'll be expected to help prepare or wash dishes—then you have to decide whether or not you're going to take it off amid the hubbub or keep it on. So what's a girl to do? Come up with your game plan ahead of time. Prepare for all awful scenarios and decide if you will do things like let people try on your ring (our guess is probably not) or where you'll put your ring if you're suddenly called upon to help wash Aunt Ida's china.
Remember: a prepared bride-to-be is a non-frazzled one. So enjoy your family, but get your game face on.
By Nikki Roberti Miller
Top Photo Credit: RaLa Photography 
Bottom below: Nikki Tran