As women get more involved in selecting their engagement ring, the purchase is becoming more of a journey, an experience. It usually starts with  gathering ideas on social media and  researching facts for months. Then, a key step is to find the right jewelry partner to work with to birth one's vision of the perfect ring. There are 2 new ways to shop for engagement rings that you should consider if you are looking for a fresh shopping experience.
POP-UPS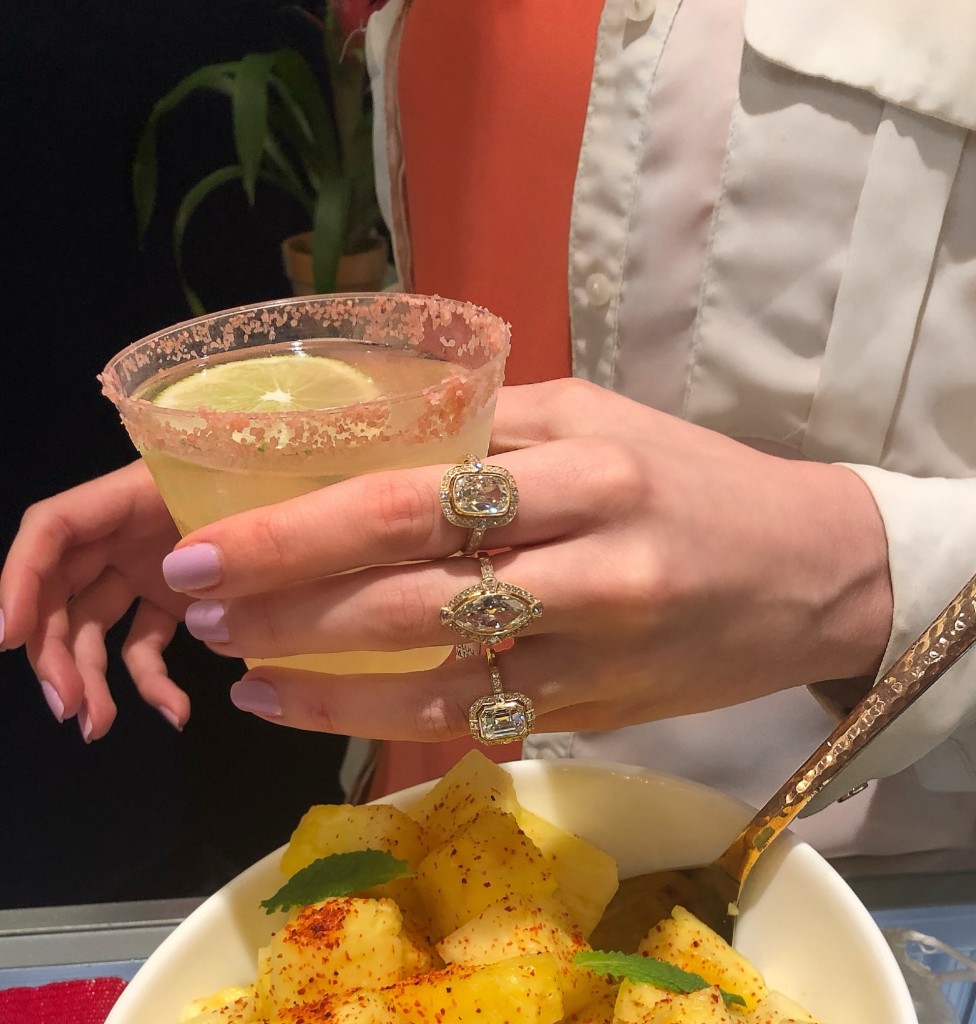 Independent jewelry stores all across the US are hosting pop-up events. Make sure to check the event calendar of your favorite local store.  Engagement ring designers  come in person for a few days with an array of rings to try on. They are also available one on one to discuss anything you'd like to customize to create your one-of-a-kind dream ring. There usually food, bubbly and swag involved during pop-ups.
Jennifer Gandia is the co-owner of Greenwich St. Jewelers  in New York City, they often host pop-up events during week-ends. "Any woman looking for her forever ring should go to at least one, if not a few, pop ups by wedding jewelry designers and/or brands she likes. No matter how good of a selection a store might have, when the brand holds an event with the retailer they generally bring their entire range – which can be many times more rings to browse and try on. Often the designer or a company representative is also present, this offers the opportunity to discuss custom projects with them directly, a huge benefit that can make your ring and experience even more personal and memorable. Sometimes there might be a promotional price or discount given if an item is purchased that day, as well. At Greenwich St. we always make these events a fun by partnering with interesting wedding vendors and always looking for good food to nibble on – often something you could consider for your reception or favors like mini doughnuts, churros and edible spun silk with gold glitter. In the past we've had wedding planners, photographers, hair and makeup artists and floral designers on hand to answer to questions about those parts of the wedding day. It's a great time to bring your significant other, or it you're at the early planning stages your mother, sister or best friends and make a day of it enjoying the possibility of being able to try on as many rings as your heart desires!" Says Gandia.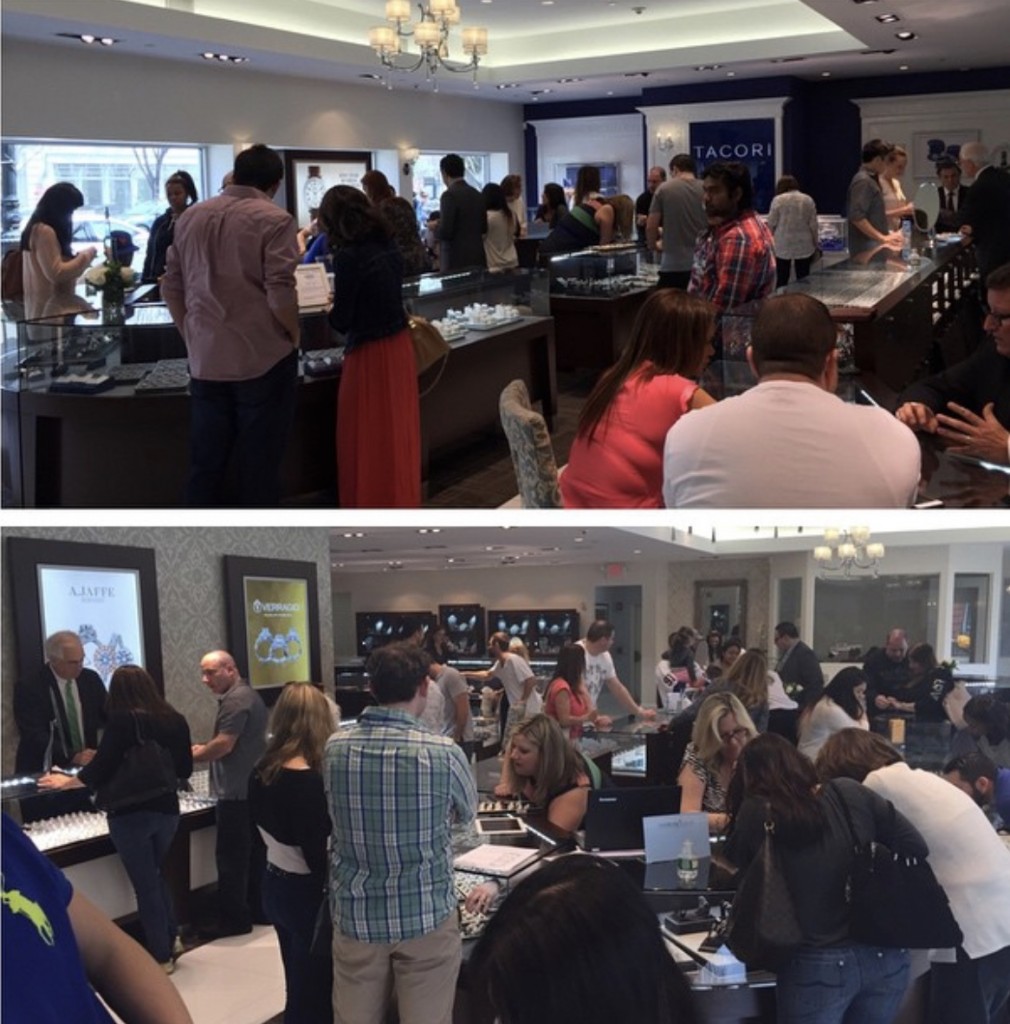 H.L. Gross, a fifth-generation jewelry business is also successfully hosting pop-up events in their town, Garden City, NY. They always offer great incentives and entertainment for the occasion. "Hosting Pop-Up events is a great way to generate excitement and a focused sense of urgency for specific product categories or brands." says Brad Gross, Vice President of H.L.Gross. "For example, two times a year we have an All-Tacori Weekend where we stock our Tacori cases with extra merchandise and invite brand ambassadors to work alongside our staff.  We offer added incentives for purchases that weekend, and make it fun for our clients by providing cocktails, manicures, and brand-themed desserts like Tacori-Blue cake-pops. We tie the event into our social media campaign with Instagram and Facebook-ready photo-booths, and fun and seasonal backgrounds.  By posting photos with their new rings and tagging our event with specific hashtags, our clients are automatically entered into a raffle where they could win a piece of fashion jewelry or a gift-certificate for a future purchase."
CONCIERGE SERVICES
Engagement ring shopping consultants also called concierges can help you find or design your dream ring. This process includes finding you the best center stone for your budget. They can do it in person by appointment or over Skype and other video call platforms. A new generation of women entrepreneurs have recently taken over this profession and become popular  Instagram influencers.  Stephanie Gottlieb is a trailblazer  in the category, she started her company in 2013.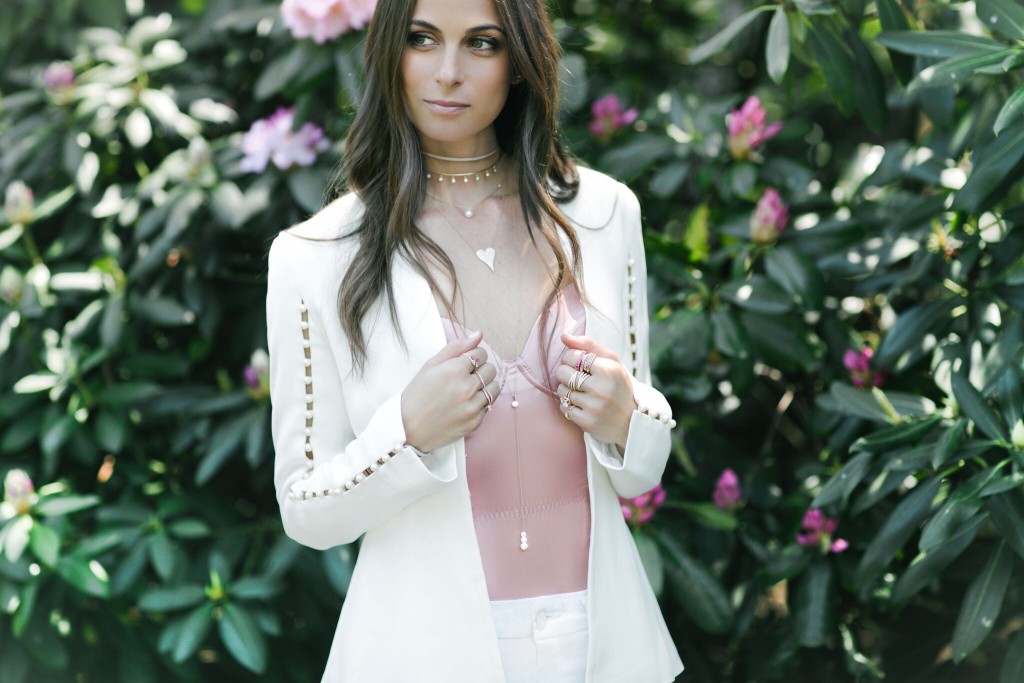 I asked Stephanie what she thought was the reason of her impressive success. "I think that women are becoming much more involved in the shopping and buying process, and this is due in large part to social media, and how accessible information has become online," Gottlieb says ." Women are no longer leaving it to their partner to simply pick a ring and surprise them, but rather guiding them in the right direction so that they get what they want.  I personally love this movement, and it definitely makes my job easier, because we have more confidence that the girl who ends up wearing the ring is going to love it!  All of that being said, I think women have a trust factor with someone who they can relate to (another woman), and someone who has an aesthetic that resonates with them.  It's not enough to just buy a beautiful diamond; if it's not set impeccably in a beautiful and stylish ring, you've missed the boat!  And the old-school male dominated diamond world never really paid enough attention to the design elements, but rather focused on the diamond as the only important piece of the purchase; the setting was almost an after-thought. I help my clients express their wants and wishes in jewelry form; and while I'm not the bench jeweler who physically crafts the creations, I am the brains behind the design elements.  "
Both these new ways of shopping are exciting but if you are more of a traditional shopper, just locate an indie jewelry designer or a trusted Indie store in your area and start browsing!
Written by Sev
Severine Ferrari AKA Sev is the editor and writer of this blog and the online magazine Engagement 101. Sev was born and raised in Paris and has lived in New York City for over 20 years. Her blogging style still includes elements of her French writing style and humor. We recommend reading it with a glass of champagne and a French accent.
Images courtesy of Greenwich St. Jewelers (1) , H.L. Gross (2,3) and Stephanie Gottlieb (4)