Black diamonds are becoming more popular as an alternative to colorless (white) diamonds in engagement rings.  With a rich, mysterious aura, they compliment both contemporary and vintage designs. A BEAUTIFUL contrast when set with white diamonds they are also STUNNING with rose gold, yellow gold or black rhodium.
There are plenty of educational resources when shopping for colorless diamonds, but there is far less information, as well as plenty of misinformation, on how to select a black diamond.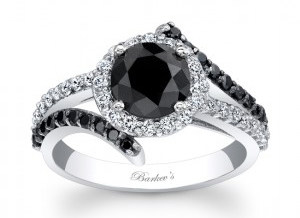 Natural or Enhanced?
Most black diamonds are heavily included white diamonds that have been enhanced by irradiation.  These diamonds are more available and more cost effective than natural black diamonds. Natural black diamonds, like other natural fancy color diamonds, are more rare and command a higher price.
How Much Does a Black Diamond Cost?
You will need to establish your budget to decide whether natural or enhanced is right for you.  Following is a comparison of three loose round diamonds: a near colorless, a natural fancy black and an enhanced black.  Please note that these prices were found at online retailers and can vary depending on the proportions and properties of individual stones.
1.0ct H SI1 or SI2 – $5,000 – $6,500  (accompanied by GIA Lab Grading Report)
1.0ct Fancy Black – $1,500-$2,000  (accompanied by GIA Colored Diamond Identification & Origin Report)
1.0ct Irradiated A, AA or AAA – ($100-$400)
Because black diamonds are opaque and absorb rather than reflect light they don't have the typical diamond sparkle.  The Gemological Institute of America issues a Colored Diamond Identification and Origin Report containing the diamond's weight, measurements, origin, color and distribution for natural black diamonds.  Since natural black diamonds are not graded for clarity, cut or proportions they do not receive the standard Lab Grading Report. GIA does not issue reports for enhanced black diamonds.  Sellers will often use a rating scale of A, AA and AAA to describe the quality of black diamonds.  AAA being the best color and finish and A tending to be dull, uneven in color and often having blemishes. Here is a list of the average prices by category:
What To Look For in a Black Diamond:
Keep the following in mind when buying a black diamond; look for a mirror like surface without chips, nicks, scratches or cavities, know the proper diameter for the carat weight you are purchasing and comparison shop for pricing. If you choose a natural black diamond insist on a GIA report.
Remember, there is always a reason for a deep discount on a diamond, when in doubt consult with an unbiased expert before you buy.
About Stacey Kravitz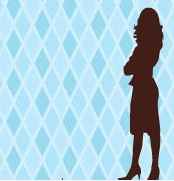 Stacey Kravitz, G.G. is a Graduate Gemologist & founder of Diamond Girl Consulting.   Her easy insider tips help you purchase like an expert & avoid costly mistakes when buying diamonds.  The Diamond Girl is your secret weapon!