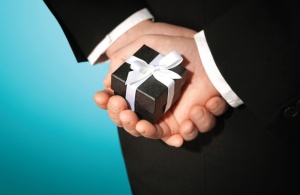 When beginning your engagement ring search, the experience can often be overwhelming. Below are some helpful tips to remember as you start your hunt.
Shopping Tips
* Start out looking online to get a sense of what's available and general price points. A good place to start is our retailer directory, or you can check out online options here.
* Other online sources to check out for general information are A Diamond is Forever, Precious Platinum, GIA and Pricescope.
* Head to the mall with your gal and casually stop by a jewelry store to see what captures her interest. You also can get a sense of what she likes by listening to comments she makes about rings she may see in magazines, on TV, or worn by friends or family.
* Engagement rings are the bread and butter for most jewelers, so they will be happy to work with you and help answer any and all questions you may have. Don't be shy about asking questions; more than likely, they've heard it before.
* Make sure you are clear about the jeweler's policy on exchanges and returns and also about sizing the ring.
Finding Out Her Ring Style
Want to find our what kind of ring style she might like? Look at her clothing and home decorating choices. If they are streamlined and fresh, alternative or fashion-forward, she's a modern girl. Does she choose classic pieces and love retailers like Ann Taylor and Pottery Barn? If so, she's a traditional girl. Is she inclined to wear feminine clothing and fill her home with frilly ruffles and lace? You can bet she's a romantic. The modern girl may be attracted to a design that's fresh or features an unusual cut, metal or design. A classic solitaire's a fit for a traditional girl. The girly girl will probably swoon over an ornate pavé, Edwardian or Victorian setting.
>>Take the "Find Her Ring Style" Quiz! <<
If you look at her other jewelry, you also should be able to determine if she favors white metals or yellow gold. If she doesn't wear any jewelry, go with a subtle white metal. You'll also need to discover her ring size. The simplest solution is to borrow one of her rings and take it with you to a jeweler. You also can trace the interior of one of her rings onto a piece of paper.