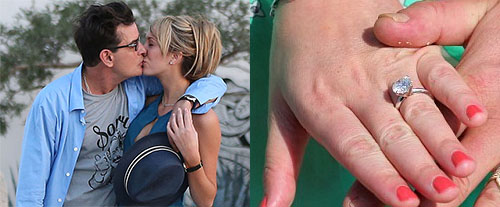 Charlie Sheen sure does fall in love – fast. Since 1990, he's been married – and divorced – three times, and now is engaged again. He was first engaged to Kelly Preston in 1990 until he accidently shot her in the arm and she called off the engagement (we don't blame her!). Then, in 1995 he married his first wife, Donna Peele, but after information leaked that Sheen had used the escort agency operated by Heidi Fleiss, his marriage ended a year later. In 2002, he married actress Denise Richards, but divorced in 2005 after Richards accused him of alcohol and drug abuse problems, along with threats of violence. In 2008, he married Brooke Mueller but after she went to rehab and social services took their children, their divorce was final in 2011. Whew!
Now at the age of 48 is engaged to 24-year-old Brett Rossi, a former porn star that's becoming a nurse. They've only been dating for a year – but that's long enough for quick-to-wed Sheen. Though you probably haven't been engaged and married this many times, you might be quick to rush into relationship. But before you jump into the next big thing without really thinking, take our advice:
Do you love them or just not being alone?
It's appealing to have a partner – regardless if you think you'd actually work with them in the long run. When you rush into a relationship, you are reacting to your fear of being single, not to your desire to be with someone you love.
Learn from the past
Never live in yesterday, but make sure you draw from your experiences so you can have better, healthier relationships in the future. If you don't draw conclusions and make changes based on your experiences, then you'll just keep having the same relationship over and over again. Who wants that?
Be single for an entire year
Yikes, seems scary, right? Though you might not think you can do it, you will learn so much more by being on your own than you ever will being in a relationship. Taking time to spread your wings and figure yourself out will make you a better person, woman and eventually, girlfriend.
Brett Rossi's Engagement Ring
Brett Rossi got a sparkly heart shaped engagement ring. Here are some suggestions for a similar look: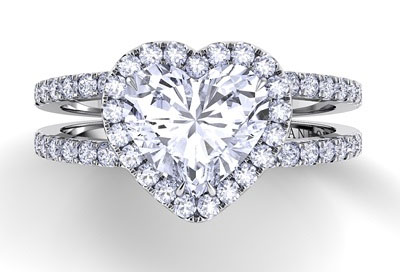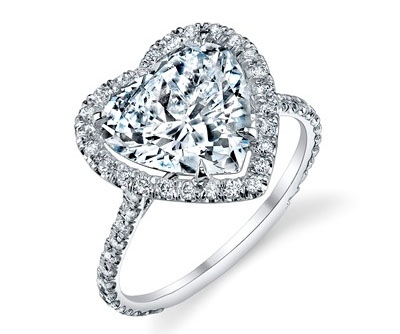 By Aurora Brown