One of the biggest hurdles to get over as a couple can be a difference in religion. While you might not go to church every Sunday while you're in your 20s, you probably have a desire to raise your future kids in a certain way in the years to come. Plenty of couples find a way to make their two different backgrounds mesh together, but it can be a hard task to accomplish.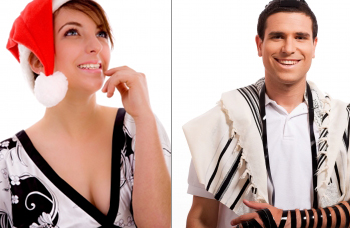 Here's how to see if you can do it:
1 – Explain your religion to each other
Before you can make a decision about how you'll move forward with a faith together, you first have to understand the other person's perspective. If your boyfriend was raised Jewish, visit a synagogue with him.  If you were raised Catholic, invite him to a mass. It's important to visualize and take a valued interest in your guy's upbringing before you shut him down, and vice versa.
2 – Figure out if you're open to two religions
Some couples raise their kids both Christian and Jewish. Others who might not be too religious, allow their partner to take the faithful reigns when raising children. Every pair is different, but you must agree on how you'll approach the topic of belief. If you don't talk about it, you'll end up a long way down the road with no end (or engagement ring) in sight.
3 – Do some soul searching
Maybe you never considered how important it is to you that your kids have a Christmas tree in December. Or that they fast on Yom Kippur. These things often take a backseat when you're figuring out where you'll live, what career you'll pursue and how you'll live your life, but they become more vital as you grow. Take time to really think about what you want and if you are willing to compromise for your man. 
By Aurora Brown