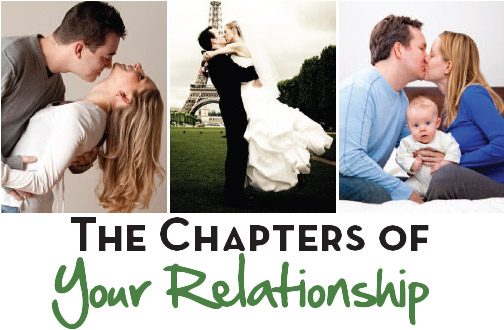 We all have one great love story. Some are filled with serendipitous meetings, while others weave through a winding path before two strangers are finally united. From casual dating to walking down the aisle, whatever stage your relationship is in, make sure you know how to make the best of it.
Read Chapters 1 and 2, From casual dating to engaged
Chapter 3: From engagement to newlyweds
The cake has been cut, the first dance was beautiful and you've returned with freckled noses and suntan lines from your honeymoon. Your new hubby carries you over the threshold of your new home—and reality sinks in. You're married.
For many couples, being newly married brings a whole new set of emotions and perceptions about your relationship. The wedding to-do lists have been replaced with utility bills; the financial stress of the big day is now focused on updating your cozy home for two (and maybe three or four one day); and your partner changes from your fiancé to your husband. The period of being a newlywed is passionate and exciting, as well as scary and real. Everything from the way the relationship functions to how the couple responds to disagreements changes as the marriage continues to grow.
Chapter 4: Adjusting to daily life
Often times, the first bump in the road for a couple is getting over the "post wedding" blues. The stress of not planning a wedding anymore is relieving, but also can cause sadness and a sense of boredom. To overcome the end of the wedding glitz, try two tactics:
1. Plan a trip together. Yes, the wedding and honeymoon cleaned out your savings accounts and vacation days, but having a project to do together will keep your joint-decision making juices flowing, and will give you a new countdown to mark on your calendar. Even if it's just a"staycation" down the road, being away from the bills and daily stresses will refresh your love and marriage.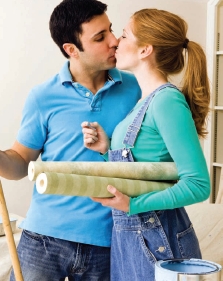 2.Look for free events or take classes. Part of the excitement of getting married is about being the center of attention and feeling gorgeous on a very special day of your life. While you can't get your grandiose entrance as Mr. & Mrs. twice, you can attend galas, networking events and balls that will give you and your hubby the opportunity to get dressed up and paint the town red together. Taking classes also will help you to spend more time together outside of the nest, so look for cooking or dancing courses nearby to strengthen your bond.
Chapter 5: Avoid the bridal blues
While none of the brides I spoke with have suffered from post bridal depression, many glowing brides seem to lack the luster after the first "real" weeks of marriage. If you notice changes in your sleep, appetite or activity level, you should seek the help of a professional.
Chapter 6: Change in relationship operations
After the first few months of sharing your home, life, finances and future together, couples start to notice changes in the way their relationship operates and how they communicate. To keep your relationship healthy amid battles and changes in your roles and dynamics, change your priorities and the way you view your relationship. To make time and effort for your new marriage, do the following:
1. Be honest and open. Check in regularly about what each of you wants and needs to keep your connection strong, then assess whether your actions and choices support creating what you desire.
2. Don't forget the little things. It's easy to forget the smaller details when you're occupied with looking at the big picture and making preparations for the future and learning to budget your finances together.However, even little gestures can go a long way to keep the romance alive in your relationship. Try simple actions like bringing home his favorite cake from the grocery store, or suggesting a movie you know he'd like to see.
3. Get curious. Sure, after being together for so long, it's easy to believe you know just about everything about your partner. But think again; remaining curious helps stimulate your attraction and connection to your partner, regardless of how long you've been together. Keep asking questions, and actively listen to your partner's needs and desires.
Having to address issues as they arise only strengthens the relationship and helps the couple to work together more cohesively in their communication styles and skills.Through all of the transitioning, it's important for the couple to choose their words and actions for the other person. A marriage is all about making decisions together and deciding that your commitment to one another is the most important dynamic in your lives.
It may seem like once you've found the person you want to share your life with all the worrying and trouble is over; in reality, it's just the start of learning to compromise and start making joint decisions with your partner in tow. The engagement and newlywed period are full of exhilaration, joy and bonding, so make sure to indulge in these happy periods,while also keeping your relationship, your communication skills and your love intact.
As you begin to write in the once-unwritten pages of your divine partnership, remember to take note of all the happy transformations you went through as a person and as a couple. It is, after all, up to you and your partner to write your happily ever after. Getting engaged or married isn't about putting a period at the end of the final sentence or finding the perfect rhyme to capture your romance. It's actually the start of your beginning, the beginning of your journey with the person who was designed to walk through this life with you.
-Lindsay Tigar