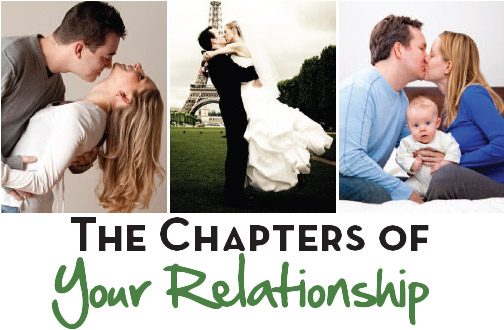 We all have one great love story. Some are filled with serendipitous meetings, while others weave through a winding path before two strangers are finally united. From casual dating to walking down the aisle, whatever stage your relationship is in, make sure you know how to make the best of it.
Read Chapters 3-6: From engagement to newlyweds
Chapter 1: From casual to serious
We have all thought we met The One—that person we're supposed to meet, fall in love with and just know he was different from all the rest. But let's face it, ladies: There are some pretty charismatic frogs on the market who do a clever job of disguising themselves as princes.
However,we never give up hope of finding this seemingly unattainable man, and, in doing so, we have to start teaching ourselves to allow a relationship to transition from casual to serious only when we can imagine a positive future with someone. Before committing to a relationship, make sure your heart, your brain and your gut all agree on the following statements:
We share the same beliefs and general values.
We are both in secure, financial standing, and we both have steady, dependable paychecks.
We have a healthy amount of "couple" and "me" time.
We have a steady romantic life, where neither of us feels ignored or not cherished.
We communicate easily and openly about our feelings, regardless if they are good or bad.
We want basically the same goals out of life, and agree on topics like children and location.
If you feel secure and comfortable that the man you're dating could possibly be someone you want to share your life with, go forward with the relationship, and allow the commitment to heighten. Within time, you may find yourself moving past shallow waters and into the deep tide.
Chapter 2: From dating to engagement
Once you've had that feeling in the pit of your stomach for months, and his mischievous smile has given it away for the last week, you know the question is on the tip of his tongue. And every moment has the possibility to be the moment: He's going to propose soon. When you meet that man you'll spend the rest of your life with, you can't wait for the rest of your life to begin. However, most Prince Charmings want to make certain they are with their Cinderella before falling to one knee and asking for her hand and partnership.
So how does a man get that same pit in his stomach? It's when he can see past today and into the future of how he wants his life and his wife to be. Men often wait for the perfect scenario to ask his partner to be his wife, while she becomes a lady-in-waiting, wondering when that lusted-after instant will arrive. So while men are waiting for the "right time," women are wondering why he hasn't proposed yet.
When that magical moment does happen and the couple reveals to the world they are engaged, the relationship initially begins with an incomparable exhilaration. But once the announcement is made and family and friends start asking for details, the stress of an engagement begins. For most couples, this is the time when they first start making joint decisions: "Who will we invite?" "What's our budget?" "Where do we want to have the wedding?" "What time of year is best?" "How long should our engagement be?" Instead of just referring to their own finances, preferences and visions of their big day, now both parties have to be open to discussions and changes. Sometimes learning to compromise and develop a financial strategy for funding the dream wedding can cause conflicts.
Another stress of the engagement period is learning to balance everyday responsibilities, like your career and your friendships, with planning the wedding. For some couples, adding discussions about when they can schedule a cake tasting, figure out how to squeeze in dancing lessons on Saturdays and start packing up their separate apartments to combine into one can cause a significant amount of stress on the relationship. To ensure your relationship doesn't bend with the added weight, follow these tips:
1. Schedule weekly time to discuss the wedding. Pick a specific amount of time each week to devote to decisions and concerns over the wedding. Trevor suggested to Lillian that they pick a specific amount of time each week to make decisions concerning the wedding. During this allotted time, couples should not talk about anything but the wedding, and for the rest of the week limit talk of the wedding only to items that have immediate deadlines.
2. Talk about marriage expectations. Your husband will be different from all of your married friends' husbands and always will wash the dishes, bring fresh tulips home from work every Wednesday, and, once you're married, any of his petty characteristics you didn't care for won't bother you anymore. Right? We all have unrealistic expectations about what we hope our marriage will look like, but it's important to set tangible goals with your spouse-to-be.
3. Be a team. His mother, your mother, your sister, his great aunt and your long line of cousins may have all sorts of ideas about what they envision your wedding will be like, but it's important to remember it's your big day, and the decisions belong to your powerful duo. While you're still individuals, you will now make decisions as a unit, and it's your first opportunity to celebrate (and enforce) your union. While engagement may bring arguments, big decisions, a stronger sense of commitment and the stress of planning a wedding, all of the tough times will not seem as important as the second you catch the eye of that one man you waited so long to find, watching you as you descend down the aisle to promise your devotion to him and the life you will build together. But remember, the second you speak the words "I do," you flip the page to start the new chapter of your relationship: being a newlywed.
Next: Read Chapters 3-6: From engagement to newlyweds
-Lindsay Tigar