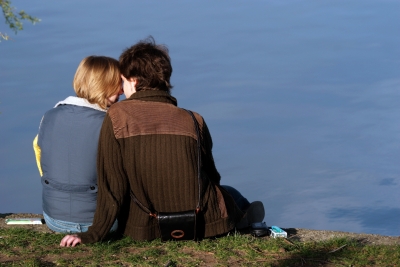 It's no question that happy people have happy relationships. But to tell people the keys to a successful relationship is to be happy isn't exactly getting to the root of the issue. Being "just happy" can be tough for some people, especially as they go about their daily routines and realize that they can't help feeling just neutral 80 percent of the time.
According to a recent study, however, an easy way to inject happiness into a relationship is to bring positivity to it. Instead of thinking of two or three things that are wrong with your partner, you should concentrate on the dozens of things you love about your partner. In the study, couples who had more positive things to say to each other had long lasting relationships. The study also mentions the importance of gratitude and how relationships should focus more on the accomplishments and not the pitfalls.
"Some couples think about the good things and ignore the bad things – this is called being reward-focused," researcher Shelly Gable of the University of California said. "Others focus on the pitfalls – if there aren't too many, they think that's a good relationship. In romantic relationships, the research shows that there's an inevitable decline in sexual satisfaction over time, but reward-focused couples don't show that decline – their sexual satisfaction stays level."
Another example given in the article:
In her recent study of 79 dating couples, she categorised four main responses to someone telling their partner good news about themselves. It's not hard to identify the best response for future happiness. Taking a promotion as an example, an active-constructive response would go: "Wow, this is great news. I know you really deserve it and you'll do really well." A passive-constructive one would be: "That's nice." An active-destructive one sounds something like, "It's excellent but are you sure you can handle it?" A passive-destructive response would be, "Well, you know, I had an exciting day, too."
What all this means is that focusing on the positive is the key to a lasting relationship. Counting the amount of hurdles a couple has went through together does not validate the relationship. Instead, it's how the couple reacts to positive news that keeps them together longer. And I guess the same attitude can be applied in situations outside relationships, too.
I think we've all been guilty of wallowing too much in negativity to bother concentrating on the things that actually matter. It's a common mistake we should all learn to better ourselves from.