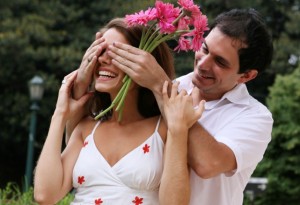 The economy might be affecting people's jobs and their finances, but it's also affecting couples and their relationship. I'm not talking about fights over money, I'm talking about neglected date nights and not spending enough alone time together. (And by "alone time" I don't mean the both of you sitting on the couch in sweats eating frozen food and watching Dancing With the Stars.)
When couples have important priorities, too often the priority of maintaining a relationship gets shuffled to the bottom of the "to do" pile. Couples can greatly benefit from just setting aside a little time each week to do something romantic together, and it doesn't have to be an expensive dinner and a movie either. Below are five cheap ways to get romantic the frugal way!
Get dressed up
That's right, for no reason. Isn't that insane? Of course, in the early dating stages I'm sure the both of you used to do this all the time. Try doing it again. If he asks what's the occasion, just say you felt like looking nice for him.
Skip TV, go on a long walk instead
After a long day at work, it's quite easy to grab the nearest thing in the kitchen that's edible and make a bee-line for the couch. Once a week, try going on a long walk with your partner. If you're worried about missing a show, Tivo it. That's why Tivo was invented.
Cook a real meal
Nothing quick and nothing ordinary, but a real roll-up-your-sleeves-and-air-out-the-kitchen meal that will force him to notice. Set the table and have a nice romantic dinner at home.
Make "special occasion" every occasion
It's too easy to save all the good stuff for special days (birthdays, anniversaries, promotions, etc.), leaving the rest of the 360 days in the year as just "average" days, aka days where you put in no effort whatsoever.Try changing your mindset and have a "special occasion" day every other week.
Do stuff!
Even if money is tight, it's OK to go out every once and awhile and, you know, do stuff. Go check out a free outdoor concert or go have a picnic at the park. Check your local paper for cheap events happening near you. You'll be surprised at the infinite amount of cheap things you can do without having to fork over $12.00 for a movie ticket.