Jessica & Ross
How They Met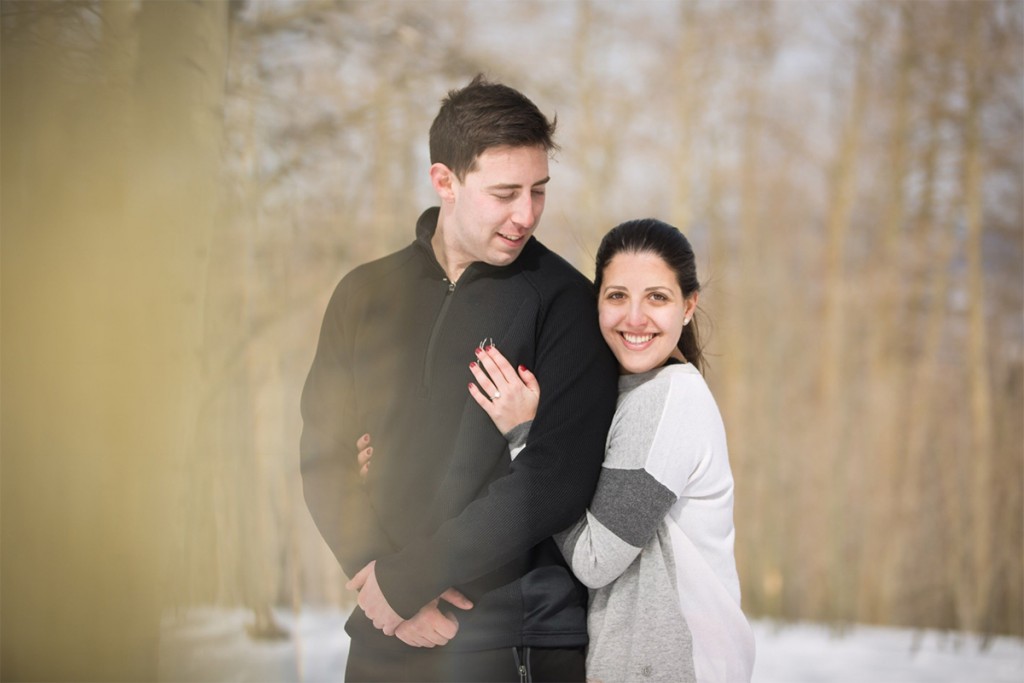 Hinge – Sept. 2014. We had 1 random mutual friend, and 1 mutual friend who was 2 years older in Ross's frat at Cornell, and my pseudo-cousin. Neither of us vetted the other since. The connection was made that we both had studied abroad at DIS in Copenhagen, Denmark and set a date. Our first date was at Birreria, Eataly Rooftop Bar/Restaurant, where we chatted for 3 hours, he walked me to the subway holding my hand and shared our first kiss!
The Proposal
March 12, 2018 – We were on vacation in Beaver Creek, Colorado with my family. I've been skiing Beaver Creek every year for the last years and Ross's 3rd time joining us – needless to say it's a very special place for us. We were halfway through our vacation when I received the biggest surprise of my life. It all began at breakfast that Monday morning when my stepdad announced we were meeting at 3:20 p.m. sharp for a family photo at our hotel.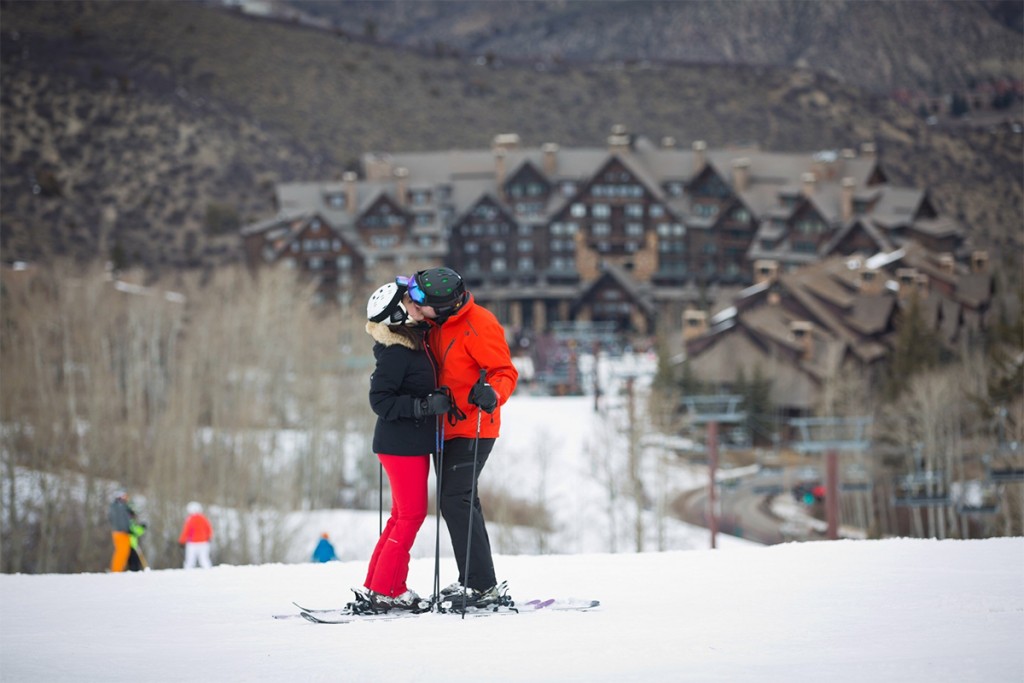 Pivotal moment #2 occurred at lunch when my mother passed off the box to Ross (without my knowing, of course). We then skied a few runs altogether when Ross announced we had to get going if we were going to stop at the Candy Cabin and still make it to the hotel in time for the picture.
We separated from my family and got on the chair lift. When we arrived at the top of the lift, Ross suggested we take a quick picture (the same one we take each year of me jumping on his back) before going into the Candy Cabin. For those of you wondering, Beaver Creek's Candy Cabin is exactly what you'd think it is – a cozy one-room lodge filled with all the world's best candy (HEAVEN!). We have to take our skis off for the photo, and Ross hands his phone to a stranger (*cough* professional photographer *cough*) to take the shot. When we capture it, Ross suggests we take another but without our helmet and gloves this time. He grabs me by the shoulders, serenades me with the most heartfelt speech, and gets down on one knee to propose. I was so shocked that I forgot to say 'Yes!' The photographer, David, captured the moment via video on Ross's phone and with the most beautiful photos on his professional grade camera.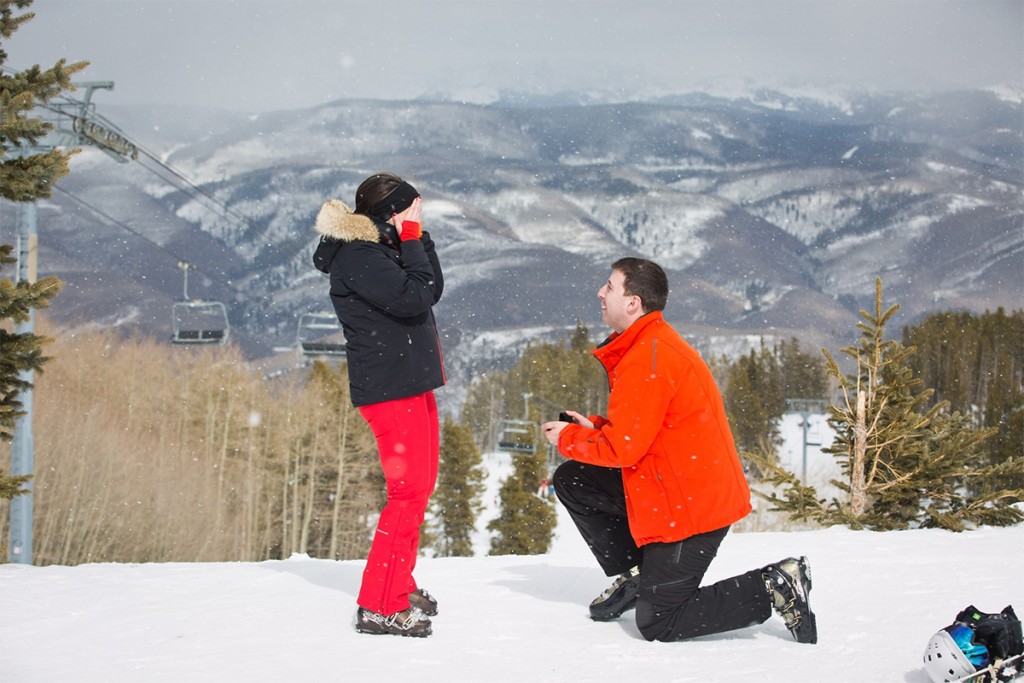 We are so grateful to have these memories documented. We had a mini photo shoot among a field of aspens just past the proposal spot. David then shot us skiing down the mountain towards the hotel to celebrate with my family waiting to take the family picture. My parents were of course in on the planning (since December no less!), and overjoyed. My siblings were equally surprised and we all laughed and cried over a bottle of champagne, open fire pit and live music. Ross then planned for us to have dinner together at Beano's Cabin on the mountain, where the only way up is via snowcat. We had a 5-course dinner followed by starlit ride back down the mountain. Safe to say, the most romantic 10 hours of my life!
The Engagement Ring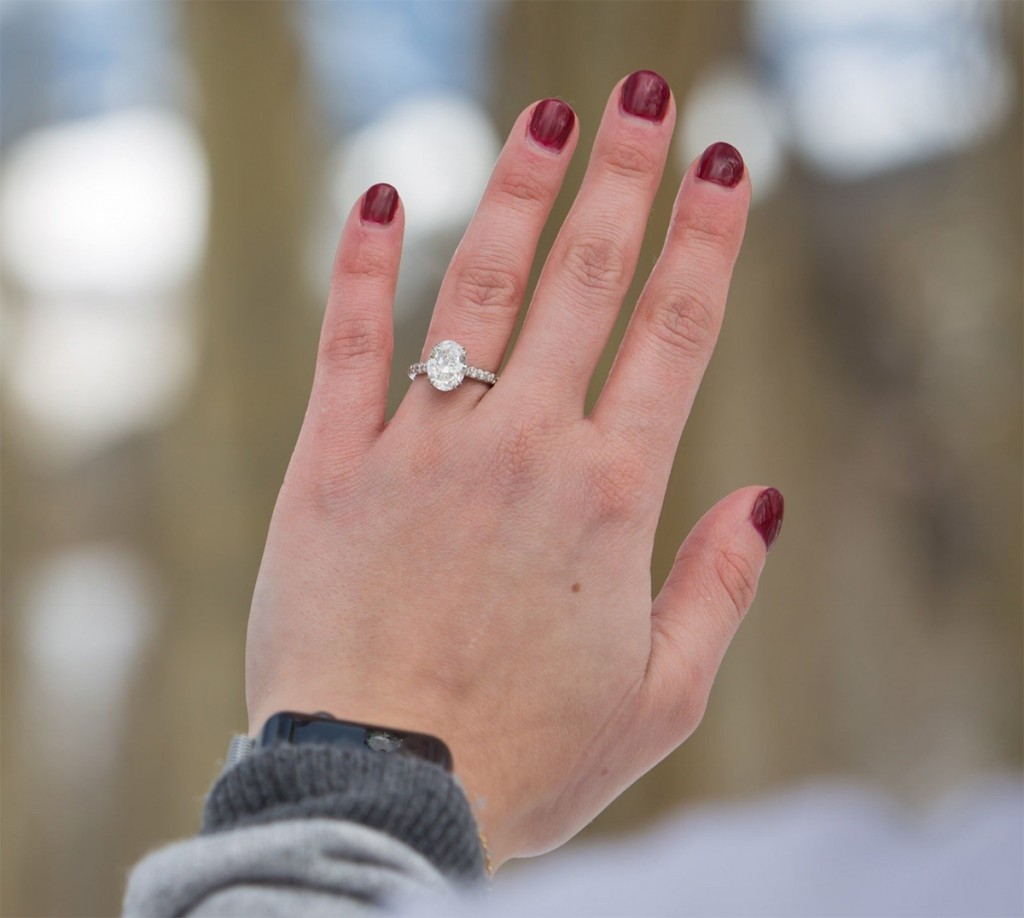 It's a Gumuchian (my mother is designer Patricia Gumuchian) of course! It's an oval diamond set in a platinum band with all around hidden diamonds under the stone and in the setting with double spiked prongs.