Jemma & Alexander
How They Met
Alex and I met at the New Zealand Broadcasting School in Christchurch five years ago, when we both began studying broadcast journalism. We were in the same class and were just good friends, until Alex asked me to be his partner at the ball, and we've been together ever since.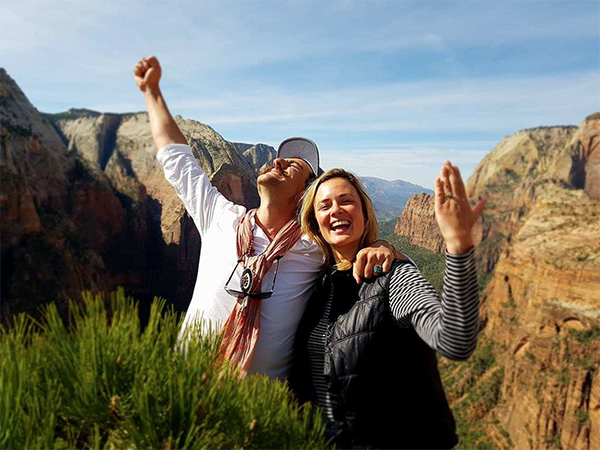 The Proposal
After our one year working visa in the U.S., we had a month to travel around. We hired a camper-van and traveled around all the national parks in the South West of the U.S. At Zion National Park, we got up early one morning to hike Angels Landing, a dangerous hike with steep drop-offs either side of a narrow, rocky path.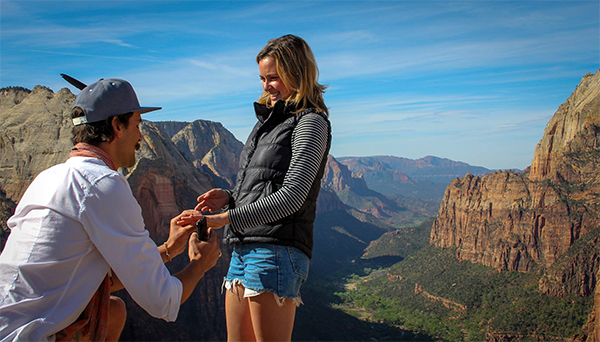 When we got to the top of the hike, Alex asked if I could do a piece-to-cam for a video we were making about the hike. He asked me to stand on a rock and face away from him to begin with, when suddenly I heard, "Jemzie!" I turned around to find him down one knee. The views were absolutely beautiful and we were joined by two great friends who took photos and video (so lucky!).
The Engagement Ring
Alex bought the ring in Sri Lanka when he was on a motorbike trip around the country.