Kirsy & Ariel
How They Met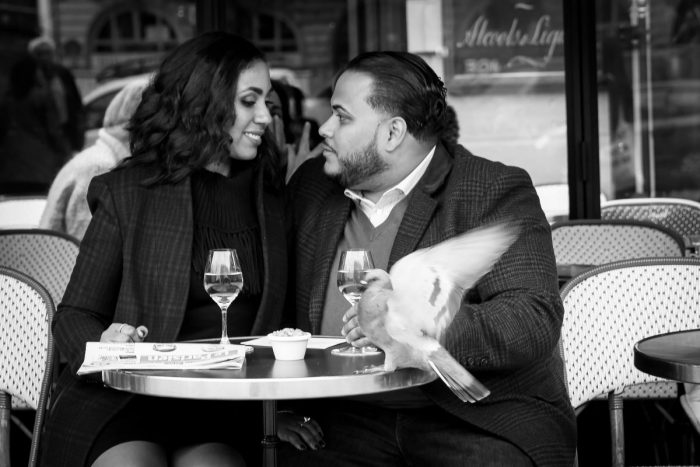 The first time I notice Ariel was my freshman year at Bloomfield College at a Greek event that introduces students to Greek life (Fraternities and Sororities) on campus. My best friend pointed out that she knew the two guys in the fraternity that was performing because they use to be her neighbors when she was younger. The only reason the information resonated with me was that it was the first time I ever saw identical twins in the same fraternity, which made them stick out like a sore thumb. The more I became interested in Greek Life, the more encounters I had with Ariel and his twin brother. Ariel and I didn't attend the same college, in fact, he was four years older than I was and he visited the college frequent to reactivate his fraternity at my college. I joined my sorority in April 2009 and was required to attend weekly meetings to talk about program involvement for each fraternity and sorority. Ariel and his twin brother attended as well, but it wasn't until October 2010 we had our first conversation. I attended a Greek event at a nearby college when I noticed Ariel casually sitting with his twin brother. I went over to them and randomly started a conversation, questioning Ariel why he was absent from the college fraternity meeting on Tuesday. He replied with a half-witted smile saying he was unaware of the meeting and said he needs a "special reminder" of the dates, so I boldly grabbed his phone and entered my number. I never expected it to lead anywhere, but his sense of humor and charm was so infectious that every conversation we had anticipated our next encounter. On November 15, 2010, we went on our first date and frankly, we been inseparable ever since.

The Proposal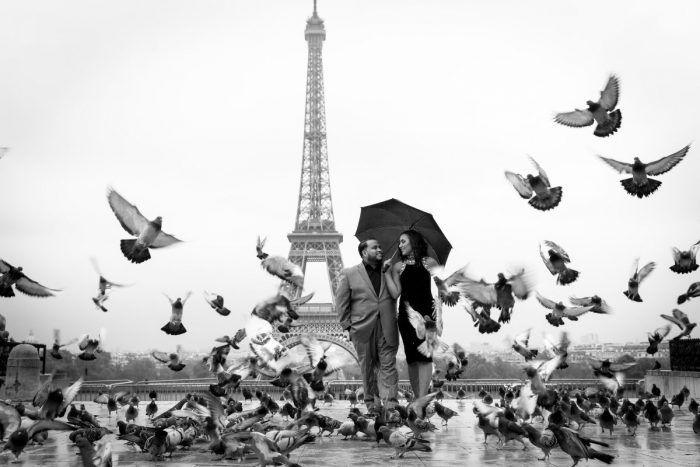 Ariel and I always talked about traveling the world together, so we both agree to book two to three trips a year to fulfill our wanderlust desire. Earlier in the year, we visited Panama, Curacao and we decided on Paris, France as our last trip of 2016. Before the trip, Ariel mention that we been on so many great trips but have no great photos capturing the beautiful places we been to, so we decided to book a photo shoot for Paris (we thought we could save the photos to showcase for a future wedding). Planning the trip was becoming incredibly overwhelming because I was in the middle of completing my final assignments for my Masters Degree.
With limited time to find a dress, I searched high and low for the perfect photo shoot attire and was unsuccessful that "panicking" was a feeling that encompassed me every day. Two days before leaving to Paris I found two dresses I loved and purchased both. I departed the train and started to walk towards the bus terminal when suddenly I realized the bag with the dresses was still on the train. I immediately went to the station's customer service to get a hold of the train conductor but was unsuccessful. I called Ariel devastated and anguished saying how could I be so careless leaving the dresses on the train. I told him that I felt that it was best to cancel the shoot because I did not have enough time to buy another dress. Calmly Ariel assures me everything will be okay and not to worry about anything and we will find a solution.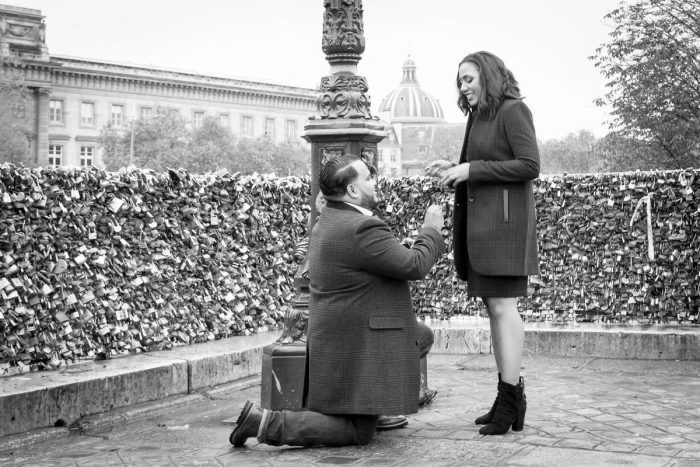 Thirty minutes later Ariel texts me multiple photos of dresses (he drove to the store to buy me another dress), he selected a dress for me and said that as long as he's around, there was nothing I needed to worry about and that Paris will be an unforgettable trip. Two days later, we arrived in Paris, and it was photo shoot day.
After five hours of photos in our formal attire, we then changed into our casual outfits and descended to Pont Neuf, a bridge full of locks where couples write their names on padlocks and lock it up to assure their love is everlasting. We took a few photos, and the photographer told us to take whatever pose we'd like; Ariel says let's do this pose as he gets down on one knee. He then grabbed my hands, my heart started racing, and I was thinking to myself: is he going to propose or is this a part of the shoot? Ariel then proceeded to tell me that there was no better place than Paris to do this as he pulled a ring box with a small video camera that seems to be recording the whole moment and it felt like my heart was about to jump out of my chest.
He opened the box, and a perfect ring was glistening in the sunlight. I froze with excitement, nervous. i couldn't believe it! On November 15, 2016, I was going to marry my best friend. The past seven years were filled with laughter, love, and happiness. He has been my biggest fan and supporter through purchasing my first home, completing my Bachelors and Master's degree, and all the in-betweens that we have encounter together. Paris was truly unforgettable for so many reasons and we will always treasure the special moment that cemented our relationship forever.

The Engagement Ring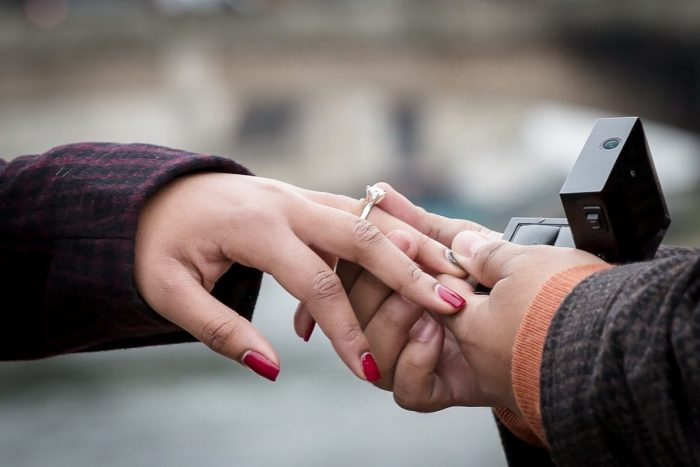 The engagement ring is a six prong round 2.07 carat ring with a grade of E as colorless and VS2 clarity with a simple band. Anthony, a private jeweler and close friend of Ariel help design the ring.
Photo Credit: Magdalena Martin