Planning to pop the question and make the live changing plans of your dreams in 2020? Here are some reasons why you definitely picked the right time, followed by some amazing New Year's Eve proposal ideas to make sure you two built a lifetime of memories, starting with this one. Also, that way, it will be super easy to remember your anniversary!
Why you Should Propose on New Year's Eve
There are many times throughout the year that can be marked as the perfect day for proposing. But honestly, many pale in comparison the magic surrounding a New Year's Eve proposal.  If you not convinced as to why proposing as the ball drops may be the perfect moment for your big questions, here's a few reasons to consider.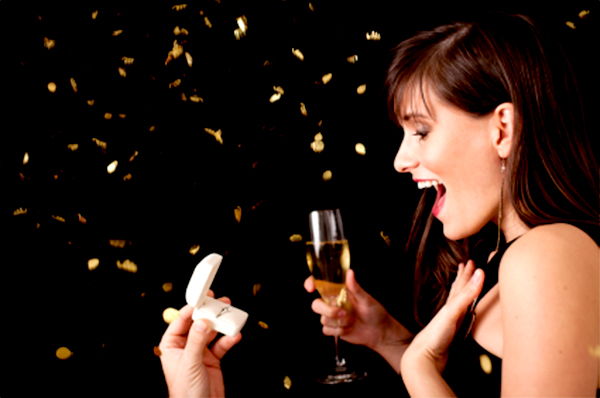 1. The Symbolic Meaning 
You're about to embark on a new journey already with the beginning of the New Year approaching– why not start a new journey in your relationship as well? The speech basically writes itself as you talk about starting a new life together in the New Year. It'll definitely be a moment she'll never forget.
2. She'll already be dressed up
While some girls won't admit it, we all secretly  hope that we'll look drop-dead gorgeous during our proposal (that's why my friend intercepted me right before mine and had me change out of a sweat shirt). But New Years Eve is the night girls love to dawn that classy cocktail dress or that super fun, sparkly party dress. She'll already be feeling like a rock star-princess combo, so it's a great moment to make her feel even more special. Plus, when someone snaps that inevitable picture of her saying "YES!" she LOVE the pictures because she already planned to look amazing that night.
3. You can share the moment with friends
It can be a headache to organize all your loved ones in one place randomly throughout the year if you want to share in your proposal. But New Year's Eve gives you the perfect excuse to be able to propose in front of you and your future bride's favorite people. If your lady is a people person or someone who values sharing moments with friends and family, she'll definitely enjoy being the center of attention and also the fact that she has a few less people to call with the news.
4. You already have toasting on standby
For many couples, toasting to the next step in their relationship comes later at an engagement party or when telling the parents over dinner. However for New Year's Eve proposers, chances are you'll already have champagne any direction you look that night because people are gearing up to toast the new year. Toasting is an extra special touch to seal the perfect moment.
5. You can't forget your Proposal-versary
Let's face it– it's hard enough to remember your wedding anniversary for most guys let alone when you proposed. But trust us, most girls LOVE remember that day. So why make it hard on yourself? If you propose on New Year's Eve– you'll never ever forget when that special moment happened.
3 Amazing New Year's Eve Proposal Ideas
Counting down to midnight isn't the only perfect time to drop to one knee. So what other times are perfect when planning that New Year's Proposal? Check the list below!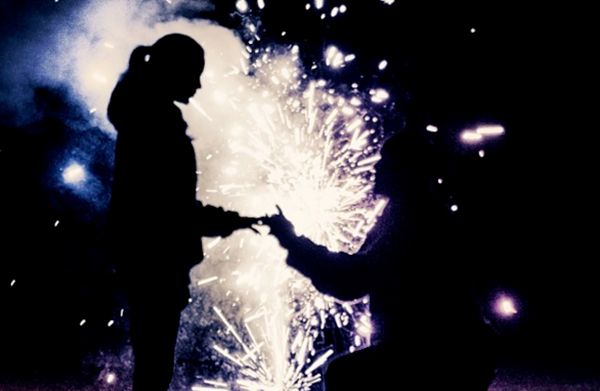 1. Pre-game proposal. OK, you're probably not actually going to a game, but you know what I mean. Before everything is all about glitter and lights find a moment during the day to ask the big question. This way she can show off that new ring at whatever plans you have for later in the day. I mean, scavenger hung on New Year's Eve? You can make her visit the places of your favorite dates or significant spots from the year, and then pick a new spot for the new chapter of your life.
2. Party, party! What's New Year's Eve without a party? Whether you're at home with noise-makers and hats or at a fancy shin-dig with friends, there's nothing better than celebrating it in style. Wherever you may be, propose before the big midnight countdown when the time is right and everyone isn't focused on yelling out numbers and kissing their sweetie. Besides, then when the time comes you'll be kissing your fiance, not just your girlfriend/boyfriend.
3.  12:01AM. This may seem silly, but why propose at midnight. Wait until that first minute has passed and then propose into the new year. Talk about how it's full of opportunities and how you don't want to spend ANOTHER minute of the New Year without her as your fiance. Talk about original and sweet!
Nikki & Emily
Photo Credit: Cater Bid Blog ; pharrisphotos via Instagram