Krissy & Ken
How They Met
My name is Krissy Myers. I'm a twenty something year old born and raised in Toronto, Canada. My fiance is Ken Wheaton, a slightly older something born and raised in Rochester, NY, USA. We're both creative, purple collar Professionals; working in photography, comic book art and illustration and  broadcasting. We've been dating since August 2010 and were engaged back in May 2013. Not only are we a lovely dovey sort of couple, we're a lovely dovey BUSINESS couple. We recently started to work on a Comic Book series together.
We met at a Comic Book Convention, of course! I was walking through Artist's Alley, where all of the Comic Artists and Writers set up shop to sell original artwork, sketch commissions and prints. I was dressed up as Matt Smith's Doctor from Doctor Who, as one does at Comic Con, and Ken's voice shot through the crowd of people, calling "The Lady Dressed As The Doctor" to his table. After a few minutes of admiring my costume and blathering on about being passionate "Whovians" and Sci-Fi fans, I bought his Buckaroo Banzai Comic and he gave me his Number. A couple hours later, we went on our very first coffee date. We've been together ever since. Well, when we're in the same country that is. Did I mention that we've been dating long distance this entire time?
The Proposal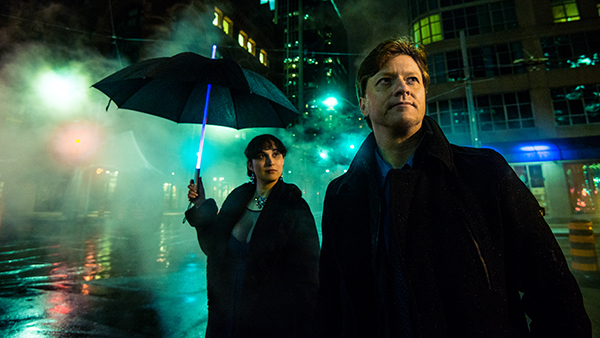 It was a complete surprise. We were driving in his car, a sporty dark red Mustang with the top down. It was a warm and sunny spring day. We stopped at a beautiful hotel, which at the time I had no idea we'd be staying at. It began to raise my suspicions ever so slightly. After we settled into our room, Ken tossed the ring box onto the desk in front of me and said "Wanna get married?" I told him to get down on one knee and to ask me again before I gave him an answer!
The Engagement Session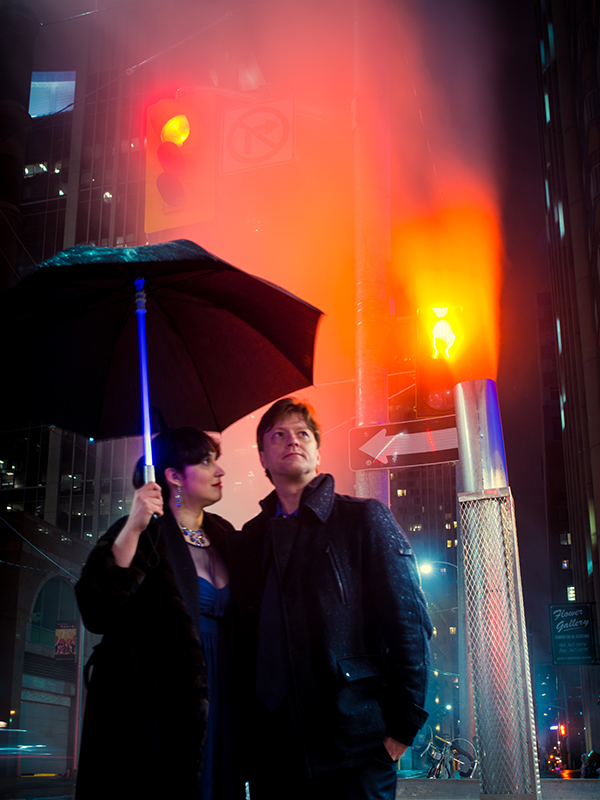 Ken's favourite movie is Ridley Scott's Blade Runner. Whenever we walk through Yonge and Dundas Square at night, he always talks about how giant video billboards and bright lights remind him of Future Los Angeles.
My Mother insisted we get Engagement Photos, but Ken is notoriously shy  in front of a camera. I came up with the idea of a Blade Runner themed engagement shoot so Ken would be a little more keen to do the shoot. It's a strange theme for an Engagement shoot, due to the dark, noir themes in the film. Yet, getting married can be dangerous and uncertain, much like how it was when Deckard and Rachael left together at the end of the film. It's best to face the darkness together, is it not?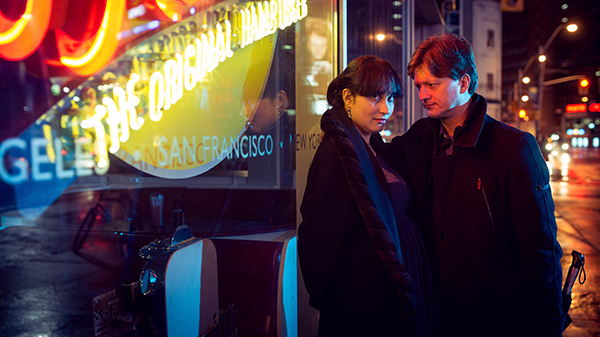 Everything about the "set" was perfect – it was a cold and rainy night in March. The vents were spewing steam – capturing and diffusing the medley of street lights and signs. The wet tarmac was great, too. Ken, Paul, his assistant Neil and I raced around the downtown core from 10 at night until about 1 in the morning. It really felt like we were creating something memorable and cinematic.
The Engagement Ring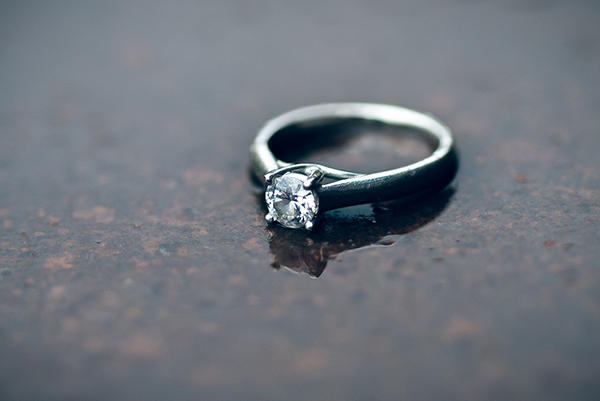 A simple, white gold solitaire setting with a half karat white diamond. It's small, but Ken picked it because my hands are a little on the smaller side and of all the diamonds in the shop, that one had the most clarity. If you look at the diamond from the side, how the point sits in the setting forms the shape of a tiny heart.
The Photographer
Paul Hillier is a Toronto based photographer specializing in visual story telling.
Fun fact, most of the images in the blade runner styled engagement shoot have been cropped to 16:9 to give them more of that cinematic feel.