Avni & Abhishek
How They Met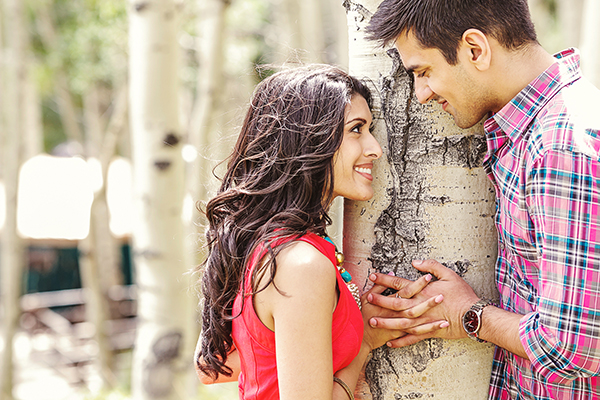 Abhishek and I met about 3 years ago in Austin, Texas while visiting some of our closest friends. During our first meeting we didn't exchange many words, but Abhishek did manage by the end of the night to ask the most important question: "Can I get your phone number?". At the end of the weekend we went our separate ways, as I was living in New York City and Abhishek was in Pittsburgh. Despite being in separate cities, our conversation continued through long texts and quickly progressed into nightlong phone calls, video calls, and visits. Now, here we are today engaged and preparing for our wedding.
The Proposal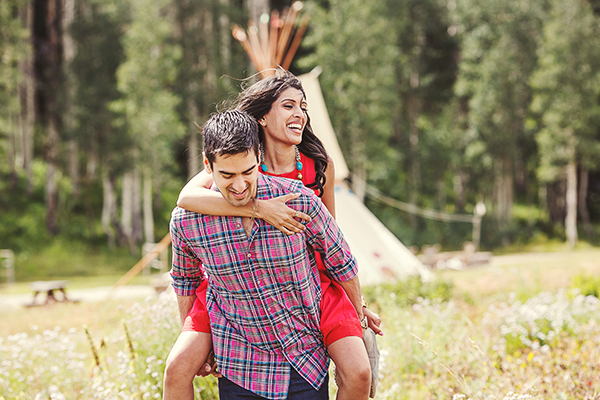 In April 2013, Abhishek and I went to Las Vegas for a Rihanna concert, a trip that I had originally planned. A few days before we were going to Vegas he mentioned that since I had planned our Friday night, he wanted to plan something Saturday. As a surprise, I woke up Saturday morning with breakfast at the door and a message in a bottle, which turned out to be a treasure map. As I looked closer, I noticed it was a map of the Las Vegas strip and that my first clue was hidden on the back. The first clue led me to New York New York, and it turned out that each clue related to something specific to our relationship. The trick came when Abhishek made it seem as if the treasure hunt was complete at the Caesars Palace Forum Shops and that my "treasure" (unlocked from a small treasure box) was a gift card to one of my favorite stores. Naturally, I thought our treasure hunt date was over.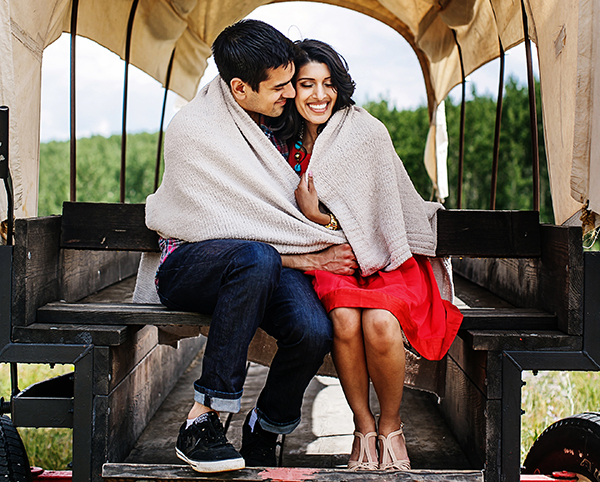 On our way back to the hotel to get ready for a nice dinner, Abhishek mentioned that he really wanted to see the Bellagio fountain show and that we should ask the concierge where to go in order to get the best view. I didn't think anything of it but was slightly annoyed that he was so insistent on going to see the fountain show.  When we reached the hotel, we went to the concierge (I found out later he had this conversation setup) who recommended that we go to the top of the Eiffel Tower at Paris. She then took our names down and "booked" us express passes to take us straight to the observation deck. When we reached the tower entrance, we used the express line and headed to the top.
The fountain show had not yet started, so Abhishek suggested we go to other side of the deck to see the view. When we got to the other side, it was roped off with security personnel standing guard in front.  Abhishek then went back and forth with the security agent, trying to convince her to take down the rope and allow us to take a quick picture (another conversation that was setup). She eventually gave in and took our picture. After taking our picture she said, "Miss, you dropped something…." and handing me what looked like another clue. While I had saved all the clues from the day in my purse, I didn't recall dropping any of them. I then looked a little closer and realized that the other clues were labeled by number (clue 1, clue 2, etc.) and this one was instead labeled with question marks. I quickly opened the clue, which read, "so it appears your quest wasn't quite done, in fact my dear, the journeys just begun. One last step, simply turn and see, then one final question……" and there Abhishek was behind me, on one knee.
The Engagement Ring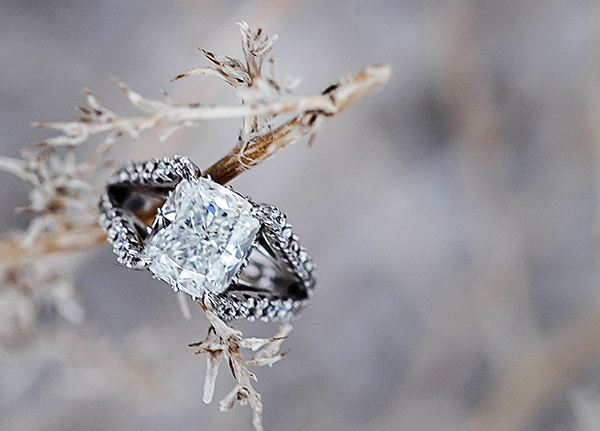 Abhishek picked the ring based on the cut that I liked the rest was really up to him. The engagement ring is a beautiful cushion cut diamond with a split pave band.
Photo Credit: nadia d. photography
Nirjary Desai with Kis Cubed Events for Hair, make up, styling and shoot planning