Sanique and Birgit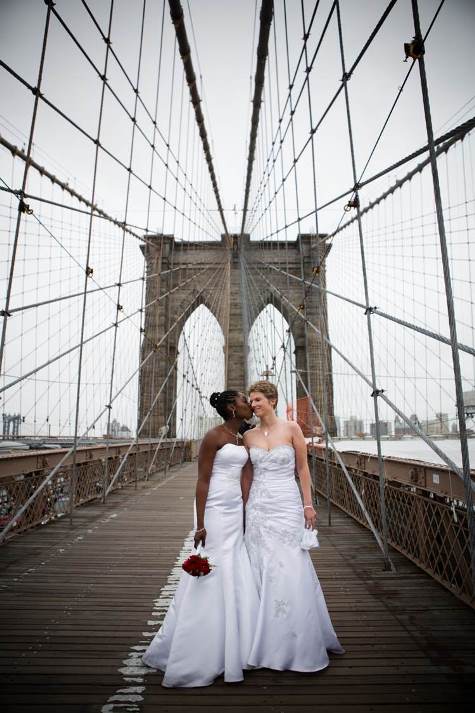 The Proposal Preparation
In June of 2012, Birgit asked me to make a CD of some of the songs that were important to us during the time we were dating. She told me she wanted to listen to the CD on her long drive to and from work.
The Proposal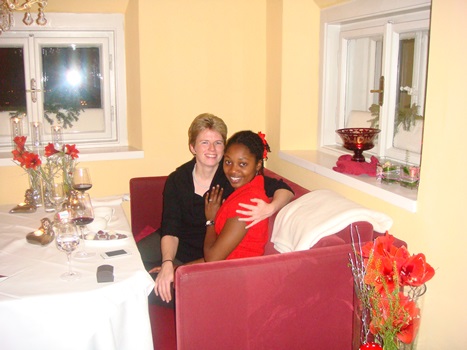 We were on vacation in Austria.  We were at the Hotel Schloss Mönchstein's, "World's Smallest Restaurant" – located in the tower of an old castle built in 1350, which is on top of a mountain overlooking the city.  Birgit rented out the restaurant that had only one table for 2.
The day that Birgit proposed, we went for a long walk in the hills surrounding Salzburg and we enjoyed the first snow fall of our trip. In the evening we went to what I thought was just a nice dinner to celebrate the end of our vacation to Germany and Austria. After arriving at the castle and being seated in the tower restaurant, the server brought us champagne and turned on the overhead speakers that began playing the CD that I made back in June. On the menu for the evening was an 8 course meal that Birgit had pre-selected and personalized. After about the 5th course, we took a break from eating to dance around the tiny restaurant, look out the windows overlooking the city; and sit and drink champagne at a small, candle-lit, outdoor café-style table that was in the other corner of the room. While sitting at the café table, I noticed one of the strings on my boots came undone and Birgit offered to fix it for me. She got down on one knee to begin fixing my boots and then she began fumbling with her pocket, saying things to me that I don't remember at this point because I then realized that she was proposing to me!
The Ring
Birgit spent a couple of months doing research for the perfect ring. She went to Barclays in Miami without me knowing anything. With the help of Gallina, one of the staff members at Barclays, they designed the ring!  www.barclaysmiami.com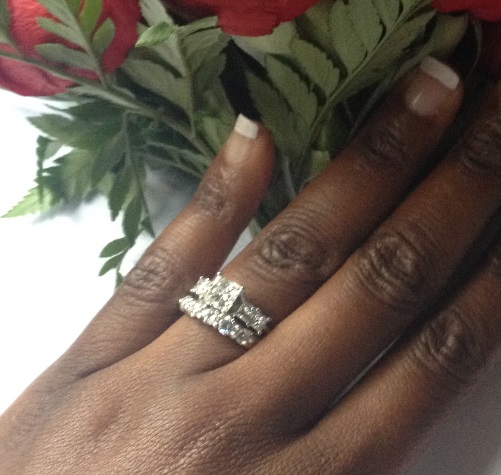 Olya Vysotskaya Photography www.ovysotskaya.com