Alex & Adam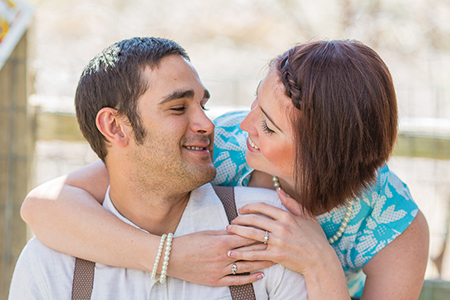 How They Met
Adam had spent 23 years 363 days wondering the world aimlessly. Always knowing his other half was out there he never expected to meet her at 2 a.m after what seemed to be another pointless night of shenanigans in the fabulous city of Las Vegas. Alex seemed to be trying her luck on a slot machine little did she know that the jackpot was about to literally land in her lap. The minute that Adam laid his eyes on Alex he knew she was the one and decided to sit on her lap.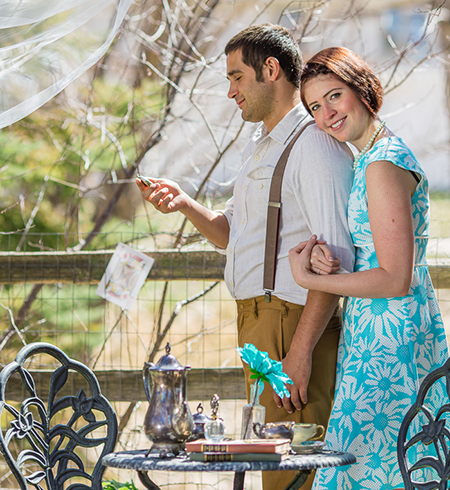 Alex was just about to give up on her luck in Vegas, when she suddenly a strange man with long, brown hair and bright green eyes came running up and sat on her lap. In total shock, Alex assured the waitress that she did not need to call security and she decided to see what happened next. She had no idea at the time that this was the luckiest thing that would ever happen to her in her entire life. They hit it off from the moment they met, and Alex even won $130 on the slot machine she was playing (was it a sign of things to come?). They spent the rest of the night talking over a few beers and eventually Adam convinced Alex to give him her number. Since that fateful night, Adam and Alex have grown to love everything about each other and they can't wait to spend forever together, and as they say 'The rest is history.'"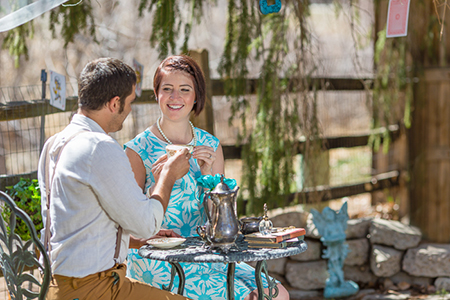 The Proposal
Adam picked Alex up from work after working a night shift (she is a nurse in San Diego). They had planned a morning of getting breakfast then just relaxing on the beach. Soon after they got to WindnSea beach in La Jolla, Alex told Adam that she was going to take a nap (since she had just gotten off of a twelve hour shift). Adam seemed very upset by this, and he asked Alex not to go to sleep yet. Alex was very confused by Adam's behavior because she had told him the day before that she wanted to sleep on the beach. Frazzled at the thought of missing his opportunity, Adam reached in his backpack and said "Where's my cell phone," then he pulled out the ring, turned to Alex and said "Will you marry me." Obviously, Alex said yes.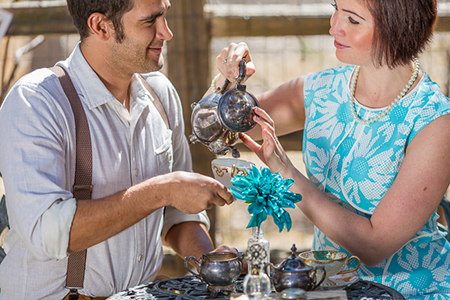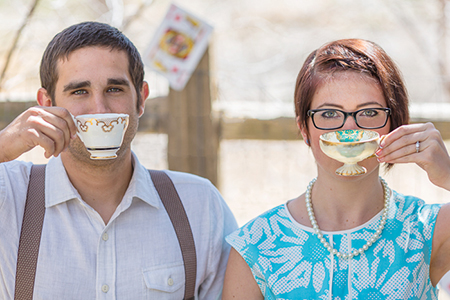 The Engagement Session
They had originally planned to have their pictures taken at a location in the mountains in Colorado, but they had to change the location last minute because it was snowing in the mountains. They decided to set it up in Alex's parents' back yard. Laura did a wonderful job making a backyard look like a romantic Wonderland. The photos turned out better than they ever imagined, and in hindsight they are actually glad that it was snowing in the mountains that day!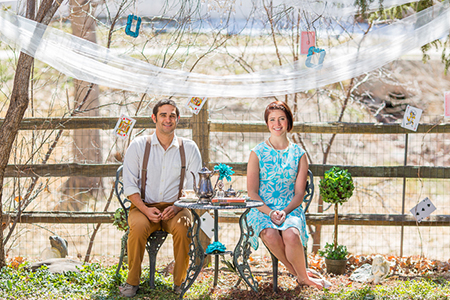 The Engagement Ring
Adam's mom gave him the diamond from her engagement ring to use in Alex's ring. He chose the setting because he knew that Alex liked the vintage looking rings, but that she didn't like anything too over the top.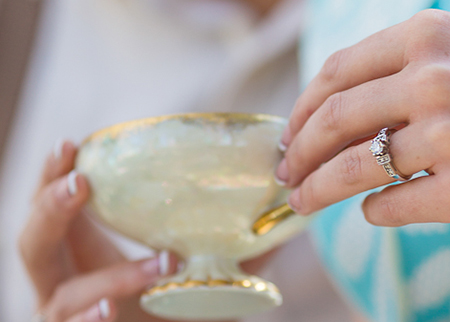 The Wedding Plans
"We are getting married September 20th, 2014! Most of the planning is done. The theme is Alice in Wonderland tea party. The ceremony is in La Jolla and the reception is at Adam's parents' house in Fallbrook, CA. We can't wait to get married! "
The Photographer: Laura Smith Photography is a Denver, Colorado-based wedding photographer specializing in romantic and beautiful photos for couple's in love. She has a special place in her heart for film photography, so she shoots a hybrid of film and digital at most of her weddings and engagement sessions, www.laurasmithphotos.com