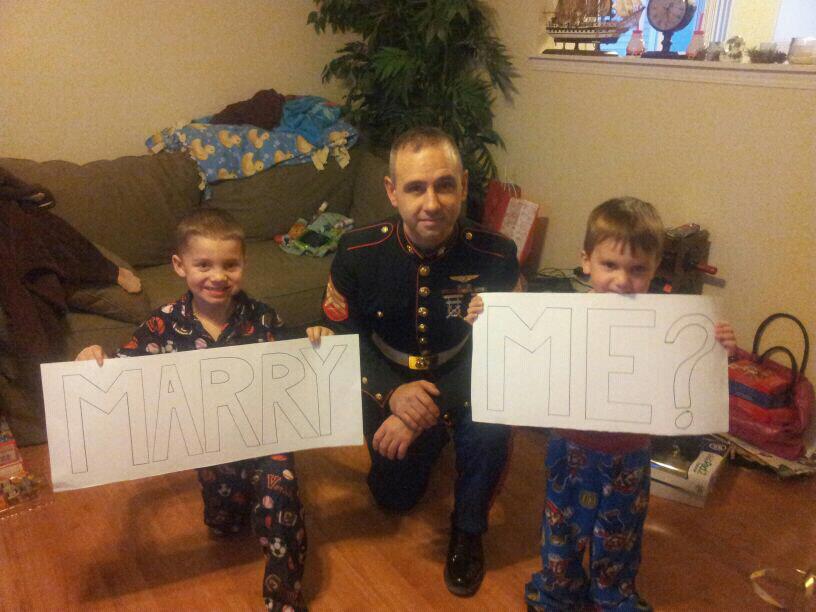 When you're getting married the second time around (or the first time!) and you have children, it's no longer just a special day for you and your hubby-to-be, but a monumental change for your whole family, too. Depending on their age and why your previous marriage or relationship with their father ended, it can be a very tender and touchy subject for you to approach, and the most important goal should be to make the transition comfortable and considerate. Even though you're madly in love with their stepdad-in-the-making, you want your kids to be just as smitten, too. We loved how Mark proposed to Jennifer with the help of her kids! Here are five fun and sweet ideas to get your new family together:


Go out for a date – with the kids!
Dinner and drinks (and some more) with your guy is your favorite evening of the week. You get away from the chaos that is your household and enjoy a relaxing and sexy night cap. But once you're engaged, your kids may fear being distanced from you, so invite them out for a night on the town. Go through all the routines you normally would: getting all dressed up, picking out a restaurant, selecting a (kid-appropriate!) movie and make sure your guy doesn't forget the flowers (or chocolate for your sons) at the door to pick you all up.


Make a Craft
It's easier for kids to visualize how their new life will be if they draw it. Gather all your art supplies and calmly talk to your kiddos about how you're getting married, moving in with your man and building a new home. Have them draw, decorate or color what they think those new changes will be like, and if you'd like, challenge them to write on the back how they feel about it. This will help open the conversation in a calm, easy-going, no-pressure way.


Incorporate Them in the Wedding – or the Proposal!
While you probably won't be planning your own proposal (or it already happened), it's not a bad idea to drop hints to your man to not forget the kids on both special days. Many men are finding ways to include kids by having them present the ring, distract mom or set up the scene before mom gets home to see the set-up. Many families have everyone in the family light unity candles and some grooms opt to give a speech not only about his bride-to-be but also his kids-to-be at the rehearsal dinner.


Write Letters
Encourage your guy to write a letter to each of your kids about how excited he is to be part of their life, watch them grow and become even closer. It's important for kids to feel loved by their step-dad and to start getting used to the idea of having two dads if your previous husband or boyfriend is still in the picture. It's also not a bad idea to write a letter yourself, too! This is something they'll treasure forever and a good way for you to express that no matter what, they're still the brightest star in your eyes.


Take a Family Photo
Sounds simple but including your kids in your engagement photos is an everlasting way to illustrate that your marriage is more than just the joining of two people, but it's the joining of an entire family. Let your photographer take candid shots of you and your guy playing with your kids, laughing and cuddling – just how it should be, just how it will be.
By Aurora Brown