How they met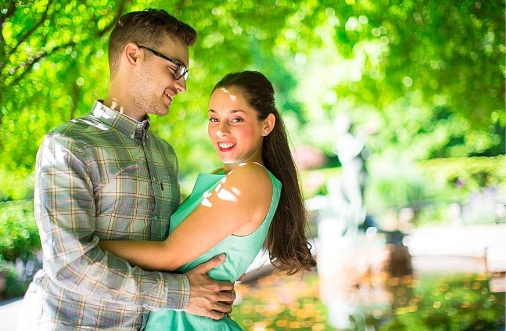 Christine: We met on match.com in August 2010. I actually winked at Adam. After our first meeting/date @ a bar in NYC, where he told me he was going to marry me because I wasn't a Twilight fan, I knew I wanted him to be my boyfriend and we've been together ever since!
Adam: Match.com is the simple answer. I had been single for some months and living on my own in Manhattan so, why not, right? After going on several dates leading to nowhere, this girl "winked" at me-she caught my attention instantly: beautiful, successful, and very similar interests and backgrounds. One of the last intimate conversations I ever had with my father was about this girl who was totally out of my league. I can remember us chatting on the porch and being truly excited for me. Chris and I met at a bar over drinks (spiked Arnold Palmers) and hit it off. It was hard not to think about her after that and a date once a week quickly turned into us trying to find as much time as possible for one another.
The Proposal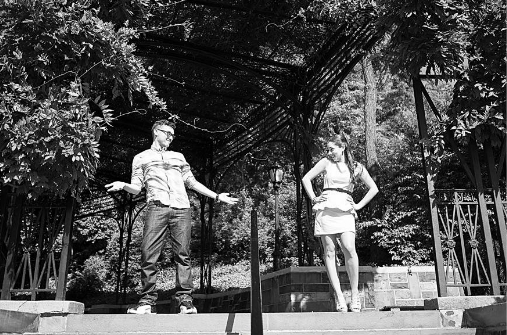 Christine: This past Valentines Day! My parents also got engaged on the same dat 28 years ago, so Adam turned it into a nice tradition. We had talked about getting engaged on our recent trip where on New Years Eve in Goa, India he told me he was going to marry me in the next year, so I knew it would happen just not when. Before we went to dinner he surprised me as I was getting ready. I was laughing and crying, it was a wonderfully exciting and special moment. I of course said yes!
Adam: The proposal did not go as planned… Let me begin by explaining that I was going to propose on Valentine's Day, and my ring was due to be delivered that day. Noon came and went, and no ring. 2pm, no ring. By 5pm, I knew Christine would be on her way home soon and still I had not heard from FedEx. The ring was delivered about 5 minutes before Chris got home that night. We had said that we would not exchange gifts. We both lied. I had long planned a proposal, was going to wax poetic and describe how my life would only be complete with Chris as my wife. I would love to have gotten down on one knee in front of strangers (and Tony Danza, because he happened to be eating at the same restaurant as us that night), but I decided that I wanted to propose privately for a few reasons: 1, I knew that Chris would cry, and so why not ask her before she even put on her makeup? 2, if I proposed before dinner, then dinner would be a legitimate celebration, and 3, I was nervous as hell. So quickly before we made our way out to dinner, Chris announced that despite promises she had a few presents for me. That was it! This was my cue, and I was given an opening to propose, "Good," I said while fidgeting in a coat pocket, "I have a present for you too." I got down on one knee and Chris ran, she backed herself into our bedroom where I followed her (still on my knees) and completely forgot everything I had wanted to say to her. I barely even managed to pop the question, the whole spiel about her being the most beautiful girl in the world and the only one for me? Yea that was out the window in seconds, all I could muster was a "So, will you marry me? You know I love you" and maybe a bit more babble. She said yes though, which was a relief after how I botched this!
The engagement ring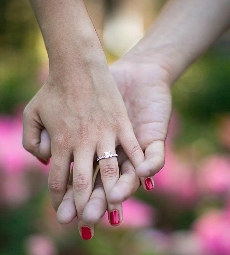 Christine: I love it! It's so beautiful and fits me perfectly. He did a great job!
Adam: The ring is a .71 carat princess cut diamond with pave diamonds on the side designed by Adiamor based out of Los Angeles, CA.
Engagement shoot
Christine : We lucked out on the day of our shoot! It was a beautiful Sunday morning in the Conservatory Gardens in Central park. We beat all the tourists so it was like a private shoot. Our photographer Angelica was awesome; we got some really great photos.
Wedding plans
Christine : Our wedding is set for early May 2013 and will be held outside on the grounds of a private estate in Dutchess County, NY. The place is stunning with views for miles. It will be an outdoor tent event with lots of DIY and custom details that reflect us as a couple, and with lots of yummy food!
Photos by Angelica Criscuolo