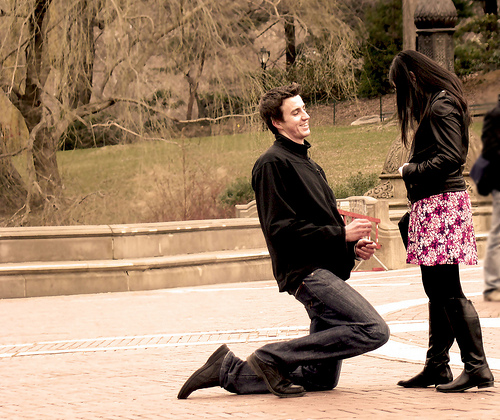 Public proposals are tricky. They can easily backfire, and sometimes they can be  terribly unromantic. But we know public proposals will never go out of style, and some women like the allure of being the center of attention during a public proposal. But before you whip out that ring in the middle of a noisy basketball game, check out our advice on how to pull off a successful public proposal:
Skip the sporting events
Why? Because they're too easy. Men feel this type of proposal is perfect because A.) they're the most common type of public proposal, B.) they're going to be at the game anyway, so…C.) mind as well just propose, right? When choosing a proposal idea it shouldn't be about the convenience, it should be about her. Unless she's a sport fanatic there's really no reason to be proposing to her at a sporting event.
Don't embarrass her
When planning your proposal, stop and ask yourself this question: "Will this embarrass her?" If the answer is yes, scrap the idea. If you know your girlfriend is the shy type who doesn't like attention, then she probably wouldn't like to be paraded around Disney World in front of millions of people as they point and take pictures of her with their iPhones. If you can't think of a public proposal idea that won't embarrass her, then think of another idea that's more intimate.
Think public yet private
Just because the proposal is in public doesn't mean you have to prearrange everything to ensure the spotlight is on your proposal. It is possible to propose in public without intentionally trying to grab attention from spectators. For example, you can propose to her at a public park. Maybe it was the bench where you two first met. You can drop to one knee and then ask her to marry you in a discrete and romantic way. This way you're still having a public proposal without forcing the entire world to be your audience.
Want people to see your proposal? Try video
If you're the type who craves attention and wants the whole world to watch your proposal, instead of having a public proposal you can try a video proposal. Simply propose to your partner in private, record the proposal and then upload it to YouTube. This way you get all the benefits of a public proposal while still preserving the intimacy of the actual proposal. Video proposals are the newest thing, and they're quickly catching on. And who knows, your video proposal might even go viral.
Additional advice:
The dos and don'ts of public proposals heavily rely on the type of woman you're dating. Obviously if she's reserved and shy, a public proposal isn't a good idea. But if she loves the attention, a big, showy proposal is probably expected. Keep this in mind while brainstorming for proposal ideas.